BAZAAR's signature campaign collaborates with 15 Malaysian designers this year, and continues to empower women with awareness, love, and care.
ATELIER FITTON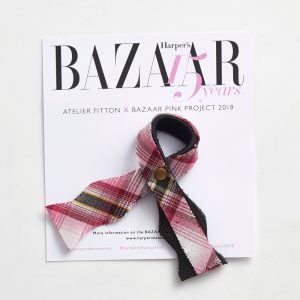 What is the story of Atelier Fitton's pink ribbon? 
I wanted to show the grit and resilience that women possess. The thick but supple black talks about the hardship and the pink checkered fabric as the top layer shows that everything is always dressed up or packaged a certain way – the first layer that the outside world sees.
How does the ribbon represent a strong woman?
The curves in the individual piece is a symbol of the female form and black leather make up the shape of the bowtie. I wanted this to show that not only men wear ties but women do too.