The Need For Speed
Malaysian actor Fabian Loo gears up for his new role as Astro Fibre ambassador in the internet provider's latest "WiFi Kencang" campaign.
[credit]
Photography by Edmund Lee. Concept & styling by Johan Kassim.
Fabian Loo is counting his blessings. The 32-year-old actor cum filmmaker has just been announced as the official ambassador for Astro Fibre. "I'm so touched that Astro Fibre is putting such a high trust in me," says Fabian. "It just feels unbelievable that I got chosen to represent and be the face of Astro Fibre." Soon enough, that face will be seen across billboards and digital platforms in the internet provider's new "WiFi Kencang" campaign, set to launch this month. Fabian is pinching himself. "When Astro Fibre hit me up, I felt out of place, but not in a bad way," he admits. "I was just so surprised because I finally realised that people are acknowledging my work as an entertainer."
It's now been ten years and counting since Fabian first entertained us. Starting out in TV commercials—while pursuing a Bachelor's degree in psychology at HELP University—the KL native would go on to hone his acting skills in local theatre productions. It was there that he learned more about "character building", which he attributes to being the key contributing factor to his desire to perform for the public.
THE BIG BREAK
Though he owes his earlier acting experiences to Chinese shows, it was after joining the cast of Zahir Omar's multi-lingual Fly By Night (2019)—where he acted alongside names such as Bront Palarae and Sunny Pang—that Fabian began attracting more attention from the industry. "The film was one of a kind," he says. "It gave me the kind of exposure that allowed me to expand my career." That would lead to his role in the critically-acclaimed TV series, One Cent Thief, by Astro. "The series is somewhat an extension of what I did in Fly By Night. Moreover, the One Cent Thief director and producer was kind enough to let me explore a bit into my character development and acting skills."
BAZAAR catches up with Fabian Loo to learn more about his favourite tech, his role as the Astro Fibre ambassador and the need for speedy WiFi connectivity.
So what is your favourite piece of tech?
The most important tech for me is a keyboard and a monitor. However, I used to have a laptop but now I'm aiming to get a tablet because it is easier to travel anywhere with. The app I use the most is Microsoft Word because I do love to write. And a tablet would allow me to write anywhere easily. 
How important is WiFi performance to you?
Very. I need to meet so many different people virtually and having a very stable connection would mean a seamless discussion on the online call. I also need to do my script reading online. So it's important to not miss any details from the person I call, and a great WiFi performance ensures that.
THE BRAND NEW ROLE
As its new ambassador, what is your relationship with Astro Fibre like?
When Astro Fibre reached out to me, I feel inspired by their "1 Home 1 Internet" vision, of everyone having the right to a good internet experience at home. Because tech and the internet are tools for growth and everyone deserves a chance. I believe my relationship with Astro Fibre is about growing together and I want to drive the message and vision of Astro Fibre: everyone deserves quality internet and amazing entertainment, at accessible prices. And you know what? Astro Fibre is the only internet provider that gives you the F1, One Cent Thief and the Premier League. If you're getting great speed, why not use it for awesome content as well?
How do you plan to engage with fans and followers to encourage them to embrace this technology?
My role as ambassador is to understand the space and business in which Astro Fibre plays and to take that understanding and translate it to something that my audience can understand and appreciate. I want to reach out to them where they are by creating content that showcases how WiFi Kencang can make life better. For example, I can't wait to see how the shoot (for this campaign) will turn out. 
I also want my audience to understand that Astro has gone through a transformation: a new user experience, better tech and amazing content have come together to create a streaming platform that's unlike any other in Malaysia. It's a pretty amazing job (being their ambassador).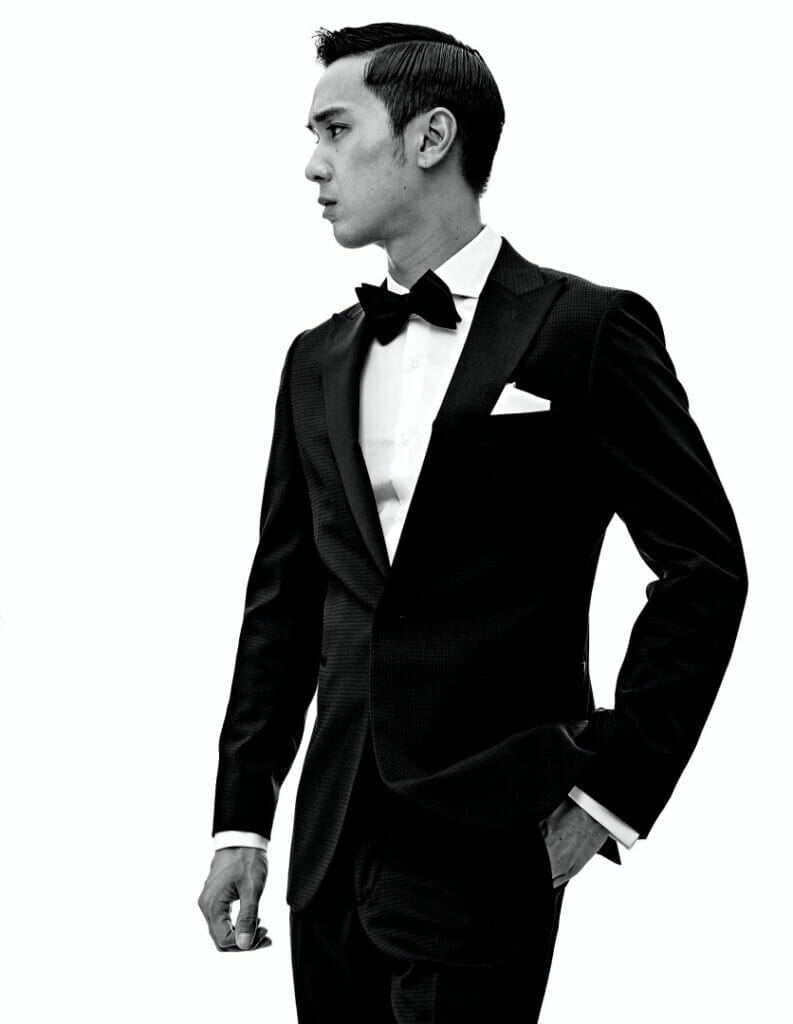 See Fabian in action below:
View this post on Instagram
Creative director: Abdul Aziz Draim
Art director: Amirul Ariffin
Hair: Ckay Liow
Make-up: Sahir Sabri
Photographer's assistants: Zane Chang & Simon Tan
Looking for faster internet connectivity? Find out more about Astro Fibre "WiFi Kencang" plans by scanning the QR Code at the top of this article, or by visiting this link.