Coco Rocha has gone from Irish-dancing down a runway at couture week to becoming a guiding light in today's competitive modelling world. Amy Yasmine catches up with the Queen of Pose in Paris, who in an exclusive interview, shares her greatest achievements, parenthood, and life before #MeToo.
The photographer and I are deciding on the day's shoot soundtrack, when Canadian supermodel and BAZAAR December 2018 cover star Coco Rocha chirps, "Let's play something from my playlist!" And just like that, our mood on set went from chilled to ZoukOut 2018 in a matter of seconds. Rocha's picks? An eclectic mélange of '80s cheese, '90s favourites, and current hits including Migos's "Bad and Boujee". It certainly says a lot about fashion's "Queen of Pose"; the 30-year-old shapeshifter who once, in a record of three days, delivered an impressive selection of 1,000 poses. It's a talent that led to lucrative campaigns with Dior, Balenciaga, and Saint Laurent, while her chameleon-like prowess has kept her at the top of her game for 14 years.
"I'll never forget [the moment I was first scouted] because it all just seemed so absurd to me!" Rocha recalls, detailing how Vancouver-based agent Charles Stuart discovered her at an Irish dance competition. "All my friends burst out laughing!" she shares. "Of all of us, I was the last one anyone thought could model. We all had this idea that models were these sexy glamazons, and I was a tall, lanky teen who liked to wear sneakers and oversized sweaters!" A far cry from the statuesque beauty that stands in front of us today, having arrived on set in Paris' 20th arrondissement wearing a wraparound miniskirt, mesh tee, and yellow bomber jacket.
Shooting at a vintage collector's dream apartment in the midst of Paris Fashion Week, I am lucky enough to be able to catch a moment with the supermodel in between shows and presentations—Rocha herself, having just landed in Paris a few days before. "I actually shot two covers and editorials in a span of 24 hours," Rocha explains, before going into length about her friend and designer Jean Paul Gaultier's latest play. "It was so special because this was a dream 50 years in the making. When he was a little boy, he used to walk by this amazing theatre and dreamed of producing a musical there, starring his teddy bear. Sure enough, he brought that dream to life!" quips Rocha. "Jean Paul has been a huge inspiration to me, and a true friend throughout my career." Indeed, a quick fact check on their relationship would take you through some of Rocha's biggest professional highlights, from dancing down a runway for the designer's Autumn/Winter '07 show, to dressing up as Danny Zuko opposite Karlie Kloss's Sandy Olsson, for Spring/Summer '14. "Once, he even had me fight another model on the runway, in mud!" she muses.
Such is Rocha's dedication to her craft, evident on set, too, as she works a vinyl Chanel shift dress, paired with Bvlgari earrings for the BAZAAR cover. Swift, elegant, and precise, Rocha nails every pose and shot with ease, as our photographer squeals gleefully with every take. In another look, the model channels her inner feline temptress, moving her fingers gracefully as she crouches her back towards the ground. (Later, Rocha would upload a video of this exact moment on Instagram, and receive 206k views and 233 comments. "Live for this," quips designer and Project Runway season four winner Christian Siriano, while Victoria's Secret Angel Jac Jagaciak comments, "Workkkkk it!")
And that's exactly what she does—work. "As models, we only have our face and bodies to tell an entire story, often in one moment," Rocha explains, equating a model's métier to that of silent movie stars. It's a perspective neglected by most. Her book Study Of Pose: 1,000 Poses By Coco Rocha explores human movement in its purest form. Published in 2014 in collaboration with world-renowned photographer Steven Sebring, Rocha in a simple white leotard portrays various emotions conveyed simply through the human body and expressions. "[The book] was really my answer to the cynical question of 'What do models do?', and I think people should be inspired by what we do as much as they are of actors, singers, and other performers."
It's a testament that has led her to the founding of her modelling agency, Nomad Management, in 2016. Having coached young emerging models in the television competition The Face alongside Karolina Kurkova and Naomi Campbell in 2013, it was a no-brainer for her next progression to be mentoring. "When I was an up-and-coming model, I had no one to go to for advice. There were no older models reaching down, to lend me a hand up," Rocha confides. "With Nomad, and the Coco Rocha Model Camp established this year, we take models from around the world and teach them everything from posing to the runway, to dealing with contracts, agencies, and even taxes!" With insights and experience working with some of the world's most prestigious agencies over the last decade, Rocha has definitely seen first-hand what works, and what doesn't, including the pitfalls that can be avoided.
"Ten years ago, there was no #MeToo movement. I remember joining a small number of models who spoke out against the darker sides of the industry. We named names back then, and felt real backlash for doing so." This resulted in some models losing their careers and those who didn't felt immense strain and frustration from waiting for change. "I quickly realised I would have to change my little corner of the industry myself, and that no one above me was going to do it for me."
Nevertheless, the biggest change in Rocha's life en ce moment is motherhood. In 2015, she had her first daughter Ioni Conran, and in April this year, her son Iver Eames was born. "Motherhood changed everything," Rocha admits. "Every choice is for them, even if that means not getting any sleep!" It's certainly a tough juggling act, but Rocha takes it all in stride. After all, who wouldn't consider herself lucky, to be able to bring her family with her wherever she goes? Case in point: husband James Conran is also present on set with us, working on his laptop while Rocha strikes a pose just across him. (There's proof of this on @cocorocha as well.)
As we wrap up our cover shoot in a record time of two and a half hours, Coco is already getting dressed for a black-tie dinner, in honour of Lebanese fashion designer Elie Saab. "Which shoes should I go for?" she asks, pointing at two pairs of heels—one, black platform peep-toes, and another, gilded strappy sandals. It was a unanimous vote for the latter. And I thought, considering her fame, fortune, and success, how does she manage to keep her feet firmly planted to the ground? With the same advice, she'd give both her kids: "It's nice to be important. But it's more important, to be nice."
"I think people should be inspired by what we do as much as they are of actors, singers, and other performers." – Coco Rocha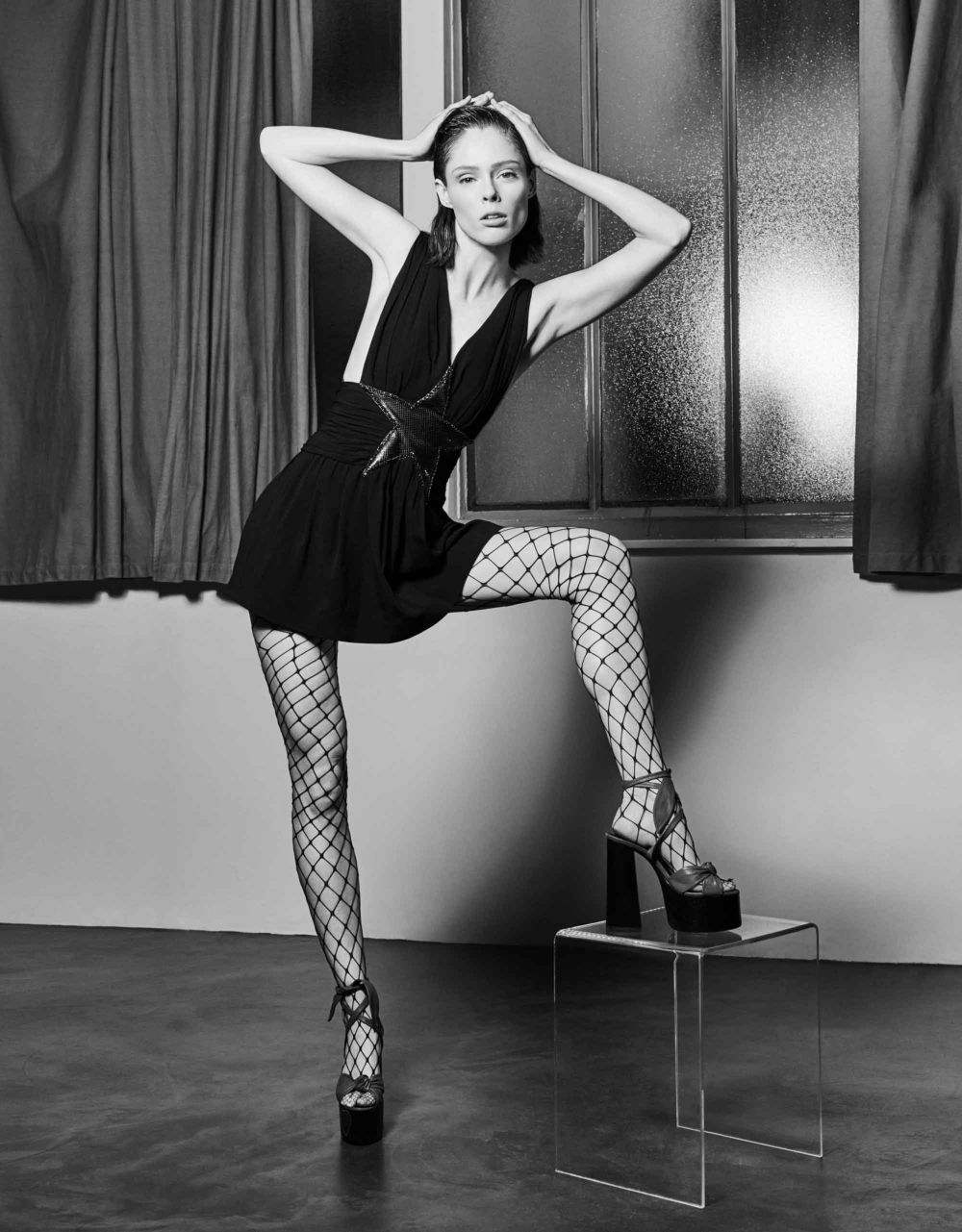 Photographer: Rachell Smith
Photographer's Assistant: Celia Marjolet
Stylist: Amy Yasmine
Styling Assistant: Sharmine Vijayakumar
Makeup: Kristina Vidic @ Atom Management
Hair: David Barbieri @ Caren Agency
Manicure: Sally Derbali
Executive Producer: Ashumi Sanghvi @ MAD Productions
Production Assistant: Ania Piec
Talent: Coco Rocha @ Models1