Featuring Coperni, Loewe, Issey Miyake, Balenciaga and Dries Van Noten…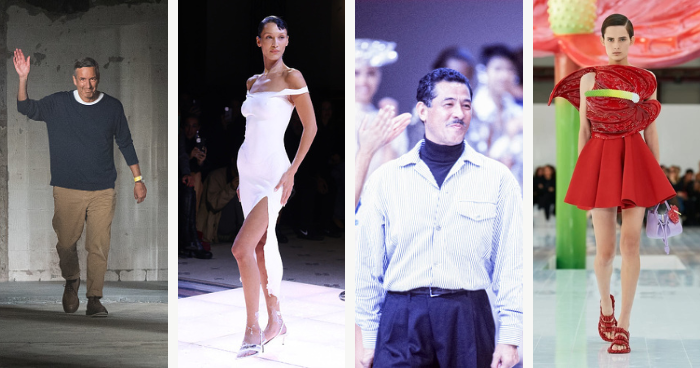 Fashion has always been a celebration of innovation and memorable moments. Whether by design, materials, meaning or intention, in every show, designers tend to have a message behind each piece or collection.
With the ever-developing world of technology and the ever-increasing awareness of sustainability, we look back at Top 5 fashion-forward moments from Paris Fashion Week 2022 . The industry continues to push boundaries in the world of fashion.
1. The closing of French label Coperni's Spring-Summer 2023 Featuring Fabrican
Featuring Bella Hadid, Coperni pushed the boundaries of technology and design to create a moment which went viral on social media.
For those who missed it, the American supermodel gracefully made her way to the runway wearing nothing but nude underwear. Like the accumulation of snowflakes, an opaque white liquid was sprayed onto her body which slowly solidified into wearable material. For a moment, guests were in awe as Manel Torres and his team created a Coperni dress live, while head of design Charlotte Raymond, crafted out the smooth neckline and a daring leg slit.
Though not a homage to McQueen, viewers may reminiscent Alexander McQueen's famous Spring 1999 show where model Shalom Harlow was spray-painted by two robotic arms. Comparing these two moments, one can see the vast evolution of the fashion industry from once live design to the creation and manipulation of everlasting materials.
Referring to Fabrican, "You can wear this dress, keep it as a dress and put it on a hanger. But if you don't want it anymore, you can put back the dress into the liquid and you can immediately spray it again," Coperni's creative director and co-founder, Sébastien Meyer mentioned.