This season, Chloé invites us to pay tribute to the bohemian spirit and retro styles of the alluring '70s.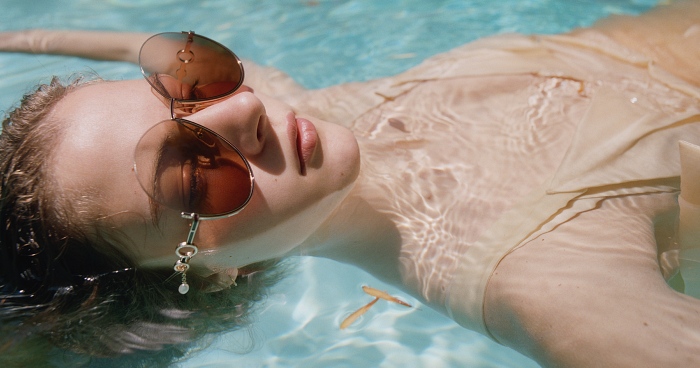 Fashioned from elaborate craftsmanship that results in a curated selection of sunglass and optical frames, the Chloé Eyewear F/W 21 collection is emblematic of the feminine beauty and strength that beats at the heart of Chloé. Bold volumes and exquisite customisations shape iconic forms imbued with a grounded, liberated attitude made all the more elegant and nonchalant by delicate contours, captivating details and bright finishes. The colour palette is whimsical, running from vibrant to harmonious, shifting from warm natural hues to make-up shades then vivid rainbow blends. This unique duality of glamour and grace has also inspired the frames' poetic names.
The Chloé Eyewear F/W 21 collection presents showstoppers that pay homage to a carefree era, reminding us to take things easy and to savour our every moment.
BAZAAR takes a closer look at the styles from the collection—Tayla, Sofya, Layha and Edith—each with its own unique style and identity.
Lahya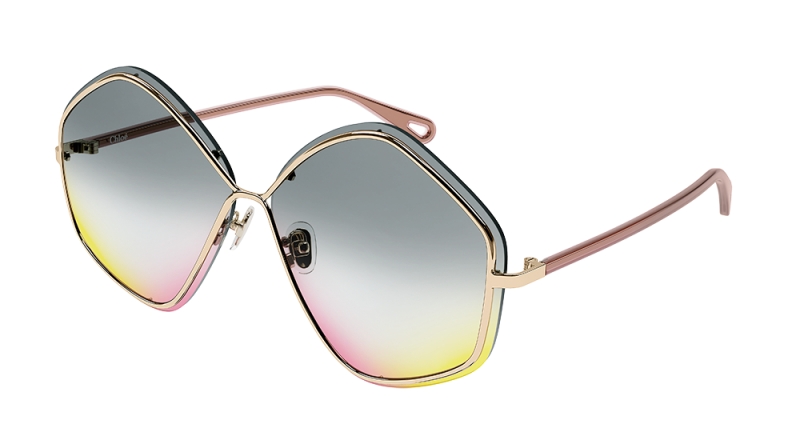 Lahya carries an iconic pentagon silhouette rendered through 2D bubble lenses dipped in varying shades that result in a polychrome effect. Lahya's lightly structured frame is comprised of a thin metal piping that sits on the lenses, supported by long and coloured silicon temples that feature Chloé's signature teardrop cut-out at its tips. The cut-out is both fashionably chic and functional, allowing you to attach Chloé's jewellery chain through it so you can hang your sunglasses around your neck. Lahya presents an upbeat twist that nods to the joyful tints of a rainbow.
Sofya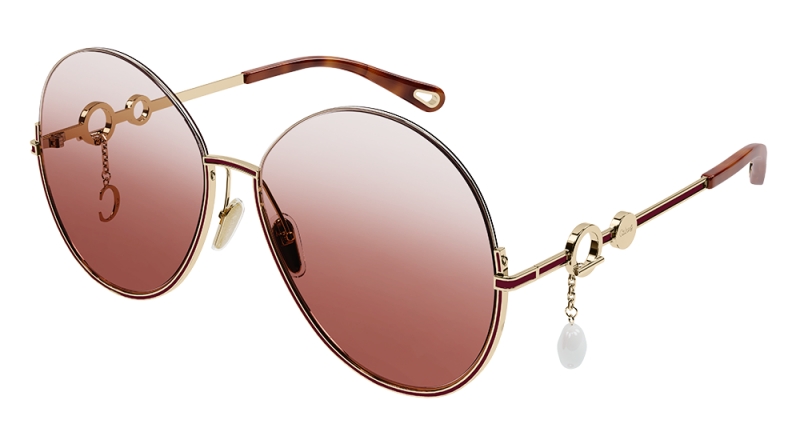 The elegant Sofya comes in four reversed gradient lenses; Blue, Rust, Brown and Pink. Our personal favourite is the gradient Rust. This fashion-forward design features an oversized rounded frame made all the more distinctive by a chic Chloé-engraved coin on each side of the temple, further accented by the additions of a signature Chloé 'C' charm and a separate pearl charm residing on the right and left sides of the temple respectively. A versatile accessory, the charms on the sunglasses are removable, allowing you to keep them on for playful days, or detach them for a more formal ensemble.
Tayla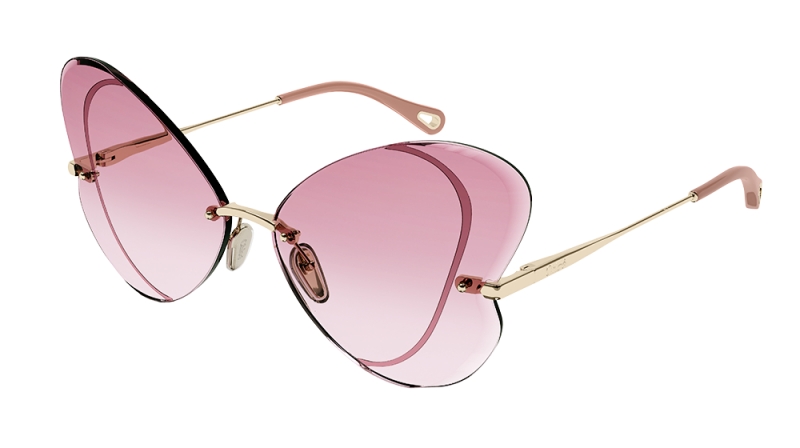 With its lively interpretation of the timeless butterfly silhouette, Tayla offers a flirty design characterised by intricate inlays filled with coloured enamel for an edgy tone-on-tone contrast along its bevelled lenses. A gold-tone metal bridge and rivets inject a sense of glamour and radiance.
Edith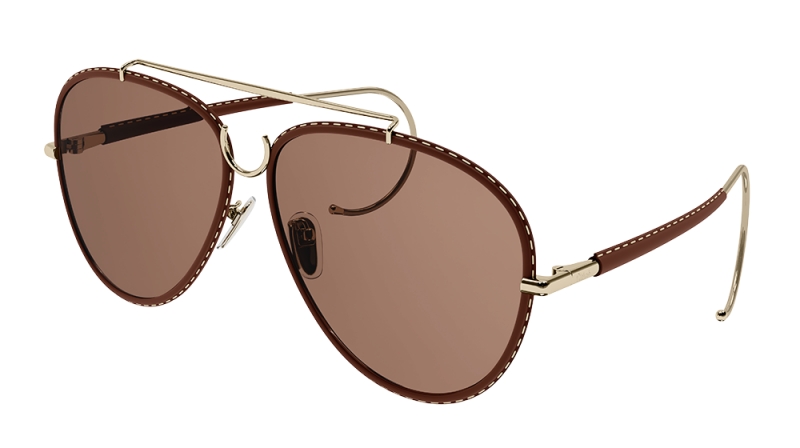 For the woman whose style favours an updated classic. With its pilot-shaped frame, Chloé takes an extra step towards vintage glamour by fitting it with leather embellishment around the lenses and along the temples. A vintage-inspired C-shaped bridge further accentuated by a slim top bar add to Edith's allure and refinement. Taking its cue from classic reading glasses, Edith's uniquely shaped curled-end tips hug the back of the ear for an optimised fit.
Check out the new styles from Chloé F/W 21 Eyewear Collection here.
Stylish Shades
At the heart of Chloé's eyewear collection is a mix of retro charm and whimsical dreams. The vibrant use of colours, gold tones and leather seams collectively deliver a collection that is eye-catching, exciting and a must-have for your next outdoor escapades. Imbued with the bohemian spirit of the '70s, the stylish collection embodies the carefree attitude of the French Maison.
Shop the Chloé F/W 21 Eyewear Collection here.