Following our rundown and highlights of the unforgettable show, we turn to the centrepiece – the garments – to dissect the eye-catching pieces of Chanel's Pre-Fall 2018 collection.
Drawing inspiration from the three pillars of time – past, present and future, Karl Lagerfeld infused elements of the Hamburg port with gliding silhouettes of the merchant navy crew juxtaposed with the modernism of the Maison. Uniting Chanel Paris with the orangey hues of Hamburg's architecture, the collection comprised of a minimalist palette of black, beige, grey, navy blue and brick with bursts of gold and red, as well as pinstripes and sailor stripes. Alongside this, some pieces featured woven patterns, which mirrored the bricks of buildings surrounding the docks in the port and the stacks of multi-coloured containers of the cargo ships.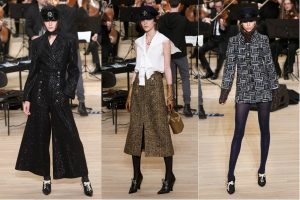 With its wide selection of fabrications, the collection ranged from casual – think chunky cable-knit sweaters and cashmere thigh-high legwarmers– to opulent eveningwear made from silk crêpe, chiffon and metallic tweed pieces decked in sequins, feathers, rhinestones, and mother-of-pearl. From a sunset-coloured sequined pair of wide-leg trousers, which sparkled to recall the red-light districts of Hamburg, to a sleek black crêpe tuxedo, Karl Lagerfeld broadened the vocabulary of masculine/feminine, reinventing the codes of Chanel to construct an attitude that is daring, confident, unique and ultra-feminine.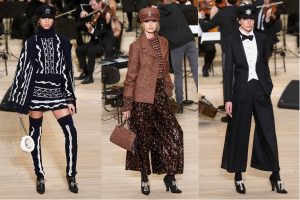 Within the 76-strong crew of "sailors who haven't taken to the water", we saw everything from pea coats to striped tops re-appropriated and feminised. While the Chanel jacket was transformed into a pea coat with its flared cut, drop-front trousers were widened and presented in both short and long versions.  Redefining the classic striped sailor top, Karl Lagerfeld's rendition led to a mini strapless dress embroidered with painted feathers, collars and cuffs in sequins and precious stones, or lengthened with a satin skirt hemmed with feathers.