Following our rundown and highlights of the unforgettable show, we turn to the centrepiece – the garments - to dissect the eye-catching pieces of Chanel's Pre-Fall 2018 collection.
Drawing inspiration from the three pillars of time – past, present and future, Karl Lagerfeld infused elements of the Hamburg port with gliding silhouettes of the merchant navy crew juxtaposed with the modernism of the Maison. Uniting Chanel Paris with the orangey hues of Hamburg's architecture, the collection comprised of a minimalist palette of black, beige, grey, navy blue and brick with bursts of gold and red, as well as pinstripes and sailor stripes. Alongside this, some pieces featured woven patterns, which mirrored the bricks of buildings surrounding the docks in the port and the stacks of multi-coloured containers of the cargo ships.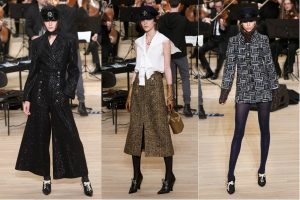 While accessories encompassed long embroidered fingerless gloves, cordage-like bracelets and pointed booties festooned with jewelled bows, the collection's main accessory was the Maison Michel-made tweed elbsegler (sailor cap). Although all caps featured a sailor brooch– think marine anchors and steering wheels – on the front, a selected few were adorned with a tulle veil.