Unboxing a brand new handbag is the fashion equivalent of that new car smell, except better. But, after a few wears and a number of rain drizzles, that fresh leather scent starts to fade. Thankfully, Fendi has solved this conundrum by collaborating with legendary perfumer Francis Kurkdjian to create scented handbags.
2019 saw plenty of innovation when it comes to perfume: Diptyque launched a collection of scented stickers and jewellery, while Jo Malone London created the 'Scent To Go', a lightweight disk that slowly releases fragrance, perfect to slip in your gym bag.
But it's Fendi who has taken the perfume game to a whole other level with a scented version of its iconic leather Baguette bag.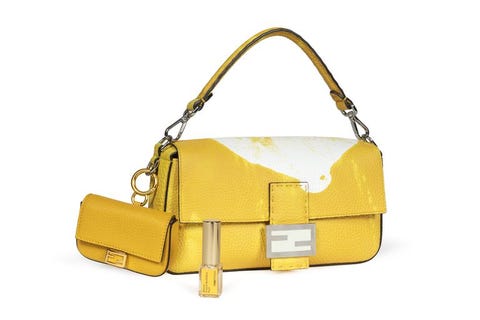 Currently enjoying a revival from its previous status as the Noughties 'It' bag, you can't scroll through your Instagram feed without seeing an editor or influencer slinging a Fendi Baguette over their shoulders. Now, the Italian fashion house has given the classic design a 2.0 overhaul, this time complete with fragrance.
The scented bag collection features leather infused with 'FendiFrenesia', the exclusive fragrance designed by perfumer Francis Kurkdjian. Fendi describes this new signature scent as "leathery and musky".
The best part? According to Fendi the scent will last for an astonishing four years. If only everyone could get on board, maybe the tube would be a more pleasant experience…
https://www.instagram.com/p/B5qH0fbqfy1/?utm_source=ig_embed