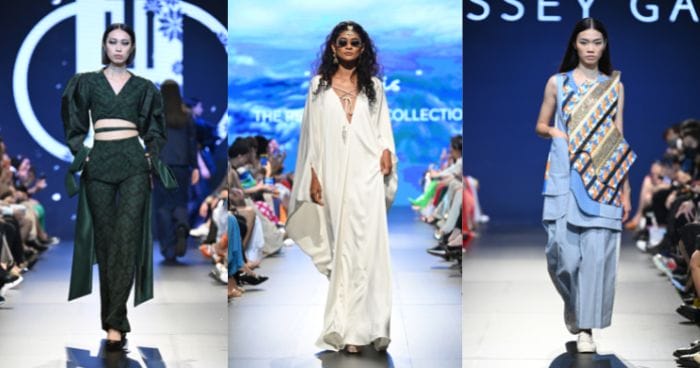 Last week is still so fresh in our minds, especially day four of Kuala Lumpur Fashion Week 2022 which featured some of the best Malaysian designers and their incredible new collections. From vibrant pops of colour and solid structuring to intricate details and dreamy silhouettes, day four had everything we wanted and needed to see come down the runway.
Keep scrolling to see some of our favourite designers and designs from day four of KLFW 2022.
Maarimaia
Feathers and florals was the name of the game here at Maarimaia as every look that came down the runway featured one or the other, if not both. There was also a lot of intricate and detailed embroidery featuring birds, plants, and flowers that seemed inspired by Chinese art. Some looks were embellished with feathers and tassel beads which added an element of fun to the demure looks.
Alia Bastamam
KLFW attendees swarm to the Alia Bastamam show because, year after year, the designer ups her game and gives us the slinkiest, sexiest, most feminine silhouettes that are absolutely to die for! This year was no different as she presented pieces draped, pleated, and layered to perfection.
Laguna Sydney
The silhouettes were free and easy, the vibe feminine and almost ethereal – Laguna Sydney brought bohemian chic in a plethora of joyful colours to the KLFW runway on day four.
Cassey Gan
Cassey Gan wowed KLFW attendees with her eye-catching collection. Blue was the hue du jour, and each design featured layers of exciting prints, pops of red, pink, and gold, as well as fun textures.
Hatta Dolmat
It was structure central on the Hatta Dolmat runway. Bold print and fun colours made up the solid shapes of the blazers, trench coats, two pieces, and suits coming down the catwalk. Definitely a feast for the eyes!