A collection comprising of wonderfully bonkers British culture, designer Johnny Coca turned it up a notch with Mulberry's Ready-to-Wear Spring/Summer 2018. A fusion of the old-school heritage and tradition of British craftsmanship, with the dynamic cool of today, here is what you need to know about the collection:
Royal Wedding and Royal Ascot ready
Shut down the who's-got-the-biggest-hat game at an English country garden party with one of these flamboyant XL hats. Coca's love for English classics, history and figures also incarnates in extravagant and witty millinery, created by Noel Stewart.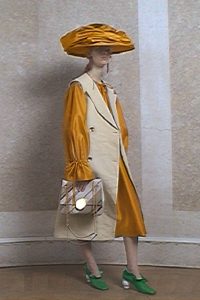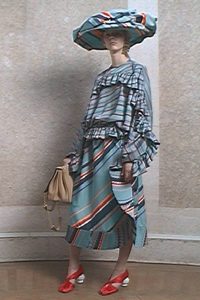 The ruffled dresses and linen suits of voluminous proportions and whacky colours are the perfect sipping-tea-while-playing-croquet to heading-to-an-after-party-in-Mayfair pieces. Vibrant field green is in this season and personally, I'd love to wear the matching hat and baby doll party frock into a club just to see if I'd be shunned away by the bouncers or not.