In 2008, Mandarin Oriental Kuala Lumpur opened doors to the Sultan Lounge, a luxurious lounge for A-listers to see and be seen. Designed by renowned New York-based designer Stephane Dupoux, Sultan Lounge's stylish timber floors juxtaposed against chic ultra-modern furnishings in a tent-like structure, and it was nothing like anyone had ever seen.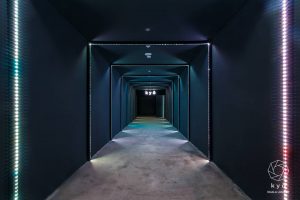 A decade later, in the same amber-lit space, a similar experience is told through different eyes. At Kyō KL, a different rhythm plays as fashion insiders, music mavens, and stylish photographers converge, and are plunged into a world of R&B house remixes and techno hip-hop edits. As the first international venture for lifestyle group Limited Edition Concepts, Kyō's ultra-chic 6,000 square feet space is more than just an adventure playground for partygoers.
It also stands as a serious platform for international and homegrown acts to showcase their craft and talent. From hosting big names such as Seth Troxler, who has played at Tomorrowland, Kitty Cash in collaboration with Kitsuné Club Night's Asia Tour, and rapper/social activist Talib Kweli who addresses racial inequality through his music, Kyō's musical line-up always injects a fresh take on the city's nightlife culture. It's easy to lose all sense of space and time in the two-floor labyrinth, starting with Ren, Kyō's tamer counterpart, where walls are dressed with provocative Japanese art and bamboo shoji doors. Let's Kyō! 
BAZAAR's 150th Anniversary party at Club Kyō
https://www.instagram.com/p/BUeTsUfF_uU/?taken-by=harpersbazaarmy