CHANEL SPRING/SUMMER '16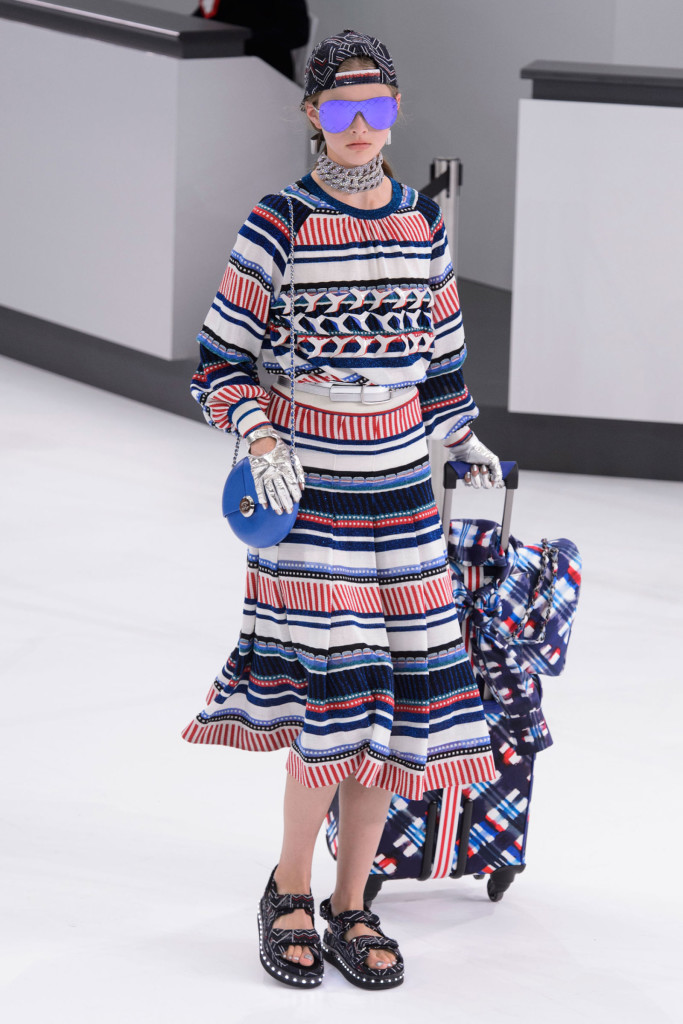 Chanel Spring/Summer '16
Now boarding Chanel Airlines Flight 01 to Anywhere You Wanna Go. For his Spring collection, Karl Lagerfeld recreated an airport terminal—as vast as it was at times confusing because of all the paparazzi and social media snappers jockeying for pictures of their favorite street style bloggers, editors and Korean pop stars… much the same way it would be if said "stars" were in an actual airport. Lagerfeld understands better than most that fashion is somewhat in a bubble. He loves the bubble, lives in it, pokes fun at and celebrates it. There's joy in that. And there's also plenty of fodder for great clothing inspiration that can translate high or low. Amidst all the playful cacophony of literal flight patterns (plane intarsia sweaters and arrival/departure board prints) there were pieces that stuck to the house codes. Tweed day suits done straightforward for the doyenne as well as the younger set with a loosely folded lapel and a bow. Or Blazers teamed with pleated lurex gowns. Knits came colorful and snug or over-the-top and festooned with bows and frippery.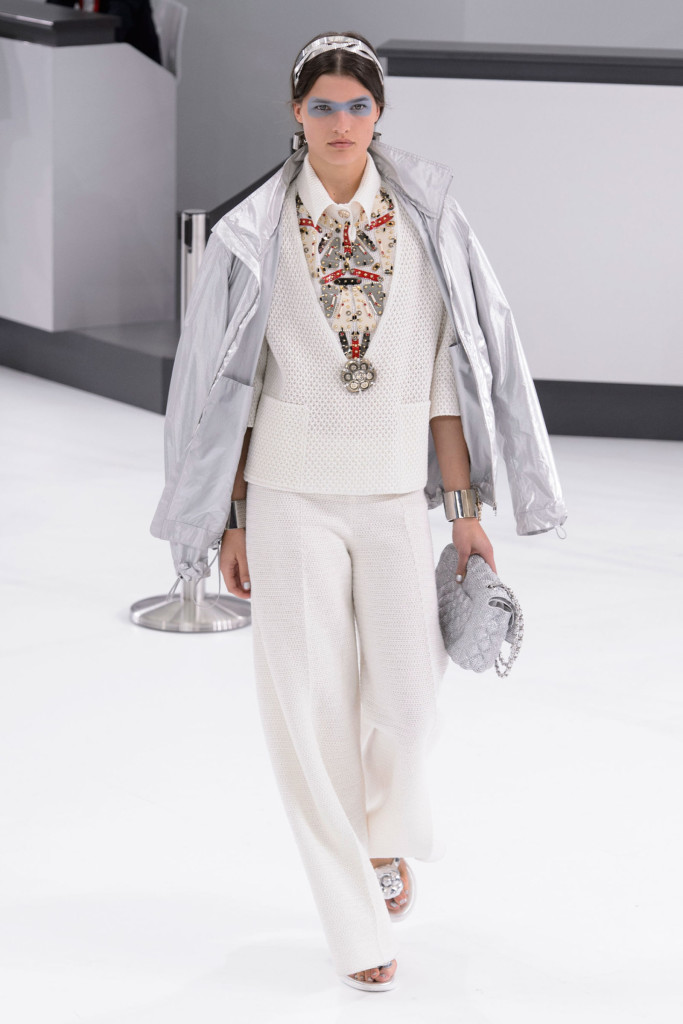 Chanel Spring/Summer '16
Lagerfeld embraced athleisure, elevating and toying with it. The girls sported printed water shoes, backwards baseball hats, moto gloves or goggle-like sunglasses. Silvery anoraks covered smart, simply chic white tunics and trousers. At the other end, bombers were envisioned in sheer materials and decorated with jewels.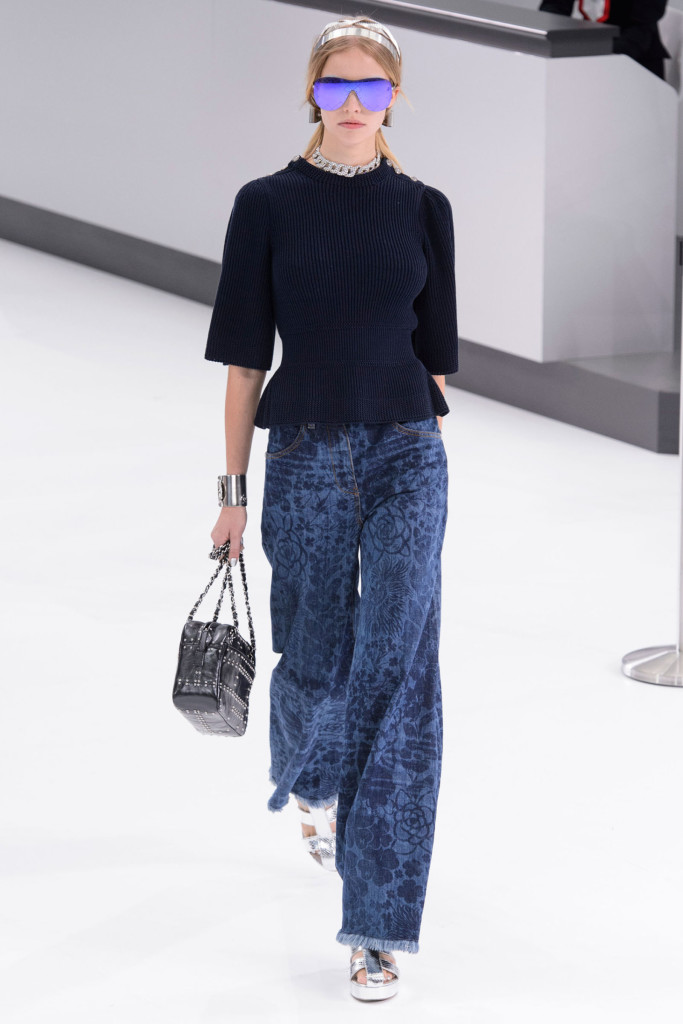 Chanel Spring/Summer '16
Denim—the go-to of travelers—showed up in terrific combinations and variations: youthful washed and tiered dresses; longer dresses with a vague bohemian vibe, and then basic jeans printed with camellias and worn with a fitted blue sweater. Great.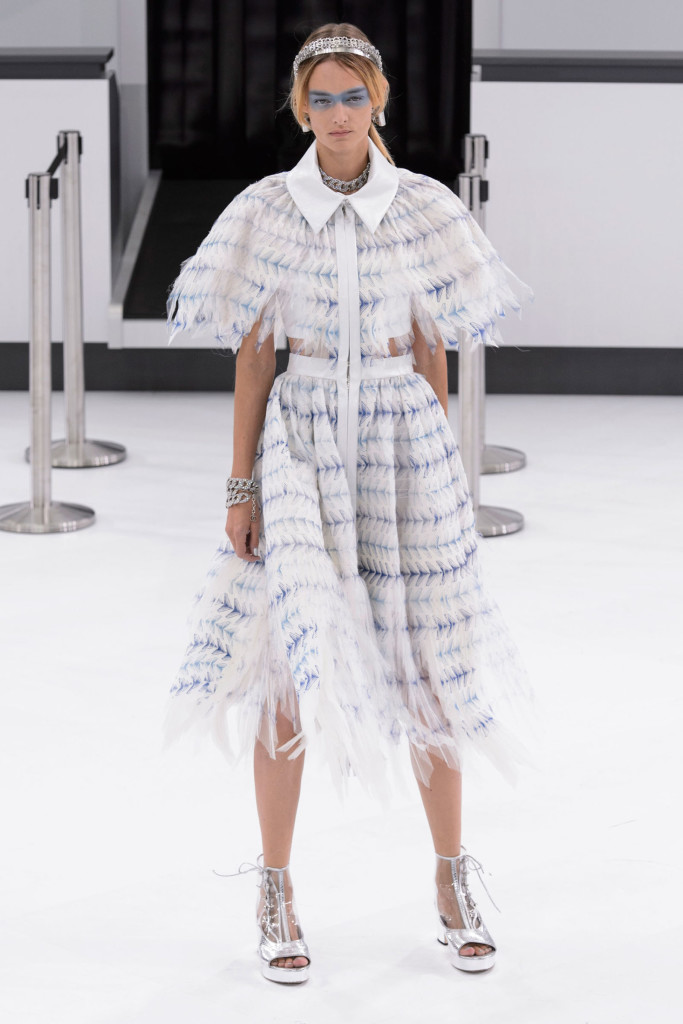 Chanel Spring/Summer '16
Theater was key here, seen in the mix of gowns and dresses that worked the day's themes in imaginative and dramatic ways. And of course it wouldn't be complete without several sets of Chanel luggage and carryons that already have accessories editors and frequent flyers salivating. And perhaps the flight industry should take a cue from Lagerfeld's air crew— gorgeous and gorgeously-appointed. This show got people excited (and actually parted the clouds, no joke). Our fashion stars may wear outlandish gear because it is fun and gets them noticed, but when something they are wearing trickles down through the retail sieve to the shopping floor, watered down to something that's more appropriate for Main Street, well, that's the business. And Lagerfeld intrinsically understands this concept. He doesn't need an MBA to understand that his runway is the fantasy and somewhere, some time, a woman who aspires is going to buy into that dream by buying a color, a print, a scarf, a pair of sunglasses with the double-C and she, too, will be living the dream, flying high in Chanel Airlines. And it's going to make her happy. In which case, Lagerfeld nailed the landing as usual.
SAINT LAURENT SPRING/SUMMER '16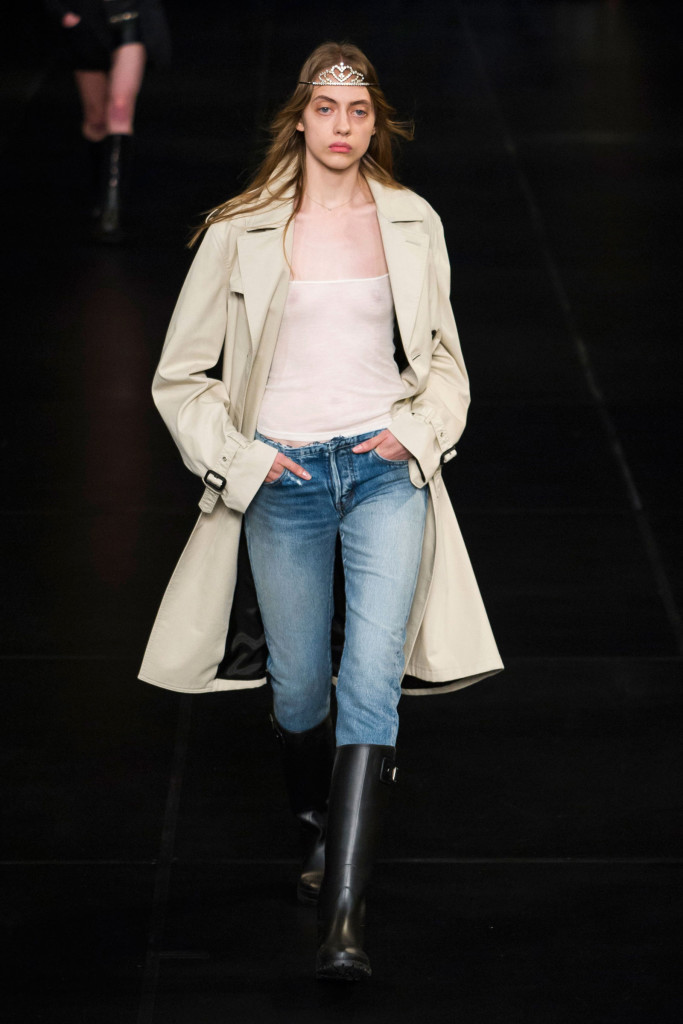 Saint Laurent Spring/Summer '16
Kate Moss and her now famous festival wellies, the '90s, rock chicks, disco. It's all a very heady Hedi blur! Hedi Slimane's Spring Saint Laurent collection celebrated everything that is raw and glamorously undone about the rockstar set, the models who either date them or hang out with them and the stylish women who emulate that lifestyle. There's a uniform to the Saint Laurent girl, a party dress code, as it were. For Spring, it's the mini dress—either shiny or sheer—layered under a tomboyish jacket. Just mix up the materials: tiger, sequins, lace, cheetah, denim, netting, beaded fringe and leather. Shoe choice is either a rain boot or a high strappy sandal.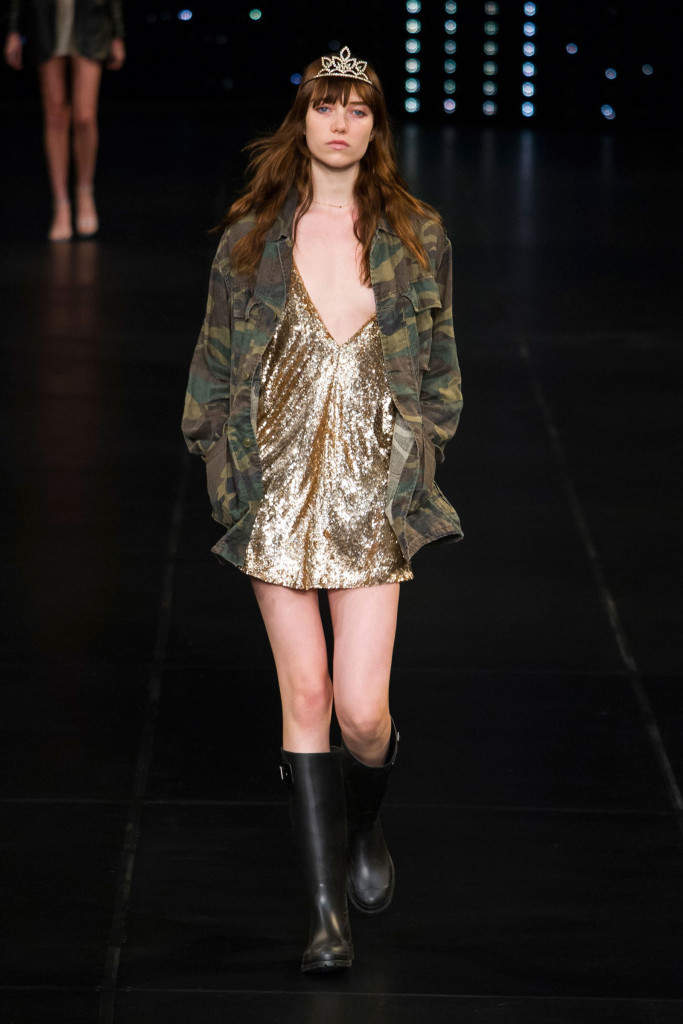 Saint Laurent Spring/Summer '16
Slimane dug deep into the music vaults, recalling the lingerie-and-tiara stylings of Courtney Love in her Hole heyday. So if there was an air of debauched glamour, a whiff of morning after-ness to it all, you'd be right. Ultimately, this party girl needed to come up for air, and she did so with a cozy oversized sweater and a razor sharp Le Smoking. The latter never ceases to look good and of-the-moment. If there's one look that sums up all that is, was and will be good about fashion design, let it be this.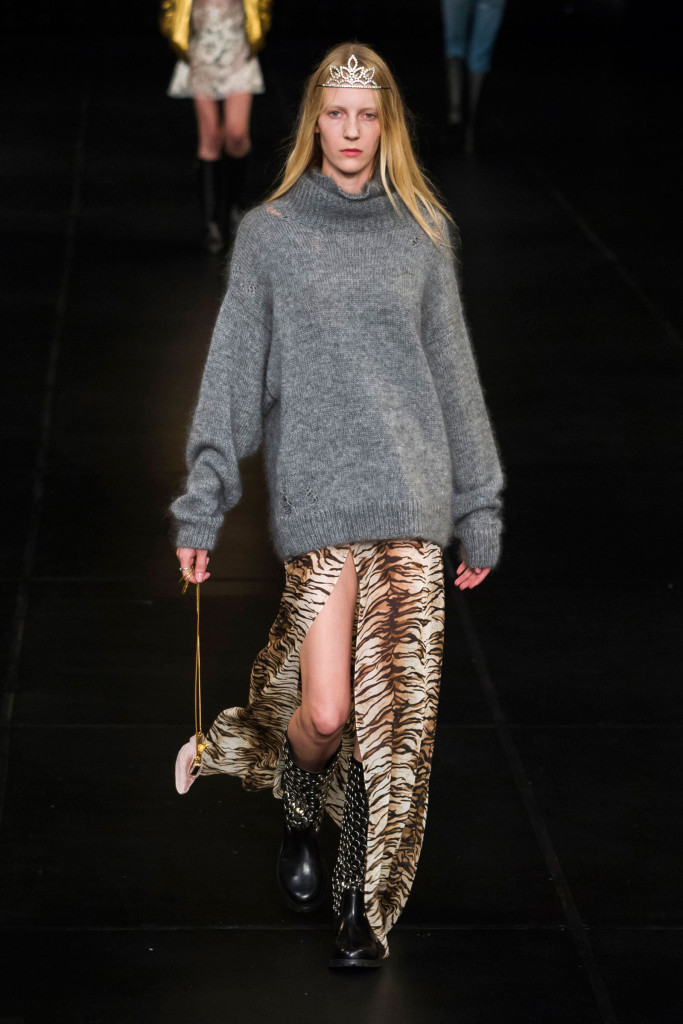 Saint Laurent Spring/Summer '16
Before launching into a final salvo of black slip dresses in various states of deshabille, Slimane showed a silvery beaded gown that had all the sex, (insinuated, obviously) drugs and rock-and-roll of the previous exits but also the glamour needed to pull the red carpet crowd.
DIOR SPRING/SUMMER '16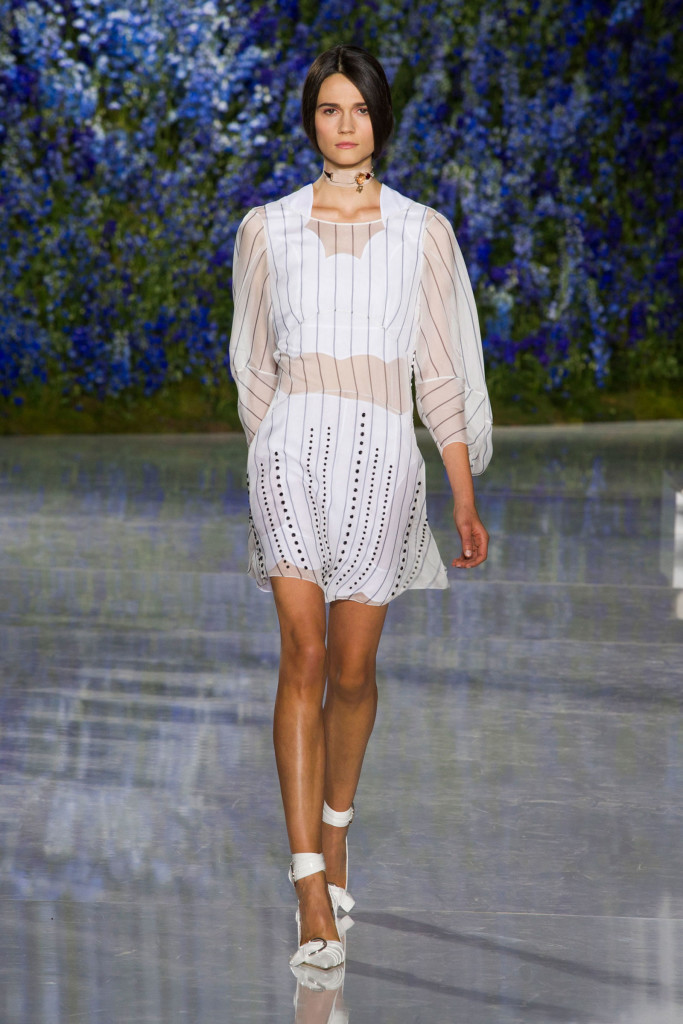 Dior Spring/Summer '16
Few moments were as beautiful as the man-made hill covered in 400,000 blue delphiniums, a welcoming entrance to the Christian
Dior
show at the Louvre's Cour Carrée. It beckoned people to stop, touch, roll around, take a minute. The gorgeous clothes Raf Simons presented a few moments later had the same arresting effect. Simons softly but effectively pushed scalloped hems, cropped tops and sheerness. He repeated this mantra throughout the entire collection, even taking the guesswork out of the shoes, offering just one style—an ankle-wrap pointy-toed mule. For all the scallops and crops, it never got boring or monotonous thanks to artful layering and different options. For the youthful, there were white tops and shorts, which could be layered under cable-knit sweaters (also cropped and scalloped) and sweet miniskirts or even tailored black jackets for a tomboy vibe.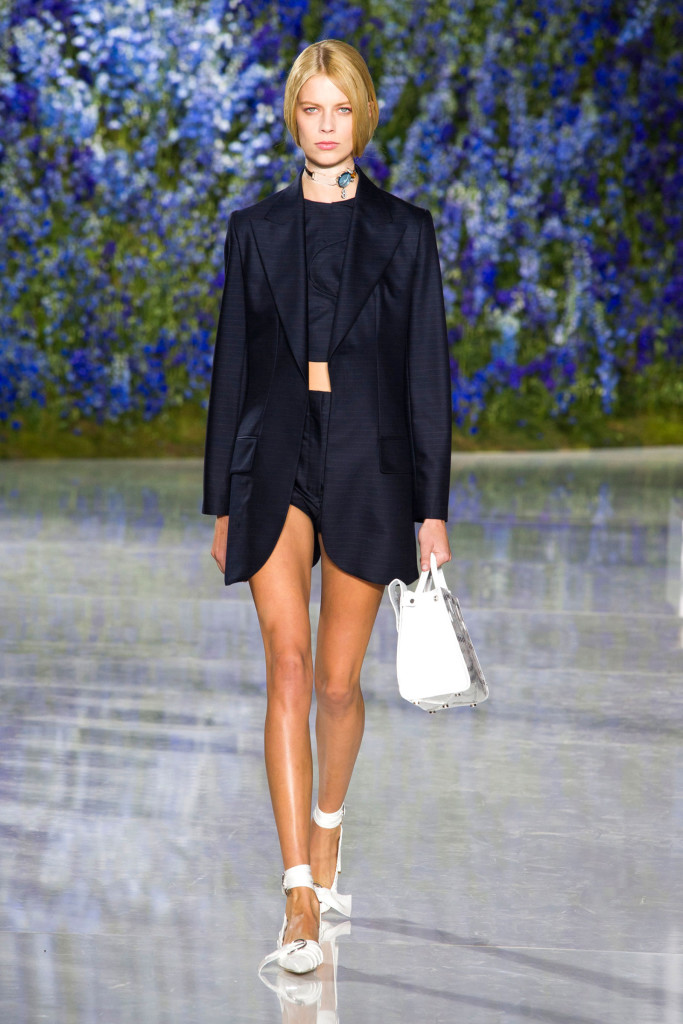 Dior Spring/Summer '16
For the sportier types, there were flack jackets, anoraks and wind breakers done with feminine colors, floral appliques and loose ruffles. And for the business sophisticate, there were several smart suits cut slim and flattering. And the bags came out in terrific shapes and colors—duffels in crisp green, white or a Yves Klein-ish blue or small boxy shapes in red, white and browns.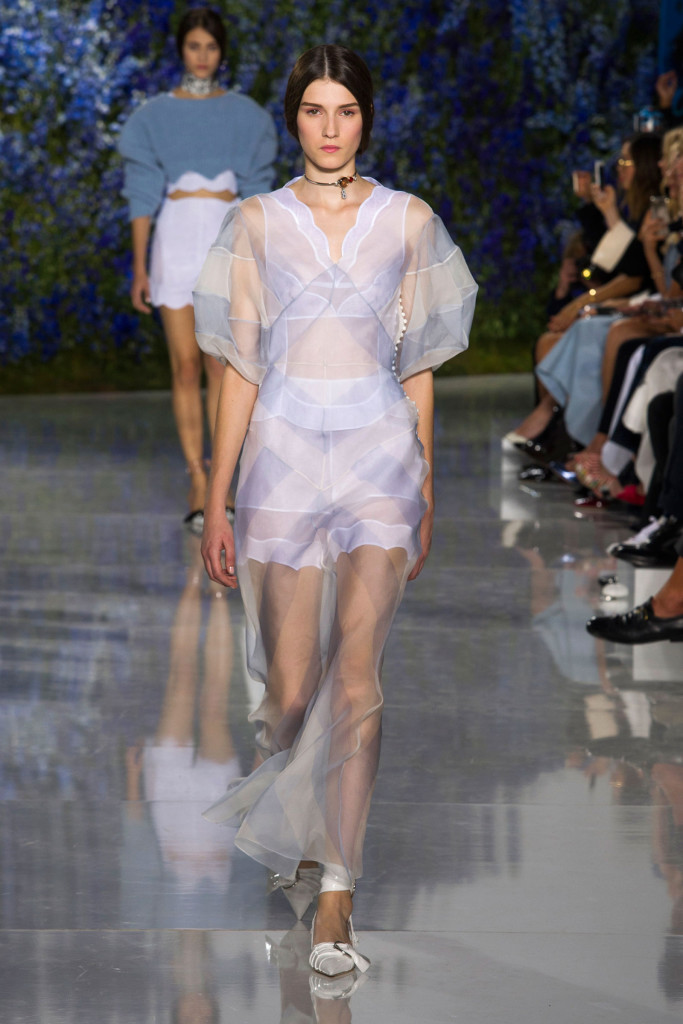 Dior Spring/Summer '16
There was a sweetness and delicateness to the collection that was refreshing…and optimistic. There's power in beautiful things, even if it's something as transient as fashion. In a world that can spin out of control senselessly, aspiring to a moment of tranquility is a good thing and necessary. It's a message started in New York by Phillip Lim and carried through by Raf Simons—stop and smell the flowers.
TOM FORD SPRING/SUMMER '16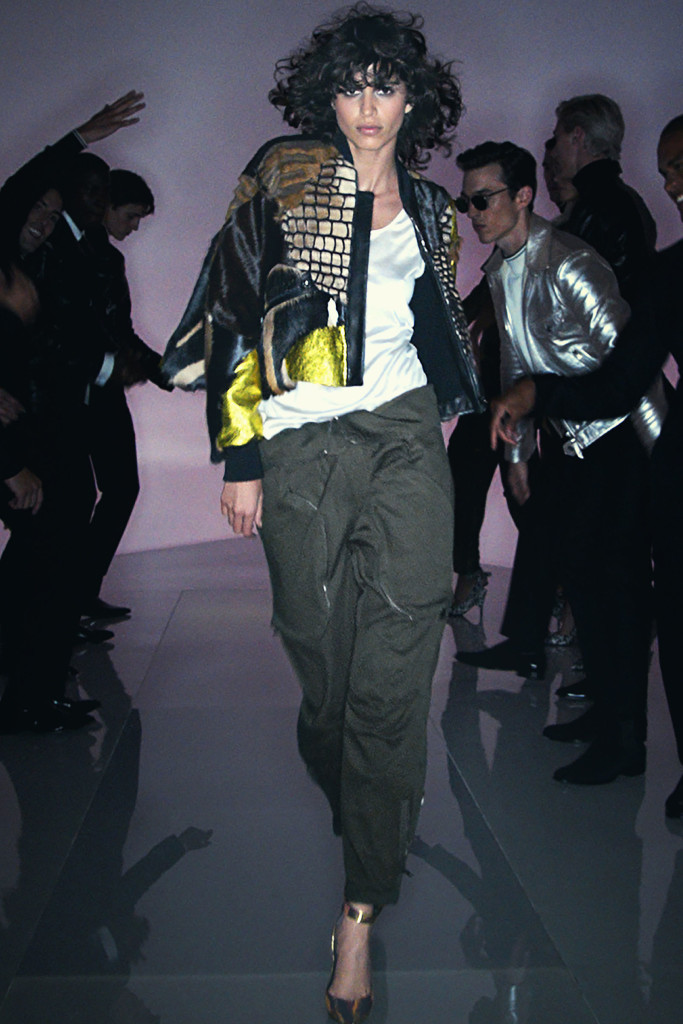 Tom Ford Spring/Summer '16
I ask you this: If a girl can't Nae Nae in her clothes—be they cargos or a beaded gown— what's the point? Tom Ford, who's been searching for the right way, locale and time to show his women's collection for a few seasons, opted out of the runway and recreated the beloved Soul Train Line dance in an infectious music video-eye candy fashion film starring Lady Gaga (singing "I Want Your Love"), that went live on his website during Paris Fashion Week. "I have always loved "Soul Train" which used to be on TV in the 70's; as it was as much about the clothes as the music," he explains before the video plays. Filmed by Nick Knight, Gaga and a gaggle of model pals dance down a lit runway in the sexiest Soul Train Line since, well, Soul Train. The production was as glossy and sexy as the clothes, a mix of silk cargos that were cinched at the ankle and paired with t-shirts and bombers, beautifully tailored trousers and lacy tops and drape-y blouses with cut-outs.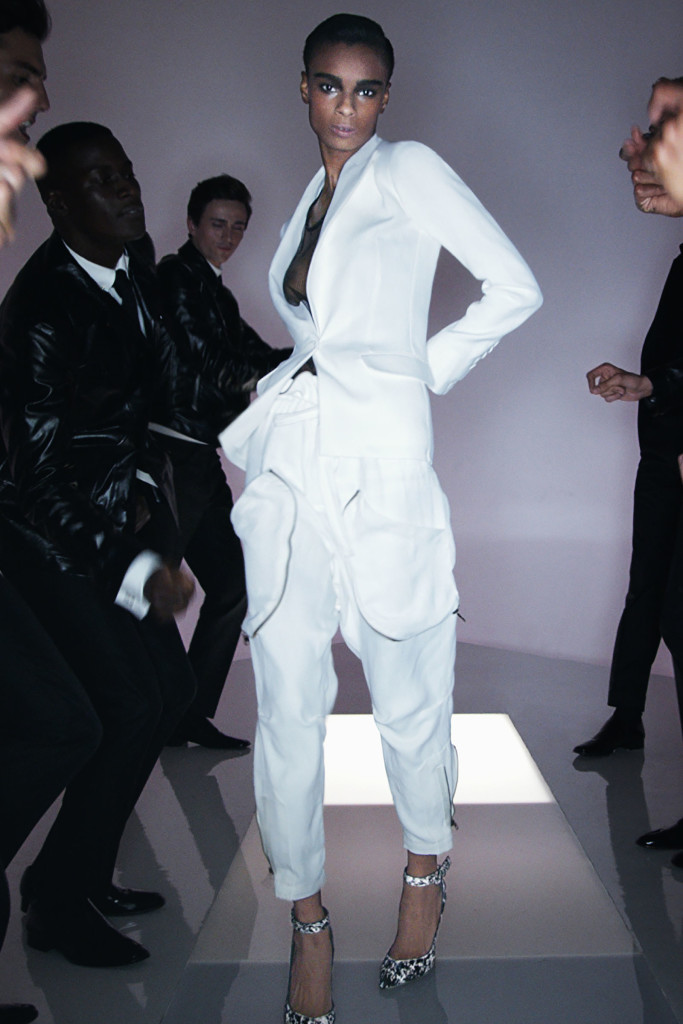 Tom Ford Spring/Summer '16
Ford showed two ideas. The first was super short minidresses, done as skimpy LBDs and their white counterparts or a polkadotted leather look worn by Gaga. The second was dressy pants that can be worn for day with t-shirts and jackets in patchworks of silk or exotics, or donned for evening dance parties in sexy suit combinations, flowing trousers with baring tops or as jumpsuits.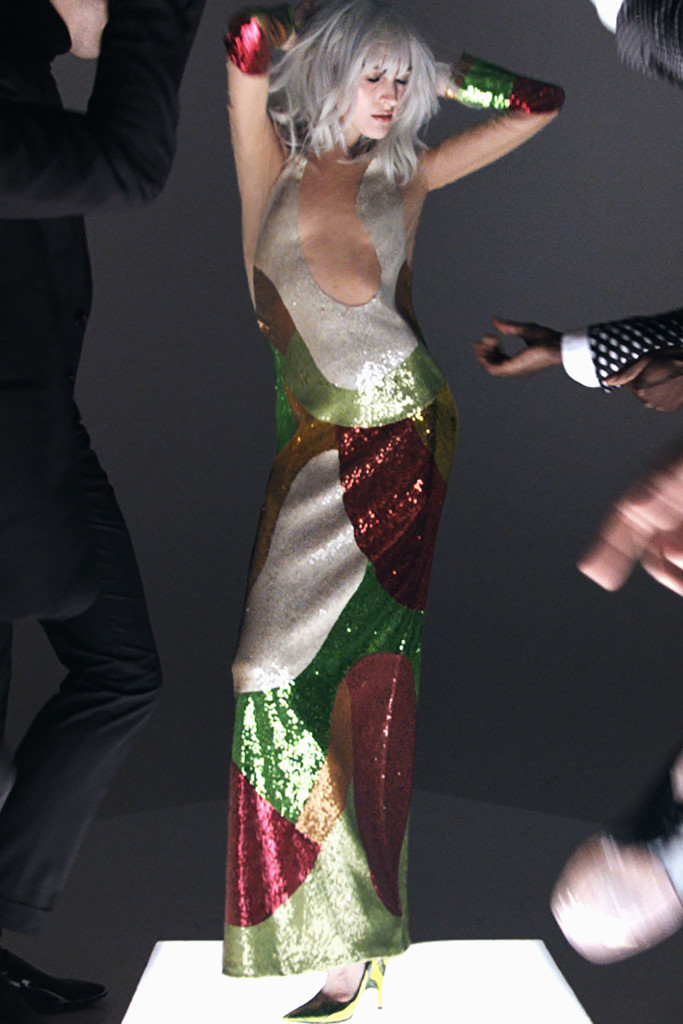 Tom Ford Spring/Summer '16
The glamour quotient was high, as was expected, with colorful beaded minis, tunics and gowns (the latter with curvy cut-outs). The dance set-up turned out to be the perfect way to showcase these looks in their natural habitats. Ford, ever the canny ad man, just killed about 50 birds with one glossy, glamorous, razzle-dazzle stone. In 3 1/2 minutes, he locked in his runway, marketing campaign, FW buzz, viral social media moment and he gave travel-weary editors a little break. So where is the man himself? Filming his next movie, Nocturnal Animals, starring Jake Gyllenhaal, Amy Adams and Armie Hammer. It sounds like more serious fare than this frolic, but it's good to know the man still knows how to boogie with the best of them. All images from Tom Ford.
LANVIN SPRING/SUMMER '16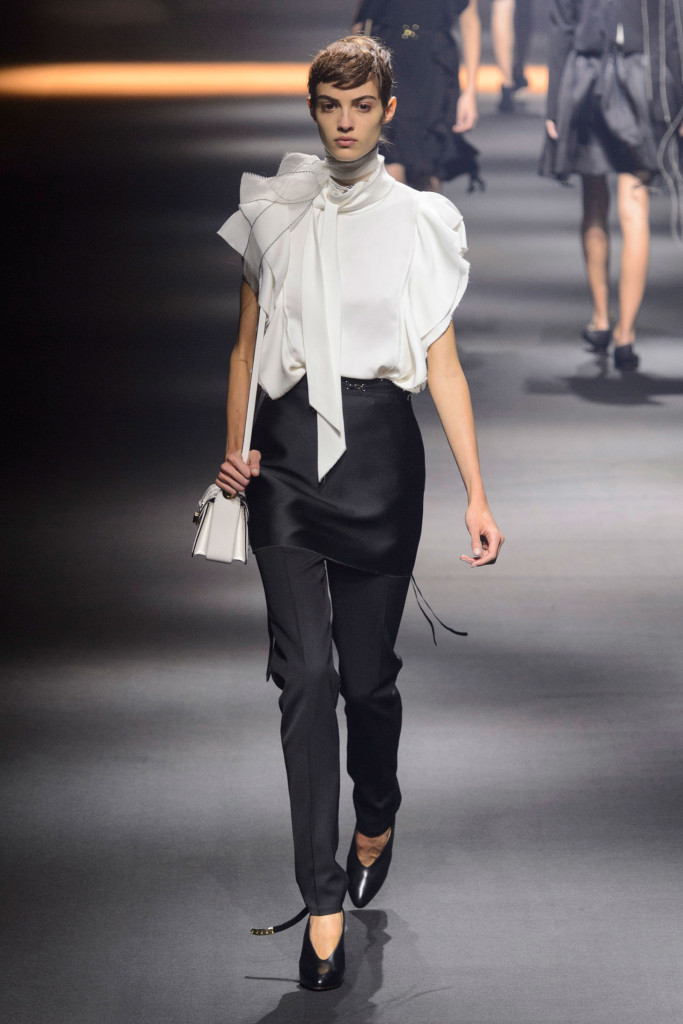 Lanvin Spring/Summer '16
Alber Elbaz plied his audience with heart-shaped cookies and champagne and kicked off his Spring Lanvin collection with black and white classics that were deconstructed a little. Tuxedos and suits with white flouncy blouses either frilled up or distressed a little. And he threw in some cherry red ruffled dresses to tie back to those cookies.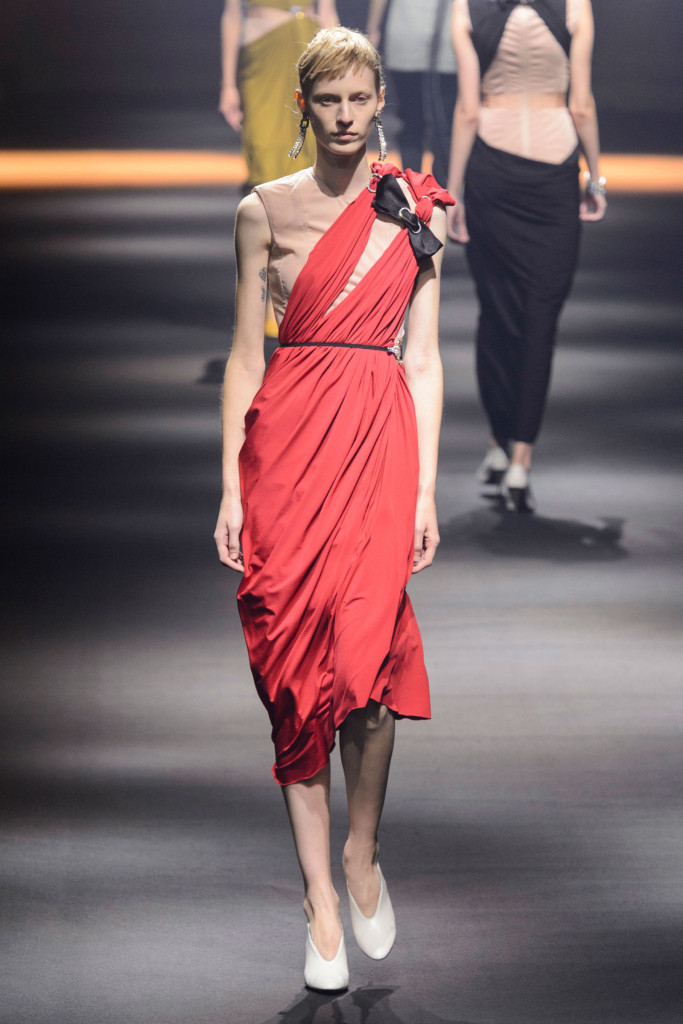 Lanvin Spring/Summer '16
Then the collection morphed into more languid, fluid territory, with gorgeously tailored suit jackets doubling as minidresses or spun into jumpsuits or any number of day dresses done in camel, gray or white with some kind of architectural detail or slit for interest.But then the party seemed to kick up a notch with bright jewel-toned abbreviated goddess frocks that were gathered at the shoulder or waist and showing off more than a hint of skin. But this is Elbaz. Never one to be crass or lewd, the ladies walked out with nude bodysuits under the dresses to preserve their modesty.He piled on the flash and glamour with sequined dresses and loosely-tailored jackets and blazers. His beloved bow tie turned up as a detail here, there and everywhere, making this a black-tie, blue-tie, pink-tie, all-tie kind of eve.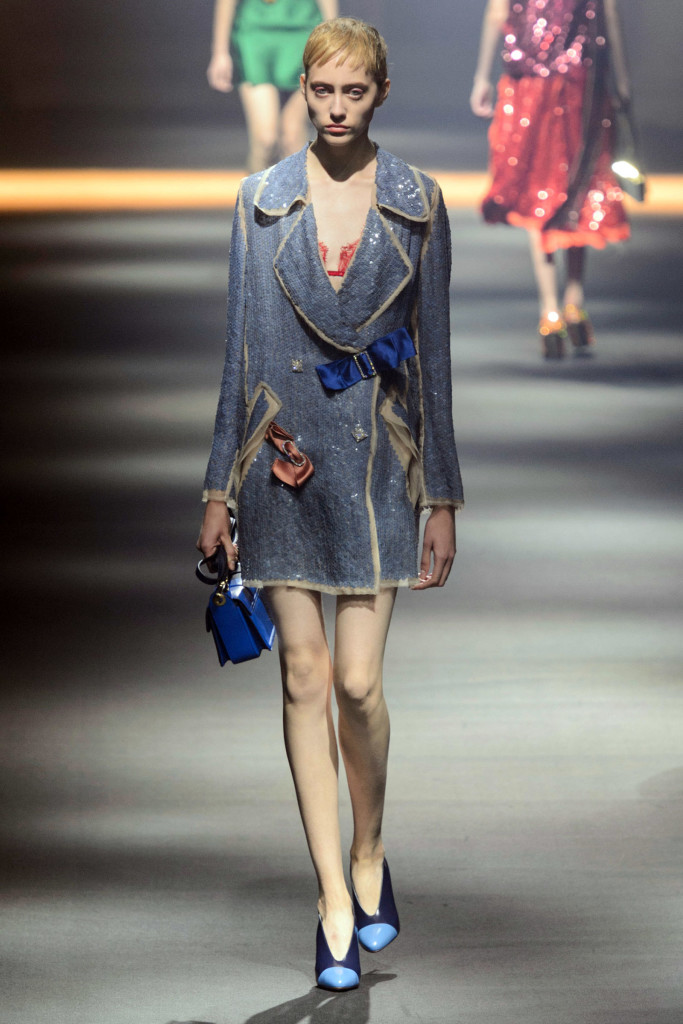 Lanvin Spring/Summer '16
One dress in particular, a little black dress that was part sheer lace and part opaque seemed to sum up the yin-yang nature of the collection. For every ladylike refined moment, there was an over-the-top wild one. For every beautifully finished one, a completely undone one. For every monotone or tonal one, a riotously colorful one. But such is the cheek and charm of Lanvin's Elbaz.
BALMAIN SPRING/SUMMER '16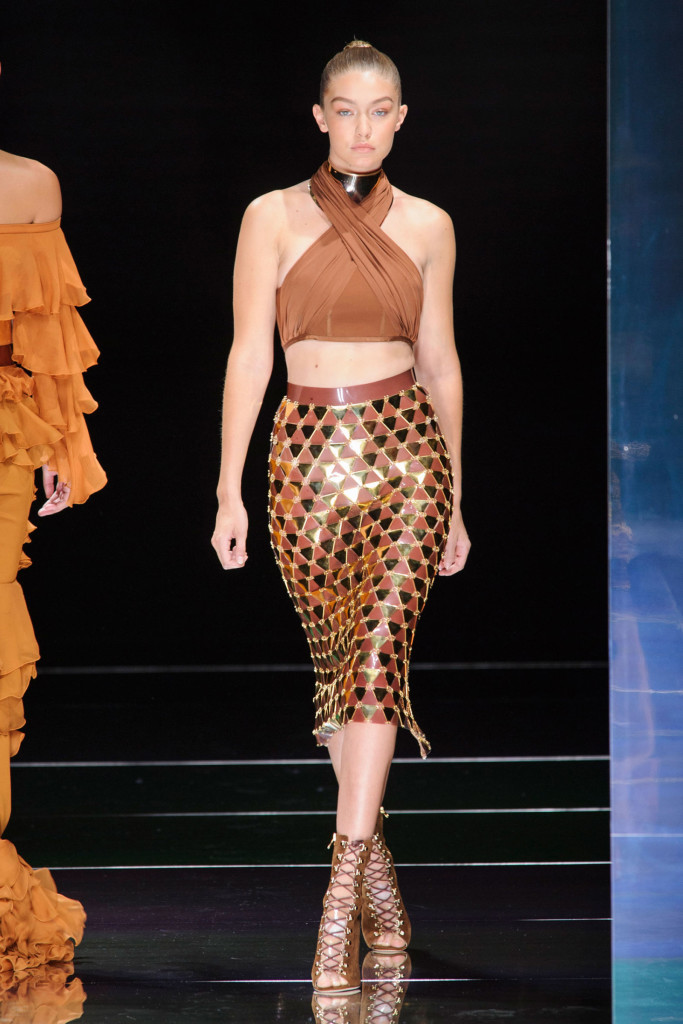 Balmain Spring/Summer '16
Which comes first, the chicken or the egg? It's hard not to look at Olivier Rousteing's Spring Balmain collection and not see the Kim Kardashian silhouette. In reality, it's the other way around. Rousteing's penchant for wide-belted-cinched-waisted curves has redefined the look and persona of Mrs. Kanye West, who was not present, though her sister Kendall walked and mother Kris looked on. And it's Rousteing's ebullience and energy and ability to draw in the girls—his #BalmainArmy, as it were—that has catapulted him and the label back into the zeitgeist of high editorial fashion.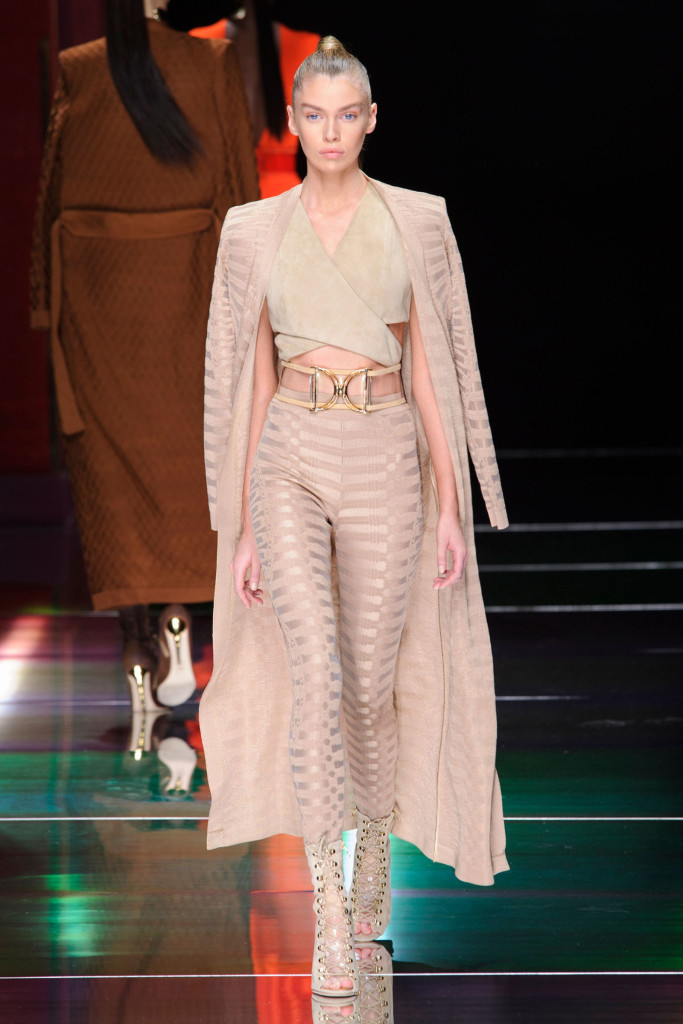 Balmain Spring/Summer '16
For Spring, he took those dangerous curves and explored different lengths, pieces and a quieter color palette that started and ended with earthy neutrals (save for a sensational emerald green trio). You think this young turk is all about va-va-voom club dresses? Think again. There were columns, pants, jackets, minis, sweeping car coats, pencil skirts, peplum tops, suede pants and long-sleeve jackets. He loved the criss-cross wrap, employing it on more than a few tops that stopped at the rib cage, showing off tiny waists that were in turn highlighted by wide belts. Pants were either knit and snug or ruffled. Either way, you need to be fit, fit, fit and uber confident. So if you are into ModelFIT, Ballet Ballet Beautiful or Yoga for Bad People, buy yourself a 100-pack of classes now. The details were rich and beautifully executed. When Rousteing wasn't doing knitted stripes, he offered lattice in jeweled netted dresses, silk crochet pencil skirts, leather paillette bottoms embellished with jewels or beaded fretwork columns. It was as optic as it was sexy. Revealing as it was thoughtful.
VIONNET SPRING/SUMMER '16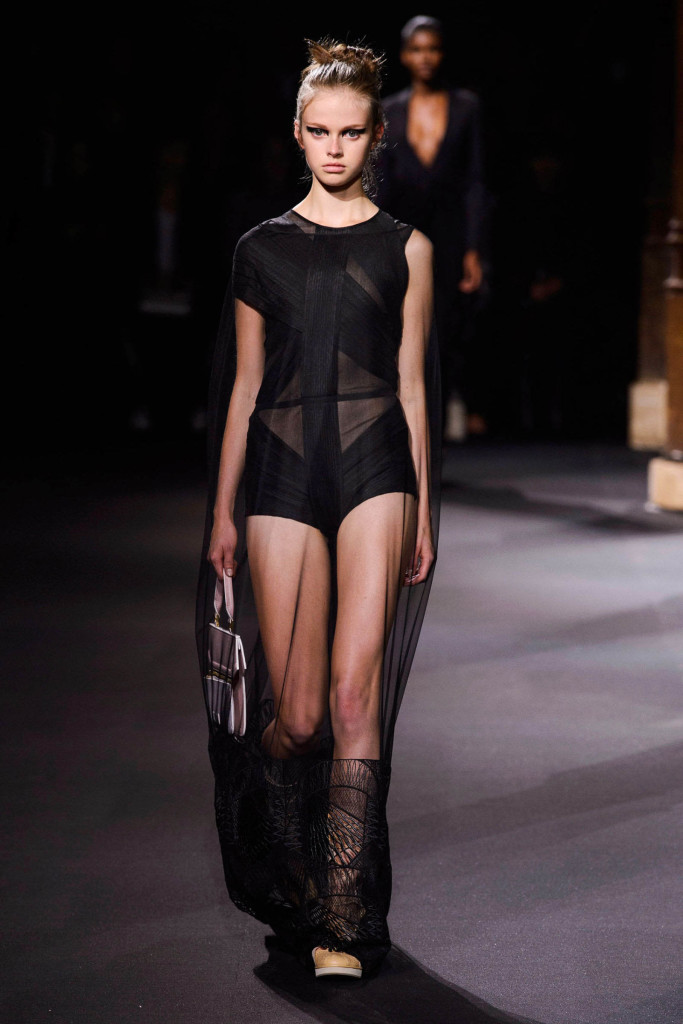 Vionnet Spring/Summer '16
Just days before the show it was announced that Hussein Chalayan would be joining the Vionnet team (after designing the demi-couture line that is only shown privately), and just having his steady presence at the end of the show for the bow, introduced a different energy. And what proceeded was pretty good, from the signature plisse gowns to the sporty shoes they were worn with, proving that Goga Ashkenazi, who owns the brand, knows exactly what she's doing. The construction of the gowns was impressive, as were the colors (black, bronze, to a mix of neutrals).
Vionnet Spring/Summer '16
There were cut-outs at the waist and ribs, and some were one-shouldered—all variations on artful togas that were body-con and flattering. Smartly, the group branched out—ready-to-wear is not just about gowns, after all— into nicely tailored cropped pants and a handful of jackets and blazers with architectural details that have Chalayan's fingerprints all over them. The sportiness was also a good idea, as were the gladiator sandals. Ashkenazi is clearly trying to prove that this is more than a vanity project, and she should keep pushing it forward. With Chalayan on board, things certainly got more interesting.
THE ROW SPRING/SUMMER '16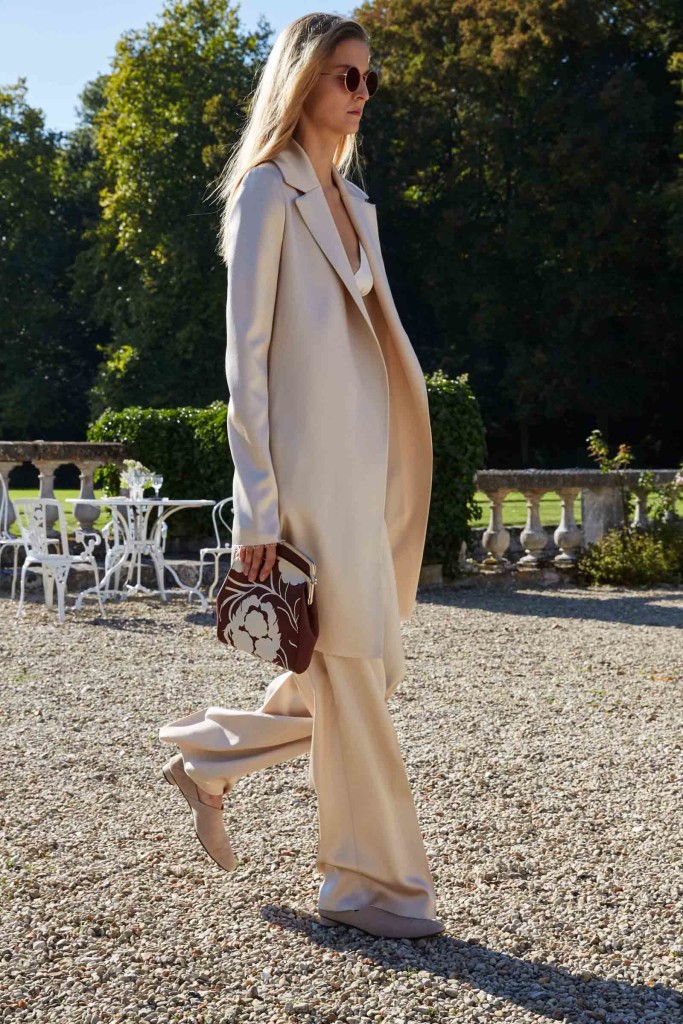 The Row Spring/Summer '16
Mary Kate and Ashley Olsen injected a little Garbo-like drama into their latest offering at The Row. First there was their last minute announcement that they would show in Paris this year and then there was the photography ban at their presentation at the Chateau de Courances just outside the city. There was a new sexiness and embellishment, as well as a sunglass partnership with Oliver Peoples, to their lineup of luxuriously monastic fare. The covered-up vibe the twins love—the all-black, body-hiding swathes of rich materials—were there, showing up in stark contrast to the opulent 17th Century setting. Wide-brim hats and flat shoes (the collection launched this season) added to the cloister-like feel of the prevention. (Not that we're suggesting this was a religious experience.)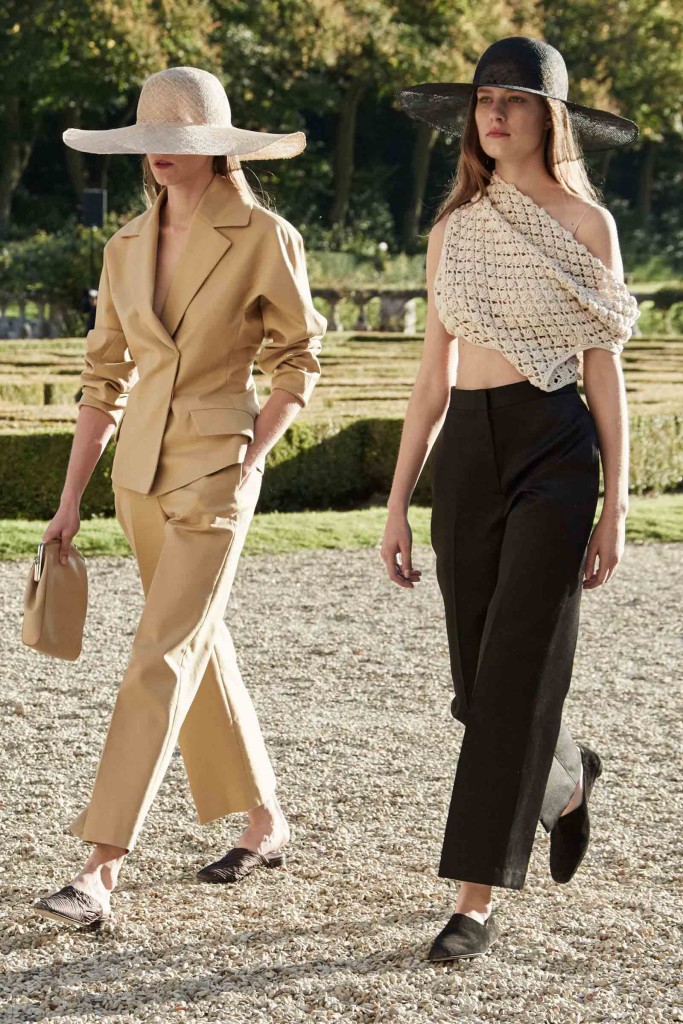 The Row Spring/Summer '16
But the Olsens started to loosen up their grip on covered-up chic. More than a hint of skin was shown and fine tailoring, too. Loose knits slid off shoulders sexily while pant suits in camel and black looked good enough to wear to work now. And there was some embellishment happening, too. A beaded coat that doubled as a minidress felt downright giddy when played against the spareness of their m.o. or the rustic muslin and gauze blanket-like coats to come. Elsewhere frothy sheer dresses covered up but didn't hide little bras and high-waisted bottom below. It was alluring.A spaghetti strap minidress walked out next to a strapless top worn with blouson sleeves and cropped tailored pants. It felt like the Olsens were being frisky with fashion, feeling youthful and in love.
MAISON MARTIN MARGIELA SPRING/SUMMER '16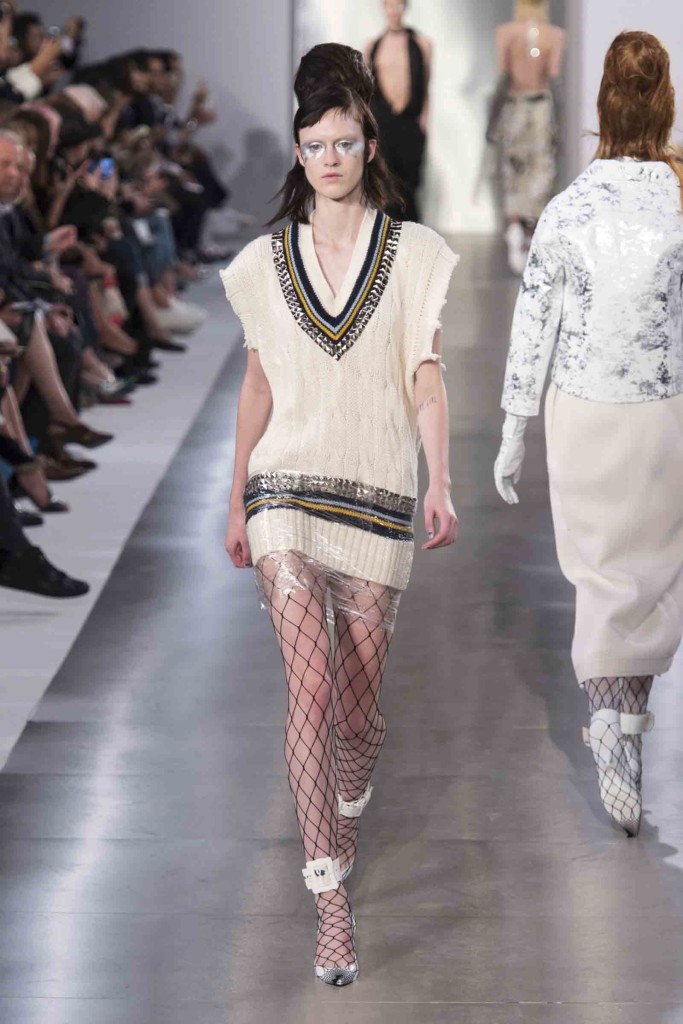 Maison Martin Margiela Spring/Summer '16
John Galliano is taking Martin Margiela's ethos very much to heart. But Galliano's personality was very much in the spirit of the retro-spacy-racy-luxury-laden collection he presented for Spring. His ladies were ladies, even the ones who were androgynous men with their hair teased into beehives. If coats being clutched closed or the wonderful roomy zippered totes in winter white weren't a tell, the shapes of the clothes were: cropped jackets, slim sheaths and wrapped pencil skirts. And, there were leather cut-out dresses layered under gauze that picked up on the silver starburst eye makeup and fishnet stockings worn over shoes (and also on arms, for that matter).
Maison Martin Margiela Spring/Summer '16
He smartly reworked traditional ideas, like the tennis sweater stripes done in metal grommets or embellishments on skirts and coats that looked like crystal eyelashes. But pieces like a bright green suit—cut perfectly—are a reminder of Galliano's technical ability. And when he marries his wild imagination with the practical needs of wardrobing, it's a pretty fun ride. And his coats in general will be an easy entry point for women who are getting used to Galliano in the lead at this beloved insider's outsider-brand. You could see Galliano in the drama of the geisha-inspired makeup and styling or in the way every-day separates were elevated into the realm of the operatic.