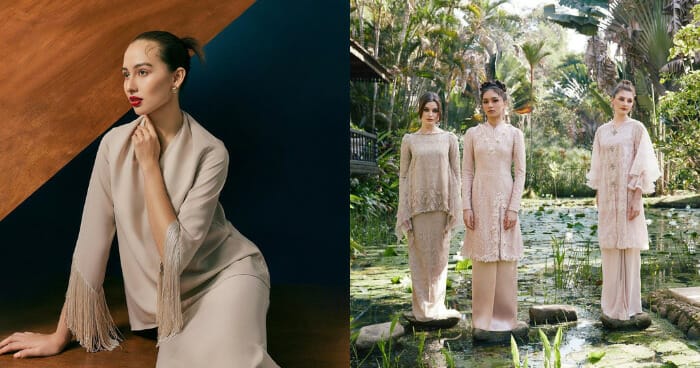 Celebrate in style with these Raya 2023 fashion collections from local brands
Ramadhan – the holy month of abstinence – is approaching us, which means we are mere weeks away from celebrating Eid with our loved ones. While Ramadhan may be a season of modesty, Eid is a season of dressing up. And, what better way to dress up our festive look than with our very own local designers?
Focusing on quality over quantity, these local designers have dedicated their time and effort to creating a relevant and beautiful collection. Below, discover the best Raya 2023 fashion collections from luxury labels and local designers.
Here are the best Raya 2023 fashion collections:
Alia Bastamam
View this post on Instagram
From draped collars to fringed sleeves and French lace, Alia Bastamam's Ready-To-Wear collection is serving modern and effortless details. Featuring versatile silhouettes, the pieces can be worn for Eid and many other occasions, making them an investment piece.
Shop Now
Hani Mokhta
View this post on Instagram
Giving us pastel and floral galore, Hani Mokhta's Heirloom Raya 2023 collection focuses on pieces that can be passed down from generation to generation. Timeless, beautiful, and feminine, the collection plays with detailings such as pleated sleeves, asymmetrical hemlines, and clashing prints.
Shop Now
Whimsigirl
View this post on Instagram
Whether you're a stickler for tradition or looking to experiment with new styles, Whimsigirl's Raya 2023 collection spotlights traditional silhouettes with modern detailing. Aiming to foster "Gadis Luar Biasa" a.k.a. extraordinary women, their distinctive collection is a triumphant display of style, boldness, and comfort. With a variety of colour palettes, patterns, sizes, and designs, Whimsigirl's collection is made for all Malaysian women.
Shop Now
Hanya
View this post on Instagram
Pushing the boundaries every year, Hanya comes back this Raya 2023 with a bang. Giving a youthful, quirky, and cool girl take on traditional garments, the local brand brought out an edgy collection with high collars, pleated profiles, glistening fabrics and scallop embroidery. The best part? They have incoming Ready-To-Wear pieces that'll launch soon, so you'll definitely be spoilt for choice here.
Shop Now
SHALS
View this post on Instagram
A collection made for everyone, SHALS Raya 2023 collection is all reimagining the classics – Kebaya and Kurung – into modern pieces by adding asymmetrical detailings, oversized collars, and puff sleeves. Adding a vintage flair to all of its contemporary pieces, SHALS' new collection is a must-have if you want comfort and style. Plus, they also have kidswear and menswear, if you're into matching with your family members.
Shop Now
Khoon Hooi
View this post on Instagram
Khoon Hooi's show-stopping collection sees the likes of feather embellishments, floral organza, dramatic cap sleeves, and flowy ruffles. Giving a modern update on all of the traditional pieces, the collection is stunningly unconventional.
Shop Now
Innai Red
View this post on Instagram
Known for their regal poise, Innai Red's Serene Raya Luxe 2023 collection features cinched waist silhouettes, pleated sleeves, button detailing, and stunning sequin workmanship. Their pre-order collection has elegance written all over it. From baju kurung to kebaya, there's nothing you won't like here.
Shop Now
NH by Nurita Harith
View this post on Instagram
Expect a new take on signature prints, floral paisley patterns, pleated detailing, and ruffles when you browse through NH by Nurita Harith's collection. Full of soft, fluid, and structured silhouettes, the Raya 2023 collection embraces femininity and pastel hues. These creations are perfect for those who prefer to exude an understated elegance.
Shop Now
Rizman Ruzaini
View this post on Instagram
Rizman Ruzaini's Raya 2023 collection has a wealth of options for different types of women. From delicate fabrics to majestic pieces, the collection has modern and sophisticated tailoring that will be perfect for Eid – think romantic puffy sleeves and subtle floral jacquard.
Shop Now
Larney
View this post on Instagram
Featuring a riot of colours and designs, Larney's Regal Raya 2023 collections celebrate confidence and elegance. Made to make women feel good in what they wear, all of their pieces depict effortless sophistication, traditional silhouettes, and femininity. Full of fluid materials, embroideries, pleats, drapes, and more, you'll 100 per cent fall in love with one or more pieces.
Shop Now
Jovian
View this post on Instagram
It's time to bloom this Eid with Jovian's Ready-To-Wear Raya 2023 collection. From structured silhouettes to fluid designs, Jovian's Raya pieces are all adorned with intricate details, delicate lace, beautiful prints, and more. They even have collections dedicated to Men and Kids that embody the brand's signature style. Plus, the brand also has a shawl collection this Raya 2023 that will complement your Ray outfit perfectly.
Shop Now