It has been almost exactly a year since BAZAAR checked in with Rosie Huntington-Whiteley. Last April, the supermodel was months away from giving birth to her son, Jack, and in the midst of 30th birthday celebrations when she dialled in to interview Elle Macpherson for the cover story inside BAZAAR Australia's June/July 2017 edition. This year, Huntington-Whiteley herself graces the cover of BAZAAR, and it's safe to say her life has changed somewhat since then.
The week before our chat, Huntington-Whiteley had celebrated her 31st birthday at a shared party with "friend and fellow Aries" Cassandra Grey, the founder of beauty e-tailer Violet Grey. Pals actor Kate Bosworth, supermodel Amber Valletta and DJ Sam Ronson were in attendance, along with Huntington-Whiteley's fiancé, Jason Statham.
"I love my birthday. My sister was like, 'Can you chill already on your birthday—you've had, like, 100 parties', but I feel like there are a few things in life that need to be celebrated and your birthday is one of them. So we got all out friends together and that was really fun," Huntington-Whiteley says, adding "although possibly more chill than it has been in previous years." The supermodel and businesswoman is, of course, referring to the life-changing arrival of Jack in late June, which, she says, like many new mums, has given her a whole new perspective. "There's a whole process now before I decide on anything, whether it's meeting up with friends or taking a job, and at the same time it gives you a new driving force. Feelings emerge that you never knew you were capable of feeling—like unconditional love, and I have found a greater empathy towards others. And then to work and being an individual separate from being a mum—it's very humbling. It's been a very spiritual year, for sure."
In the lead up to the birth, Huntington-Whiteley says she also found her lifestyle shifting. Gone, at least for the moment, were the days of flying to another country for a job every other week. Never one to sit at home and twiddle her thumbs, she used the time previously reserved for long-haul flights to launch a new (currently top secret) project she has wanted to pursue for a long time. " I have always put all of my success down to visualisation; I have always been able to see really clearly what I want, and the dream into a reality," she says. "I am really excited to see how it evolves because a big part of it is starting something that will take me through into this next chapter as a working woman."
That's not to say that everything in Huntington-Whiteley's life has changed. She is, for example, slowly but surely getting back into her old fitness schedule. When Huntington-Whiteley chatted to Elle Macpherson last year, the pair discussed the pressure new mothers feel, especially models, to revert to their former shape as quickly as possible. Macpherson said at the time: "If I could give advice to any woman having a baby, it's to take your time. I was not a good example, because I did all that for my first child and within three weeks I was back to normal, but it was not a healthy way of doing it. I wouldn't do that again, and I certainly didn't do it for my second baby."
"It really stayed with me what she said," Huntington-Whiteley says now. "There was, of course, this point with me where I was really ready to get back to quote-unquote 'feeling normal', and, truthfully, I think I did and have felt the pressure, but more so from myself than anyone else. But I'm not really one for extreme diets—so it has taken time and it's really just now that I've started feeling more comfortable." Right now she's working out four to five times a week, usually at a Body by Simone studio in LA, where she has been attending Australian trainer Simone De La Rue's dance-cardio classes for about five years. "I saw incredible results before and I'm starting to see the results again now," she says. "I just find it works really well for me because I enjoy it. I love that I don't have to go into a gym and have a personal trainer talking to me while I'm running on a machine—instead, I'm dancing to music and the instructor is moving with me and I'm doing everything with my own body weight or small weights and elastic bands and things like that."
Later this year, she will celebrate another milestone: six years of her lingerie (and now swim, activewear and beauty) brand, Rosie for Autograph, in collaboration with Marks & Spencer. "It's just such a joy to get to work on every aspect of something and be creative in more ways than one," she says. "After doing what I do now for 16-something years, being on set and being photographed has become the least fulfilling part of my job. I still enjoy it, of course, but I just love being in design meetings, learning about the business—what we can do more of, what we are going to do next, and looking at the psychology of the customers and delving deep into what it is to be a full-circle brand."
Inevitably, she did also get back on those planes ("There was definitely pumping that went on in a few strange places when I was still breastfeeding"), although there are signs this jetsetter might be turning into something of a homebody. Asked if she's planning a summer family escape, Huntington-Whiteley says, "I don't know, we will probably be at home in LA for the next few months and enjoying family life. I travel so much for work that when I'm at home I just want to be at home."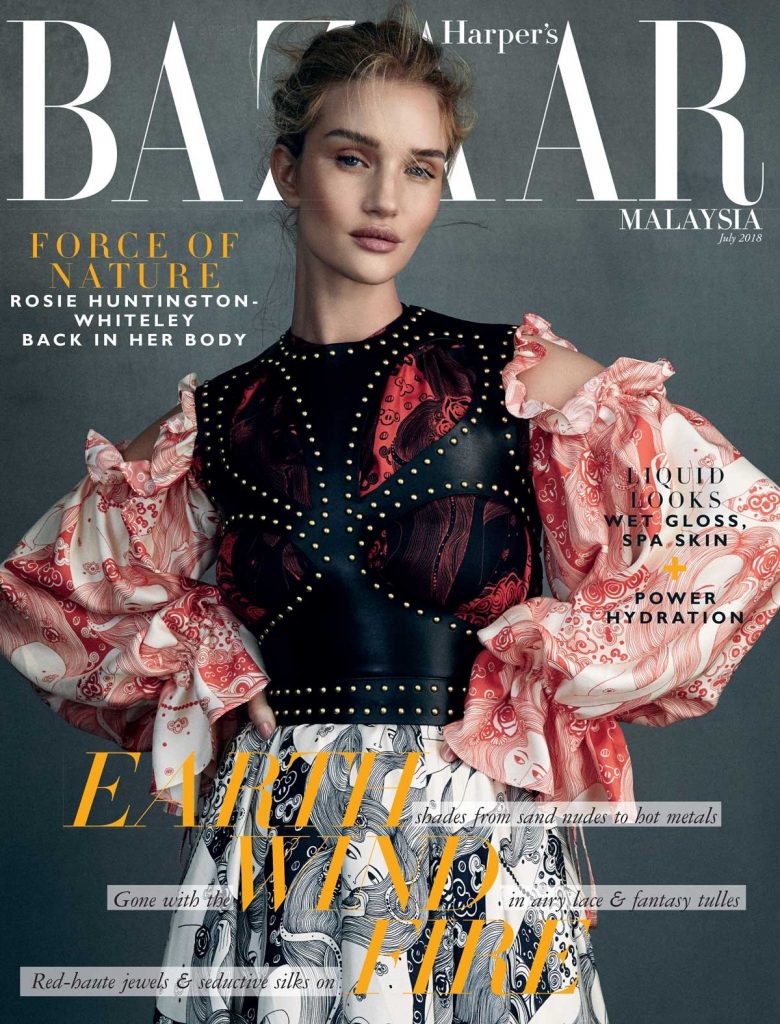 Rosie Huntington-Whiteley is our July 2018 cover girl, get your copy at newsstands near you!