Words by Miguel Enamorado
Finally, stadium-compliant bags are chic
When I went to Beyoncé's Renaissance World Tour, I saw MetLife Stadium packed to the brim with high-voltage sparkle and shine galore. Bedazzled cowboy hats and metallic cowboy boots, miles of fringe, and diamante mesh everything were all around me. But it was the transparent bags worn to the monumental affair that were the clear standout (pun intended).
At first, I pegged these see-through bags as a throwback to '90s raver culture. But in fact, venue security policies have given rise to an actual bag category. Aptly called "stadium bags," they're clear to prevent concertgoers from smuggling in weapons or other contraband past guards.
I'm all about accessory compliance, but I want to make it chic. To quote a lyric from Queen B herself: "Partner, let me upgrade you!" The following 14 clear bags can take your concert necessities to center stage.
Shop Our Favorite Clear Bags of 2023
THE RETRO-FUTURISTIC ICONIC BAG
Paco Rabanne 1969 Ring Bag
Paco Rabanne is known for futuristic, Judy Jetson–esque couture. The vibe is perfectly translated into this 1969 classic chain-linked woven shoulder bag.
THE ARIEL-APPROVED BUCKET BAG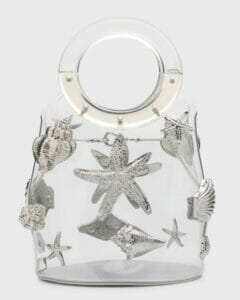 Cult Gaia Tayrn Marine Bag
When your concert thingamabobs need a little cover-up, this oceanic PVC bucket bag has all the room to fit what you need. Playful starfish and seashell embellishments add a little discretion.
THE JET-SET CROSSBODY BAG
Michael Michael Kors Jet Set East West Bag
This Michael by Michael Kors bag reveals and conceals all at the same time. Its contrasting leather trim and necklace-worthy gold chain gives you a first-class stadium bag option.
THE FUTURISTIC HOBO BAG
Balmain B-Army Clear Shoulder Bag
Nothing says luxury like wall-to-wall windows. The same can be said for Balmain's one-sided clear structured hobo bag in space-age white leather.
THE EDGY CLUTCH BAG
Alexander McQueen Four-Ring Skull Plexiglass Clutch Bag
This clear baby-blue Alexander McQueen is a clutch you can really dance with. Four carved skulls fashioned into diamond rings make up the handle, allowing you to grip and hold it in place. Hang on tight, get in "Formation," and dance the night away.
THE BEST FUNCTIONAL CROSSBODY
Tory Burch Mini Miller Clear Crossbody Bag
Everyone who has this mini Tory Burch bag raves about its extremely functional design. The two zippers help you get in and out easily, and the smaller size makes it the go-to for concerts and sporting events. I love it for its fun colorblocking and '80s preppy look.
THE BEST VALUE CROSSBODY BAG
Hoxis Clear Zipper Cross Body Bag
This under-$50 crossbody bag has a lot going for it, from its ample but minimal body design to its steady, studded bottom. (Read: You can definitely set this down on the floor.
THE CONCERT-TO-CITY TOTE BAG
Gigi New York Virginia Hobo
An NYC state of mind, in which luxurious materials meet practicality and craftsmanship, is built into Gigi New York's family-owned DNA. It's especially obvious in the modern proportions, ideal shoulder strap length, and thoughtful snap closure detail on this bag. Altogether, this style keeps everything seen but contained.
THE LOW-KEY DESIGNER SHOPPING BAG
Saint Laurent Tote Bag
The classic shopping bag shape gets a designer makeover in Saint Laurent's clear PVC tote. It's a minimal shape and design meant for when the rest of your outfit is extra extra.
THE BARBIECORE OPTION
Miu Miu Plexi Vinyl Mini Crossbody Bag
This summer proved that pink is the new neutral, something that Miu Miu girls have known all along. This transparent pink, metallic-trimmed top handle gives you a Harajuku lunchbox look, plus a hands-free option with its crossbody chain.
THE BEST TOP-HANDLE BAG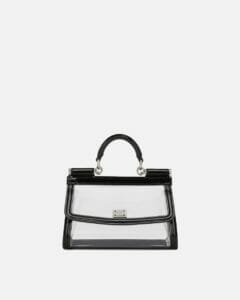 Kim Dolce & Gabbana Small Sicily Handbag
That's amore! The D&G/Kim Kardashian collaboration is in full effect in the brand's classic Sicily bag, updated with a "Look at all of me!" makeover.
IF A JOLLY RANCHER WERE A BAG
Coach Jelly Tabby
This candy-colored twofer version of a 1970s classic Coach style—a wristlet and crossbody in one—is the sweetest of choices.
THE HEAD OF ITS CLASS TOP-HANDLE BAG
Valentino Garavani Mini Le Troisième Clear Acrylic Tote
This Valentino molded vintage acrylic logo case bag, with its Glass Menagerie look, is more symphony than rock concert. But given its sculptural hard case and chain crossbody, it can definitely keep up in a banging mosh pit.
THE ZIPPER POUCH BAG
Anya Hindmarch Little Pouch
When you want to carry the least but still want to look cute, Anya Hindmarch's sunny yellow pouch is the clear winner. The best part? You can also throw it in your daily work bag to organize all the loose bits that get lost at the bottom.