Tom Ford showed up for Paris Fashion Week and showed out with a very California-inspired Ready-To-Wear Fall/Winter 2022 collection. Having missed New York Fashion Week due to COVID-19-related issues with production, Ford didn't disappoint at all in the French capital, presenting a stunning collection for both men and women. Silhouettes were sharp but relaxed; colours were bold without being loud, and the vibe was business but casual.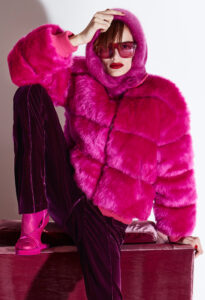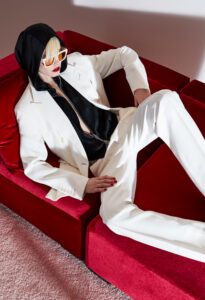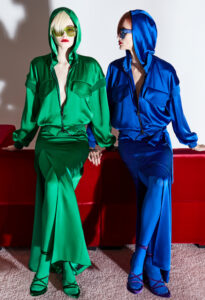 The women's collection saw what looked like a selection of 1970s high-end sportswear. Using opulent jewel tones like sapphire, turquoise, garnet, and amethyst, the looks were colour-matched down to the stockings, heels, lipstick, nail polish, sunglasses, and apparently also the iPhone cases.
Pieces include hybrid blazer hoodies, snoods, mohair sweaters, and velvet track pants. There were some more feminine silhouettes with glossy, thigh-high slit, side-ruched skirts; matte silk maxi skirts with matching bomber jackets; loose sequinned cargo pants topped by a black velvet tux jacket; and the quintessential white pants suit. For evening wear, Ford served us figure-caressing slinky black gowns.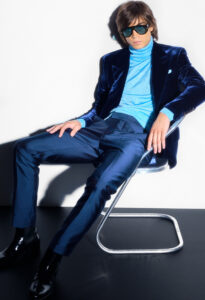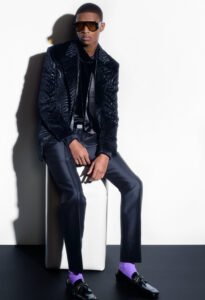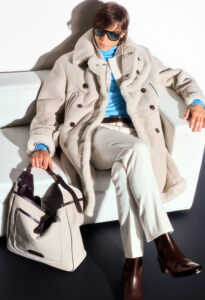 Ford went outdoors for the men but kept the structured tailoring and luxurious fabrics while playing around with some catchy hues. Blazers came through in velvet-coloured lush shades of deep green, purple, and mauve, while other pieces came in a smattering of light and brighter hues of baby blue and bright orange. Ford didn't let us forget what he's best known for – pieces like a double-breasted top coat in grey, a formal blazer in black velvet, and even a motorcycle jacket cut from leather. Some more easy-going pieces for the men included an ivory hooded shearling coat worn over slouchy pants, a pink bomber jacket, as well as a navy tracksuit.
The Tom Ford Ready-To-Wear Fall/Winter 2022 collection is now available at the Tom Ford flagship store at The Starhill.