Featuring three new exclusive styles from the 50s, 60s and 80s that embody the Valentino Couture approach.
Valentino eyewear collection conveys the values of the Maison and the mastery of couture. The Creative Director of Valentino, Pierpaolo Piccioli believes in the value of Couture where the processes remain traditional and unique while also allowing self-expression.
At the heart of creativity while paying homage to the Maison, Pierpaolo Piccioli named the collection after the numbers of the historical Valentino headquarters on three models: Paris Place Vendome (VIII), Milan Turati (XVI), and finally Rome Mignanelli (XXII). The first collection is 100% produced by utilizing the finest materials in Japan with a combination of time-honoured and cutting-edge production techniques.
The luxury high-end capsule collection consists of three sunglass styles in ten colourways. Featuring Valentino's signature codes – from the iconic stud and V-Logo Signature, to the colour palette that clearly yet subtly conveys the brand's Haute Couture heritage.
Valentino VIII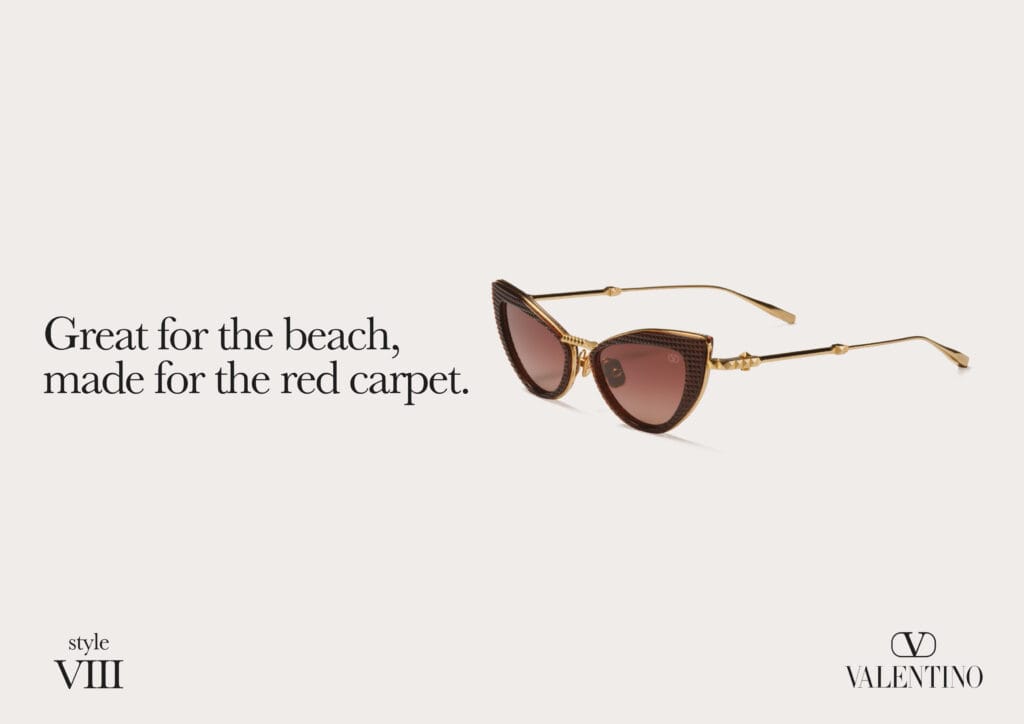 For the elegant and avant-garde modern woman, VIII in acetate cat-eye shape marries 50's retro-cool with a distinctly modern flair for timeless style. Featuring technically sophisticated design elements such as the iconic Valentino 3D rockstuds on the top and front of the bridge, and progressive twisted temples to name a few. This piece offers lightweight comfort and lasting quality. It is available in heritage Valentino colour combinations including black, clear brown and crystal bordeaux.
Valentino XVI 
XVI has a fashion-forward presence with an oversized 80's inspired aviator shape and low base curve retro lenses. Entirely made in Japanese titanium, the piece is the ultimate aviator with its iconic 3D Valentino rockstuds surround. Multicolour gradients sun lenses projected beyond the eye rim, enhancing the visual impact and highlighting the complementary nature of traditional colour combinations.
Valentino XXII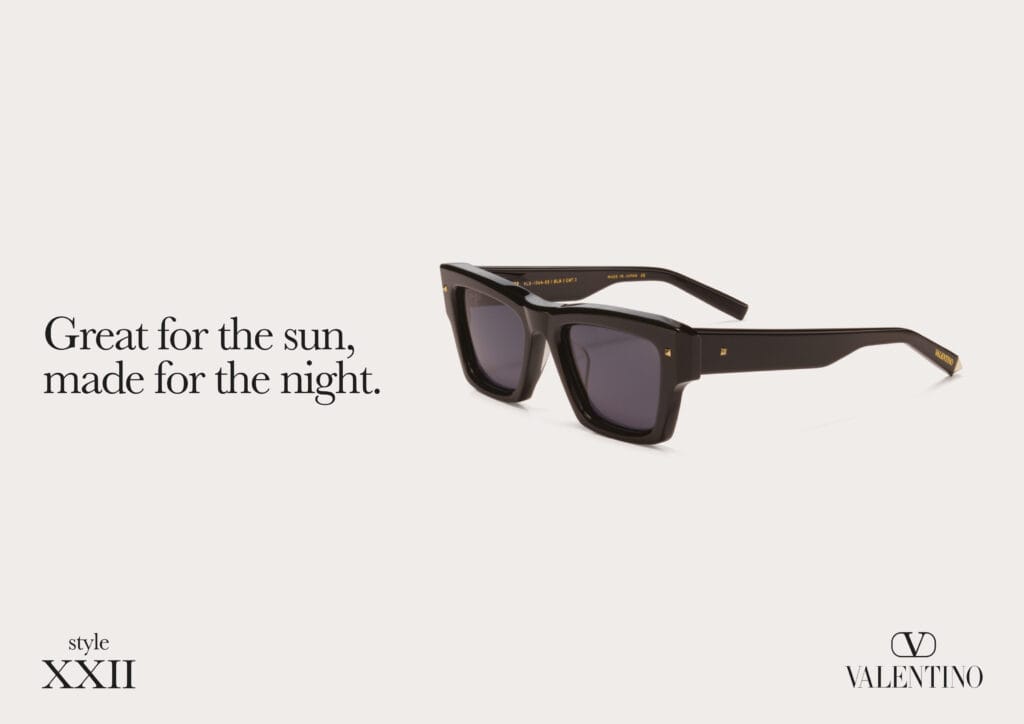 Style XXII was created to pay homage to the Valentino Creative Director, Pierpaolo Piccioli, and was inspired by his frame. The iconic piece features a modern interpretation of the retro 60's Wellington shape by Golden Era Italian cinema. An 8mm thick front that's elegantly sculpted to maximize volume and easy wearability with recognizable embellishments. It is available in solid black, brown tortoise, and mid-honey tortoise for a timeless yet retro sensibility.
The first capsule collection will be available from July. Alternatively, the second launch will offer six additional styles will be out in October 2022. Purchase from selected Valentino boutiques, on Valentino.com and exclusive eyewear retailers worldwide.
– – – – – –
Images courtesy of Valentino.