The Italian fashion industry has been making the news the past year, for reasons good and bad. On the sunny side, the Victoria & Albert Museum staged 'The Glamour of Italian Fashion 1945 – 2014', reminding the world of splendours such as Elizabeth Taylor dripping in Bulgari jewels and Mila Schön's glimmering gowns from a bygone era of decadence. Today, such glamorous excess is alive in the couture ateliers of Armani Privé and Dolce & Gabbana Alta Moda whose gowns are snapped up by Middle Eastern princesses and Hollywood royalty alike.
On the other hand, a cloud of economic uncertainty loomed. The nation's biggest brands reported slowing growth. Important editors and buyers skipped Milan Fashion Week altogether, seeing it as a break between energetic London and creative, envelope-pushing Paris. Others attended, but complained about the lack of new names and fresh talent.
Milan had its share of bright spots, though. In fact, the best moments happened when designers cast the whole idea of Italian glamour aside to focus on Italian craftsmanship and to push the fashion conversation forward; even if sometimes forward simply means out of the past and into the present.
THE HIGHLIGHTS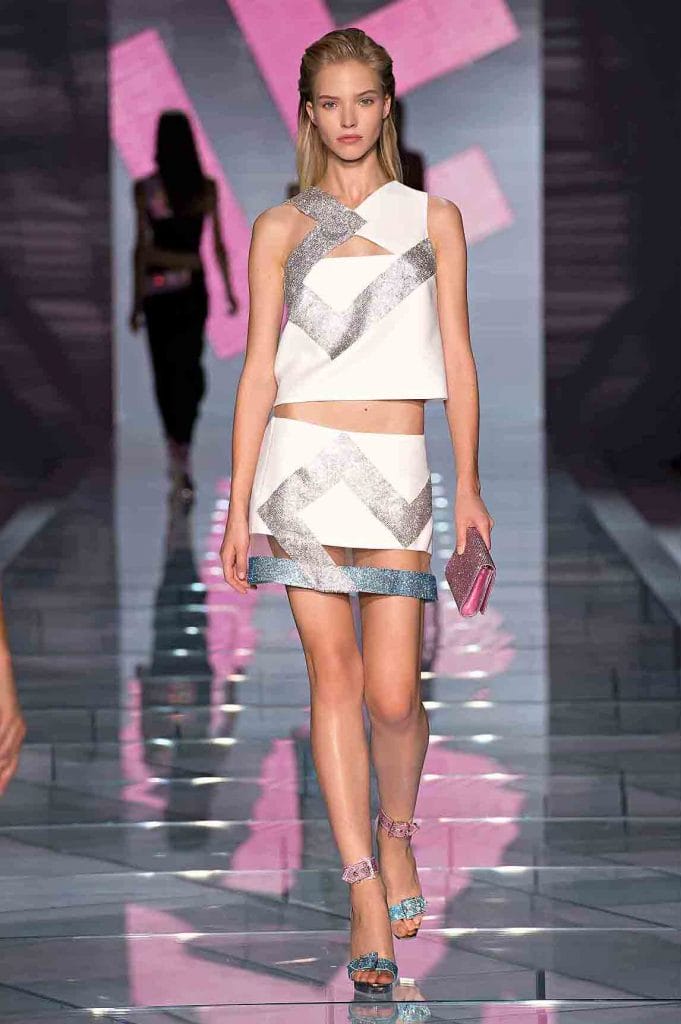 Versace
Tod's
Prada
Marni
Fendi
Bottega Veneta
Take Bottega Veneta, who did both in its own restrained way. The craftsmanship has always been there but the past few seasons have seen Tomas Maier focusing on Forties references. His exquisite dresses with their nipped waists and long hems were undoubtedly sophisticated, but they also came off a little heavy.
What a delightful surprise then to see the first look out at Bottega this season – a long grandfather's cardigan layered over a dove grey bodysuit. This was followed by trackpants, cropped sweaters, and T-shirts. Finally, clothes for real women with multilayered lives. Maier's wasp-waisted dresses still appeared, but in blue denim and with men's lace-ups, they would fit right into a modern wardrobe.
Creating a stylish, functional wardrobe has been Alessandra Fachinetti's forte at Tod's. Her first two collections were filled with unfussy, easy-to-wear pieces. For Spring/Summer '15, she retained that wearability but laced with more edge. Fachinetti's best asset had to be the Tod's artisans. It took serious skill to present a summer collection of 90 percent leather and make it believable. Here it came in mint and lilac, cut as thin as cotton then perforated and appliquéd with flowers and pailettes. Worn with white tanks and espadrilles, they made a strong case for summer leather.
Another house that did breathtaking leather work was Fendi, but that was no surprise. What was new was how youthful it felt. Previously, Karl Lagerfeld let women wear fur without looking like they rummaged through their mother's closet. This time he's focused that wit on leather. What is more whimsical than a strip of leather substituting blue eyeliner? Accessories, as usual, were outstanding. Orchids were hand-embroidered onto leather bags, and spines of heels extended into crocodile tails. The iconic Baguette, Peekaboo, and Karlito were shrunken down to adorable Bag Bug sizes, and given faces to boot.
The clothes were no less interesting. Lagerfeld explored a hard-soft juxtaposition – stiff patent leather was striated to create movement; fluttering organza dresses were caged in leather harnesses; and soft mink was overlaid with hard, shiny plastic. With pop pastel colours and silhouettes that veered from slouchy and boyish to short and sexy; these were clothes that will appeal to the cool young set.
This season, that same group of customers might also consider a brand they may have previously overlooked. Donatella Versace has toned down and cleaned up the characteristic in-your-face sexuality of her clothes. There was still plenty of skin on show, but not through plunging skintight dresses and loud '80s-tastic prints. Instead, it peeked out from sharp black and white jackets, or boxy T-shirts and athletic mesh.
Unlike Versace, Miuccia Prada did what she has always done; deeply-thought-out clothes that challenge preconceptions about what is beautiful. Editors walked in to find imposing dunes of purple sand but the clothes seemed normal enough. Prada never does plain old normal, though. The models wore sturdy coats with straight skirts and long socks but edges were frayed and raw white cotton tufted out. There was a sense of quickly-making-do – luxurious leathers covered coarse cottons, opulent lace was dulled and frayed, jewels were sewn onto necklines, and brocade dresses ended in rough linen. Was she trying to impose control onto a world gone chaotic, or was chaos seeping into her well-composed world? Trust Prada to present a collection that left you thinking long and hard, even if it didn't immediately sweep you away.
The one who did send out a truly uplifting collection was Conseulo Castiglioni. Her first looks came in raw undyed cottons and linens, cut into elegantly oversized silhouettes. The restrain in palette emphasised her artful way with volume and proportions. Then colour seeped in – a pink trouser here, a striped skirt there – and soon the Marni we love was back, bigger than ever. Long coats, midi skirts, asymmetrical ruffles were all wildly splashed with supersized blooms in red, green, and yellow. Castiglioni ended with a finale that was lush in both colour and texture.
THE TRENDS
Denim:
Tod's
Giambattista Valli
Bottega Veneta
Seventies:
Pucci
Gucci
Etro
Sportswear:
Versace
Emporio Armani
Dsquared2
The best collections had one thing in common; they strived for newness, to reach a younger customer. This desire to convey youth and a carefree spirit led to several key trends.
Denim for one was everywhere, even at the old heritage houses. At Gucci, Frida Giannini sent out slouchy denim with suede tops and jean jackets. But the most exciting use of the material was at both Bottega Veneta and Tod's, where it was cut into sleek and no-nonsense suits.
Sportswear was also key. Emporio Armani felt fresher than it has in a while with shorts, crop tops, and rompers, all worn with sandals and sneakers. Dean and Dan Caten's vision at DSquared² was more high-energy with super-saturated colours and stiff bonded leathers. Structured sweatshirts and polo tees were worn with basketball shorts slung low to reveal the logos of their underwear.
Others had the Seventies in mind. Peter Dundas at Emilio Pucci mined the decade for party dresses in crochet and tie-dye. It was a convincing take on bohemia, elevated by rich materials and craftsmanship. Veronica Etro was a little more literal; her collection looked ready to walk off the runway and straight to Burning Man with its kaftans and Navajo prints. Only after fashion month ended did we find out that Frida Giannini's Spring/Summer '15 collection was her last. She went out doing what she's always loved – a richly coloured, layered, and textured take on '70s bohemian glamour.
THE ONES TO WATCH
Marco de Vicenzo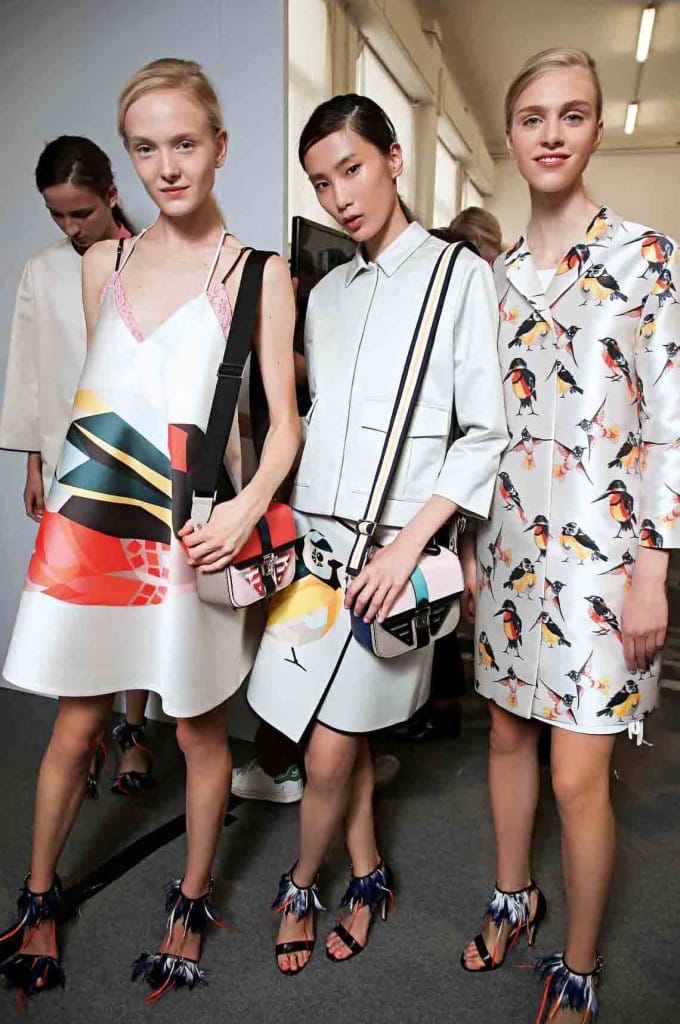 MSGM
As one big name leaves, others step into the spotlight. That spotlight currently shines brightest on Marco de Vincenzo who has a talent for working materials humble and opulent in fresh ways. Case in point: the dense but lightweight fringe, the crystal mesh that was more polished than showgirl, and his coat of checker board python. Balancing easy sportiness with womanly sophistication, de Vincenzo is part of the new wave Italian fashion has been waiting for; one who could show the world what new Italian glamour looks like.
Another example-setting brand is MSGM. In these troubled times, Massimo Giorgetti has grown his business in the contemporary category; showing fun, relatively inexpensive clothes in easy shapes and poppy prints that stand out on Instagram and shop floors.
Alessandro Dell'Acqua is also successful at that high-low mix. His N°21 collection married glamour with quirk, and mannish pieces with ultra-femme details. Just look at how he embellished safari shirts and paired emerald lace with plaid.
All eyes were on Rodolfo Paglialunga as he debuted at Jil Sander. His first collection was faithful to the archives, riffing on navy and burgundy school uniforms for little sweaters, crisp shirts, and culottes; adding in more conceptual touches such as sculpted shapes and graphic asymmetry. It will be interesting to watch him grow into his new role.
Images: Imaxtree