Words by Lisa Niven-Phillips
Which aren't about how you "should" or "shouldn't" be doing it
Many parenting books are unappealing at best – from the ones that speak to you as if you're a baby yourself to the ones whose goal seems to be to convince you that everything you're doing is wrong. But among them, if you search hard enough, a host of sparkling memoirs, tender poetry collections and powerful manifestos take a different view of what books about motherhood should look like. Raw, funny, poignant and eye-opening in turn, the one thing you can be sure of is that they'll never tell you how you "should" or "shouldn't" be parenting.
Here are six of the best books on motherhood.
Hollie McNish, Nobody Told Me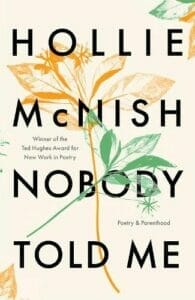 What is so brilliant about Hollie McNish's part-memoir, part-poetry anthology, is that it isn't about one part of parenting, it's about all of it – from tantrums, to breastfeeding, to postpartum bodies, to the bittersweet feeling that comes with seeing your child's pixellated face over a Skype call, when all you want to do is hold them. "Some of the poems are rushed, some are far too long and still uncut, some were written at four am, some on the loo, in hospital, in the car, at work, some were interrupted by cries, screams, laughs… and some were never really finished," says McNish in the book's introduction. So, when read together, the poems perfectly exemplify the many contradictions of motherhood – from feeling overwhelmed with frustration one moment, to feeling overwhelmed with love the next.
Sophie Heawood, The Hungover Games
For Sophie Heawood, a sudden, unexpected pregnancy plucked her from life as a celebrity interviewer in Hollywood and dropped her in rainy east London, where she attended antenatal classes alone and tried to fathom how she'd be able to keep her career, social life and finances going as a single parent. "I began to feel what it is to sit outside the narrative, trying to fit yourself into a fairytale with some of the pages missing," she writes of finding her place in the landscape of parenthood. Packed with humour and honesty, it's also tender, moving and relatable, detailing Heawood's own evolution and growth alongside her young daughter's, and the highs and lows of solo parenting.
Rachel Cusk, A Life's Work
Deemed incredibly controversial when it was published in 2001 – though over 20 years later it's hard to see why – A Life's Work is actually just a frank account of one woman's experience of motherhood, and the ambivalence, despair, guilt, and unimaginable love that define it. Cusk deftly explores the often contradictory feelings so many new mothers encounter; for example, longing to be away from her baby, and then feeling incomplete and restless when she is, as well as expounding more broadly upon the expectations we put on women. Wryly funny, brutally honest and beautifully written, it clarifies so many of the swirling, confused thoughts and feelings of early motherhood in whip-smart prose.
Candice Brathwaite, I Am Not Your Baby Mother
Not long after her daughter's birth, Candice Brathwaite was rushed to hospital with postpartum sepsis, despite having raised concerns with hospital staff over her symptoms. She soon learned that she was far from the only Black woman to have been made to feel invisible by the healthcare system: Black British mothers in the UK are five times more likely to die in childbirth than white women. And it's not just the medical world. Brathwaite explores how the media offers a very narrow view of what a mother is, as well as unpicking the effects of Instagram and the rise of the mum-fluencer. I Am Not Your Baby Mother acts as both memoir and manifesto – exploring what it means to be a Black British mother with humour, grace and honesty.
Chimamanda Ngozi Adiche, Dear Ijeawele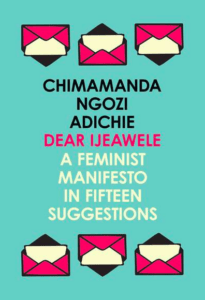 Chimamanda Ngozi Adichie wrote Dear Ijeawele as a response to a letter from a friend asking her how to raise her baby girl as a feminist. And thanks to her decision to publish it, anyone else raising a daughter can now have Adichie as a wise voice in their ear. Her words are clear, thoughtful, important and truthful, touching on everything from encouraging little girls to play with toys other than just dolls, to the need to stop referring to partners as "helping", rather than doing their share of the work. Perceptive, kind and often funny, it's packed with memorable quotes that will return to you just when you need them. Not least: "the knowledge of cooking does not come pre-installed in a vagina." A great gift for new mothers of girls.
Emma Jane Unsworth, After the Storm
Beautifully expressed, honest and important, Emma Jane Unsworth's account of her postnatal depression is anything but depressing. In fact, it's often funny. Unsworth gives voice to the rage that so many new mothers feel, often secretly, alongside the despair, denial and disbelief that can come with having your life turned upside-down by the arrival of a new baby. Relatable and raw, it also tackles some of the greatest taboos around motherhood, and holds up a mirror to society's often impossible expectations of women. For anybody experiencing postnatal mental health issues themselves, this book offers comfort, hope and companionship, while even those who haven't will find themselves nodding with recognition at many points.
This article originally appeared in harpersbazaar.com