Shangri-La Kuala Lumpur is offering a much-needed dose of hearty meals, sparkles, good cheer, and of course, gift-giving!
The Yuletide season is upon us once more and there is much to be done this year, and, what better way to celebrate it than by sauntering about at Shangri-La Kuala Lumpur? Putting their enchantment on, the luxurious hotel has a slew of Christmas festivities that will make your celebration the best one yet.
Comfort & Stay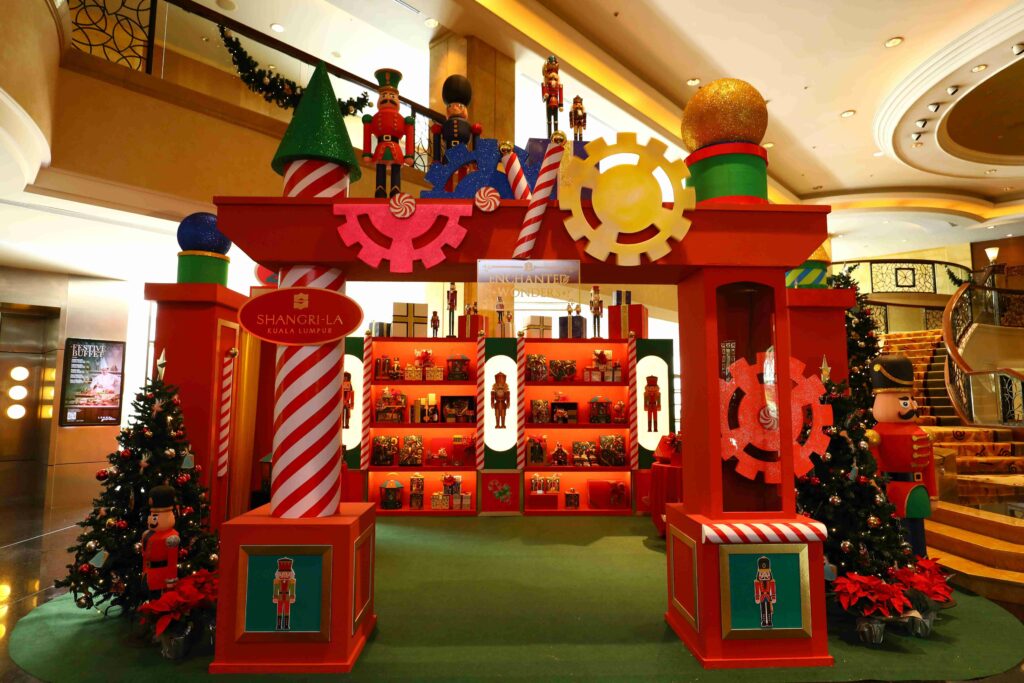 Decking their halls with life-size handmade figurines of the Nutcrackers, Shangri-La Kuala Lumpur is dazzling with its Christmas decor. Not only that but the hotel is also spruced up with a giant Christmas tree that's been adorned with hand-crafted nut-cracker-themed ornaments.
Is there anything better than wandering the halls of the hotel? The answer is, confidently no. With spacious rooms that serve daily breakfast and festive fun from Christmas Eve to Boxing day, there's no better time to indulge than now. You can book a stay of two nights starting from RM1,000 and get decadent dining options as well as RM100 daily dining or spa credit.
You can even spend quality time with your family in their spacious family rooms, which include a tee pee tent and kid-friendly amenities that your kids will love. Book a stay of two nights to enjoy this offer, their rates starts from RM1,660 per night. The offer is only available until 29 December 2022.
Curated Menu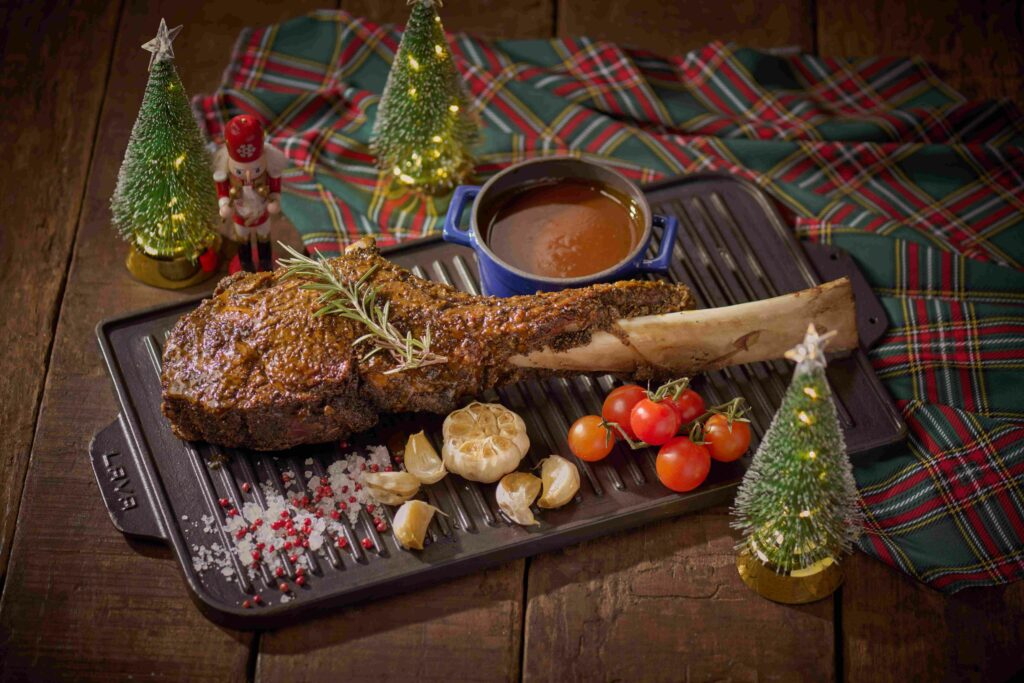 On top of that, Shangri-La is also offering a lavish buffet spread at their Lemon Garden restaurant. Curated with traditional Christmas must-haves such as lamb cutlets, roasted prime ribs, and roasted potatoes, the festive menu will satiate your holiday cravings.
You can even fill your stomach with a festive afternoon tea at the Lobby Lounge in Shangri-La Kuala Lumpur. Available from 1 to 31 December, the tea set will be offering a selection of homemade seasonal treats including mince pie, five-spice pecan mix fruit scones, and Boston lobster. From savoury to sweet delights, the afternoon tea can also be served with a glass of Chandon Garden Spritz.
If that doesn't tantalise your taste buds, then head over to Arthur's Bar & Grill for a delicious jubilant menu. From chicken with chestnut and apple stuffing to Australian black Angus prime ribs, there's nothing you wouldn't like here! With their live carving trolley, it'll surely be a wonderful meal with friends and family.
Prices:
Buffet At Lemon Garden
Dec 24
Lunch:
RM228 per adult, RM114 per child
Dinner:
RM298 per adult, RM149 per child
Dec 25
Lunch:
RM298 per adult, RM149 per child
Dinner:
RM298 per adult, RM149 per child
Dec 26
Lunch:
RM208 per adult, RM104 per child
Dinner:
RM268 per adult, RM134 per child
Afternoon Tea At Lobby Lounge:
RM168 per person, RM248 per person (With Chandon Garden Spritz)
Festive Menu At Arthur's Bar & Grill
Dec 24 & 25
Lunch & Dinner:
RM258 nett per person
Deliveries & Takeaways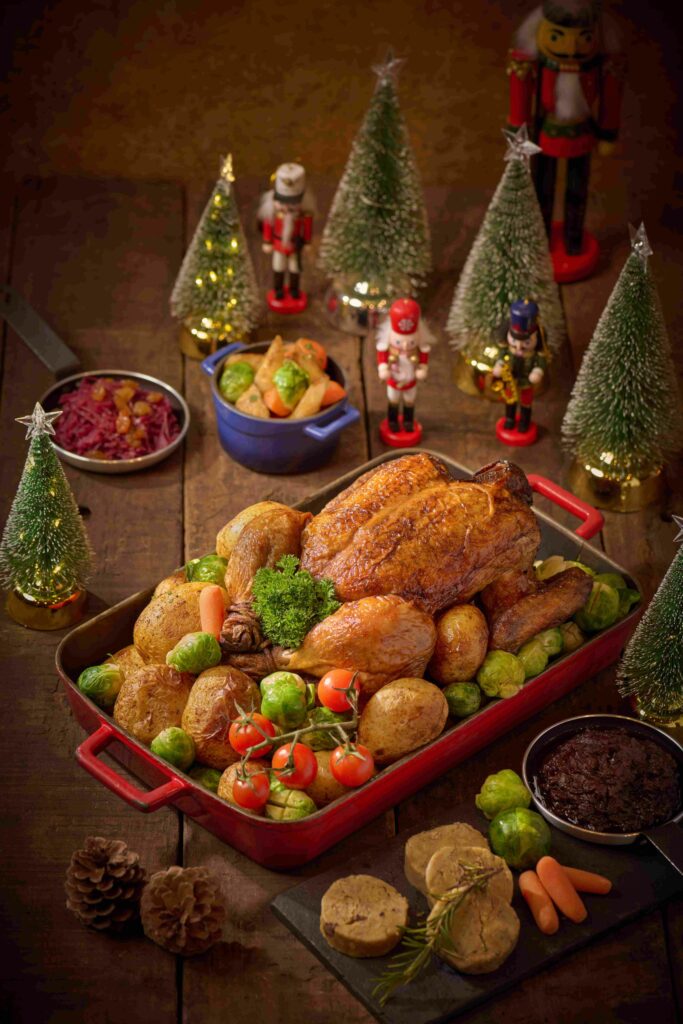 Not keen on heading out? Don't fret, because Shangri-La has the option of deliveries and takeaways. Impress your guests this season with the hotel's selection of hearty meals such as roasted whole chicken, slow-roasted Australian lamb leg, and roasted tomahawk. You can even add on side dishes such as mac & cheese, Yorkshire pudding, and corn on the cob to zest up your dining table even more.
Starting from RM358, you can order at www.shangri-la- specials.com or contact their delivery team at +603 2074 3900 or Whatsapp at +6019390 2257.
Gifts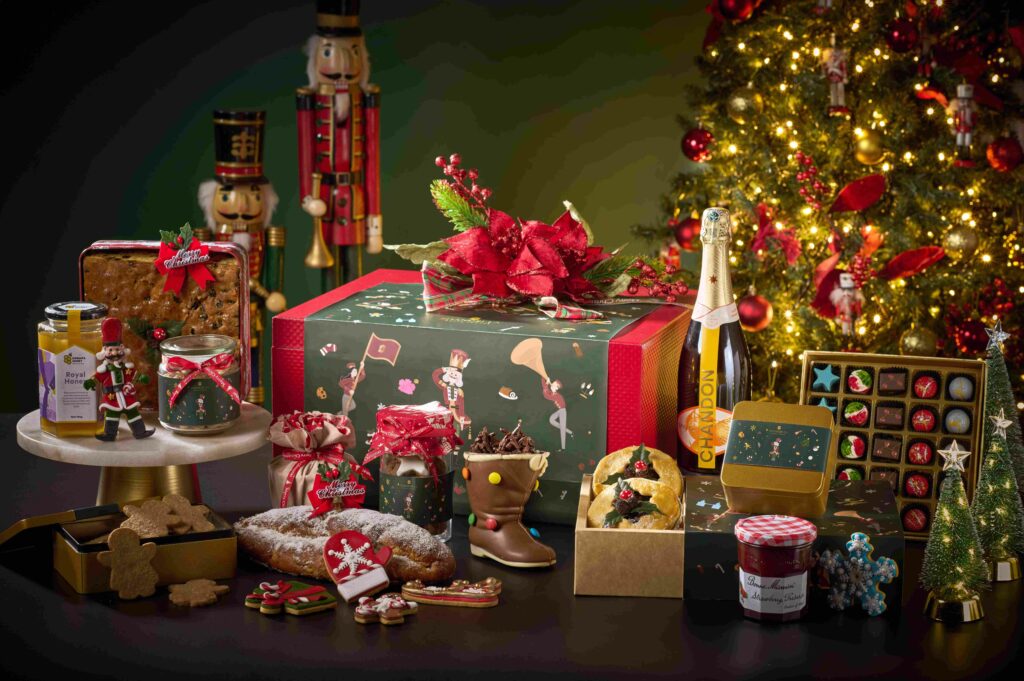 In spirit of the gift-giving season, Shangri-La Kuala Lumpur also has an exclusive Christmas collection made for anyone. The hotel has an array of sweet bakeries, festive hampers, chocolate, cakes, and cookies that are available for purchase at Lemon Garden 2Go. If you're a big fan of traditional treats, then look no further, because the store also exclusively sells delights including yule log, mine pie, gingerbread cookies, and more.
Go to https://boutique.shangri-la.com/ or contact their delivery team at +603 2074 3900 or Whatsapp at +6019390 2257 to purchase.
Kids' Activities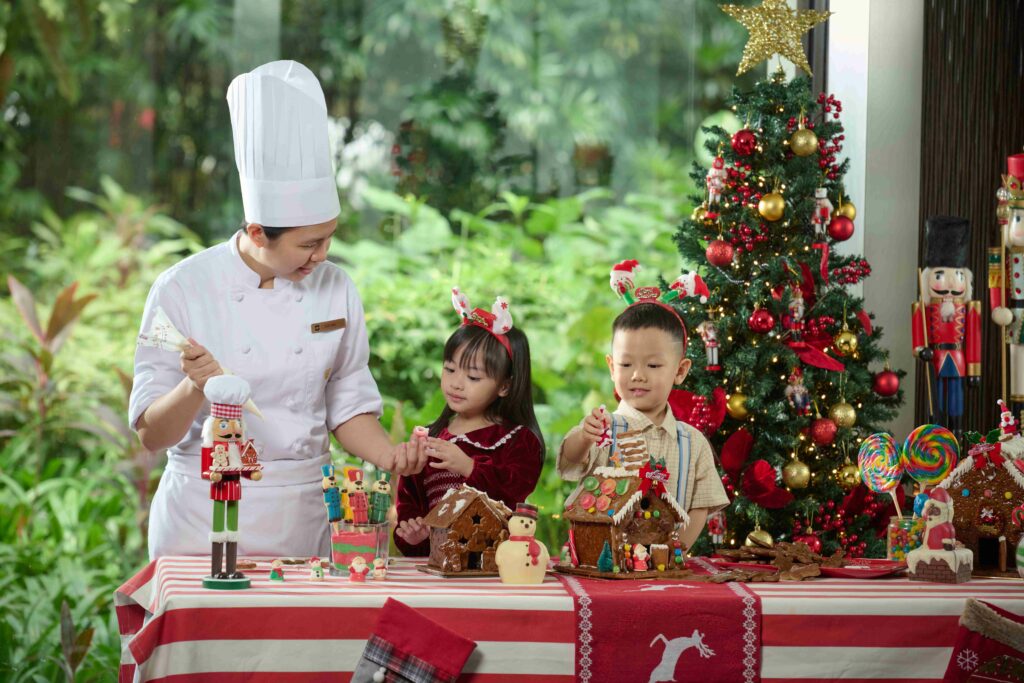 For families who are booking the family rooms and suites from 16 Dec 2022 until 1 Jan 2023, delight in some specially curated kids' activities while you're there.Take your kids on a journey of fun with Shangri-La's shuttle bus, where you can explore exciting family attractions nearby to make Christmas even more magical. On top of that, you can also treat your little ones to a delicious day out with the kid's afternoon tea. From turkey meatloaf to chicken puffs, and more, the kids will love the specially-crafted Christmas-themed bites during your stay.
Price:
Kid's Afternoon Tea
RM88 per person.
From classic Christmas dinners to contemporary festive offerings, there's nothing here you wouldn't want to miss out during this jolly season. Discover more about their Christmas festivities at Shangri-La.com. For all festive offers and reservations, please visit https://bit.ly/enchantingfestivewonders
All images courtesy of Shangri-La