For a momentous feast this Ramadhan, here is a list of the best 2022 buffets dinners offered by hotels throughout the region for you to try.
Four Points by Sheraton Kuala Lumpur
Bazar Selera promises a lavish buffet spread of delectable traditional and international delights for you to enjoy. Sous Chef Meor Muhammad Syahir Meor Sahaid takes us on an epicurean journey back to the ancient Silk Road with nostalgic Malay flavours. Indulge in mouthwatering mains including timeless classics such as Mongolian Roasted Whole Lamb served with Bukhari Rice, Braised Mediterranean Beef, Kambing Kuzi with Peas, and Kam Heong Flower Crab. The standout dish is the live Lan Zhou La Mien station, which serves fresh hand-pulled noodles in a piping hot bowl of bone broth with thin slices of beef- a sinfully tasty meal that will undoubtedly overshadow everything else you've ever eaten.
Bazar Selera Buffet Dinner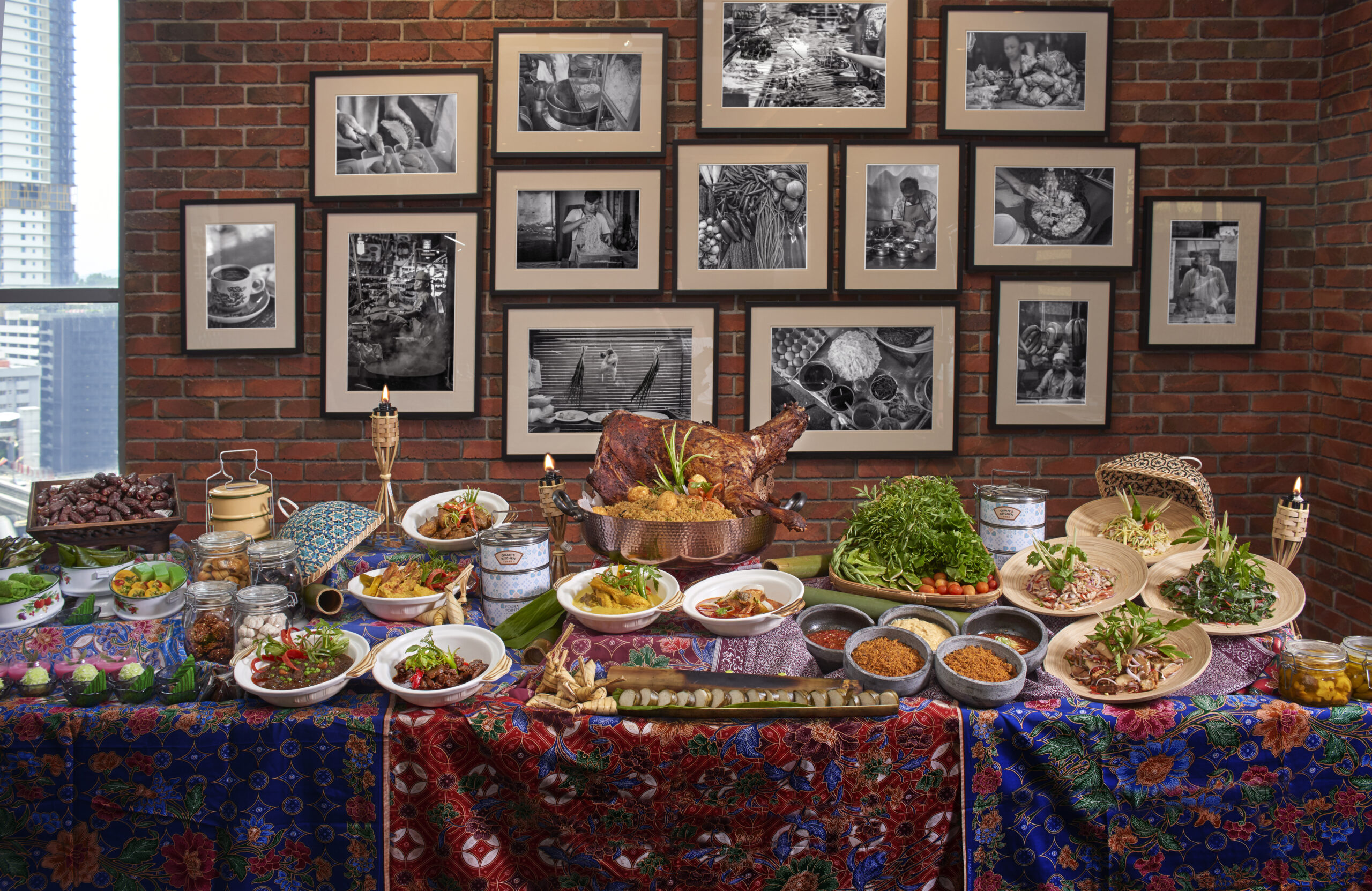 Available from 2nd April until 2nd May 2022, from 6:30pm to 10:30pm daily.
The buffet is priced at RM158 Nett per person.
For reservations or more information, please call or WhatsApp +6012 507 3327 or email dining@fourpoints.com
The Westin Kuala Lumpur
The Westin Bazaar provides a generous buffet spread of various cuisines consisting of 24 days, 20 chefs, 380 dishes, and 350 ingredients. Chief Executive Chef, Halim Chek Lah is currently weaving magic out of deceptively simple dishes like Classic Dulang Compose Kerabu which guarantees a good selection of Kerabu for you to try. Fish Head Curry is a must-try among the other signature dishes like Briyani Rice with Chicken, Bindi do Pyaza and Chicken Tandoori Skewer. You can also find All Day Dining Sous Chef Hafizi's signature dishes at the Salai Station and other offerings including Kambing Golek Berempah Kuzi and Chinese Duck Rice with Scallion by Chinese Sous Chef, Steven Swee.
The Westin Bazaar Buffet Dinner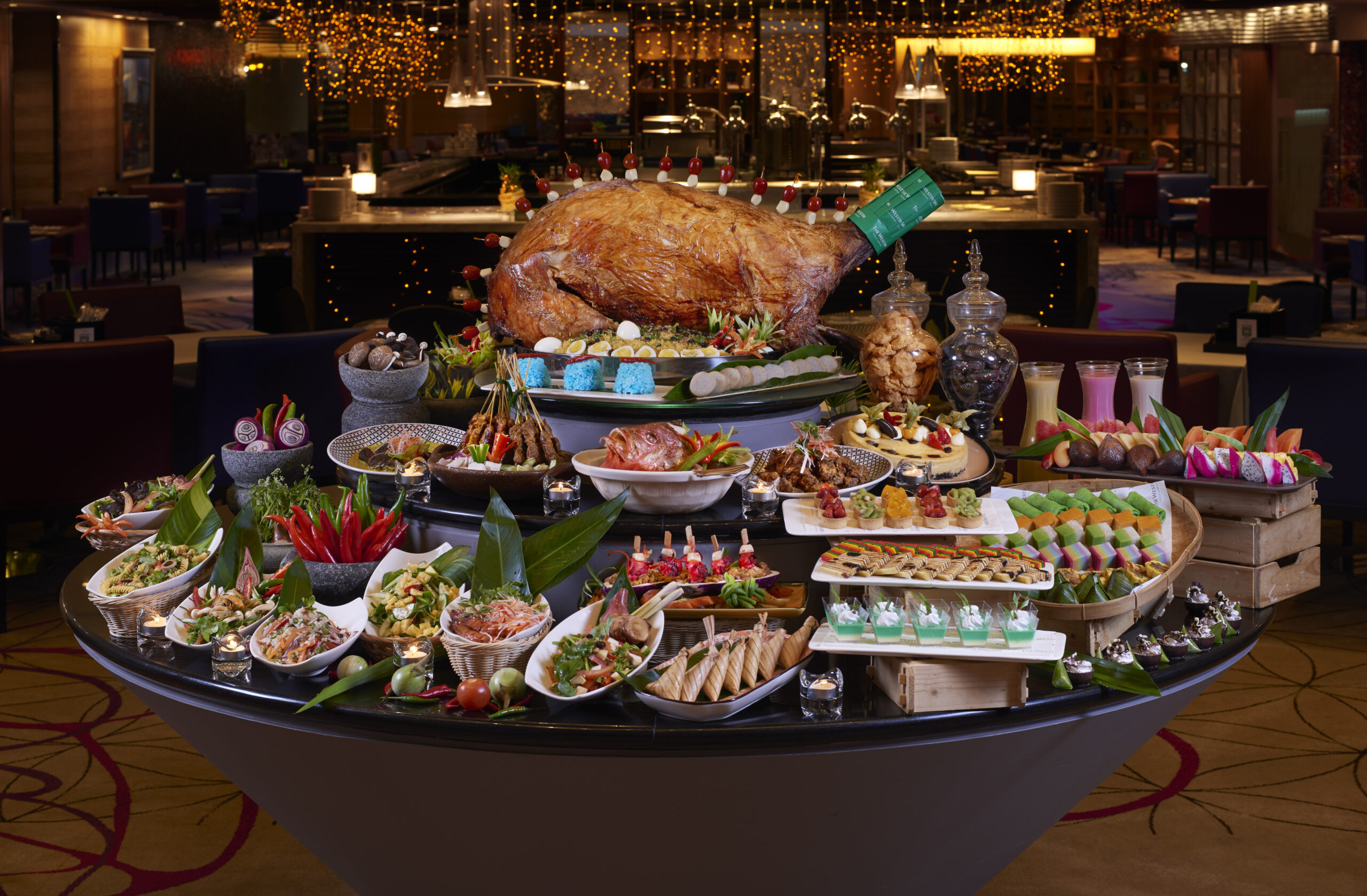 Available from the 6th April until 30th April 2022.
The buffet is priced at RM188 Nett per adult and RM94 Nett per child (children below 6 can dine in for free).
For reservations or more information, please call +603 2773 8495, WhatsApp +6012 305 1715 or email westindining@westin.com
Le Méridien Kota Kinabalu
This time around, Le Méridien Kota Kinabalu embraces the spirit of thanksgiving with its Sykuri Ramadan Bersama LMKK, an All You Can Eat Sungkai Buffet featuring healthy and savoury dishes. This hotel's restaurant features unique offerings such as Kambing Bakar Kukus Berempah, Gulai Lemak Cili Padi Daging Salai, Ayam Percik Golek, Shawarma, Mala Szechuan Cuisine and a Smoke Barbeque House together with other scrumptious offerings. Not forgetting, the classic Ramadan favourites including Signature Gearbox and Kawah Brothers Special.
All You Can Wat Sungkai Buffet Dinner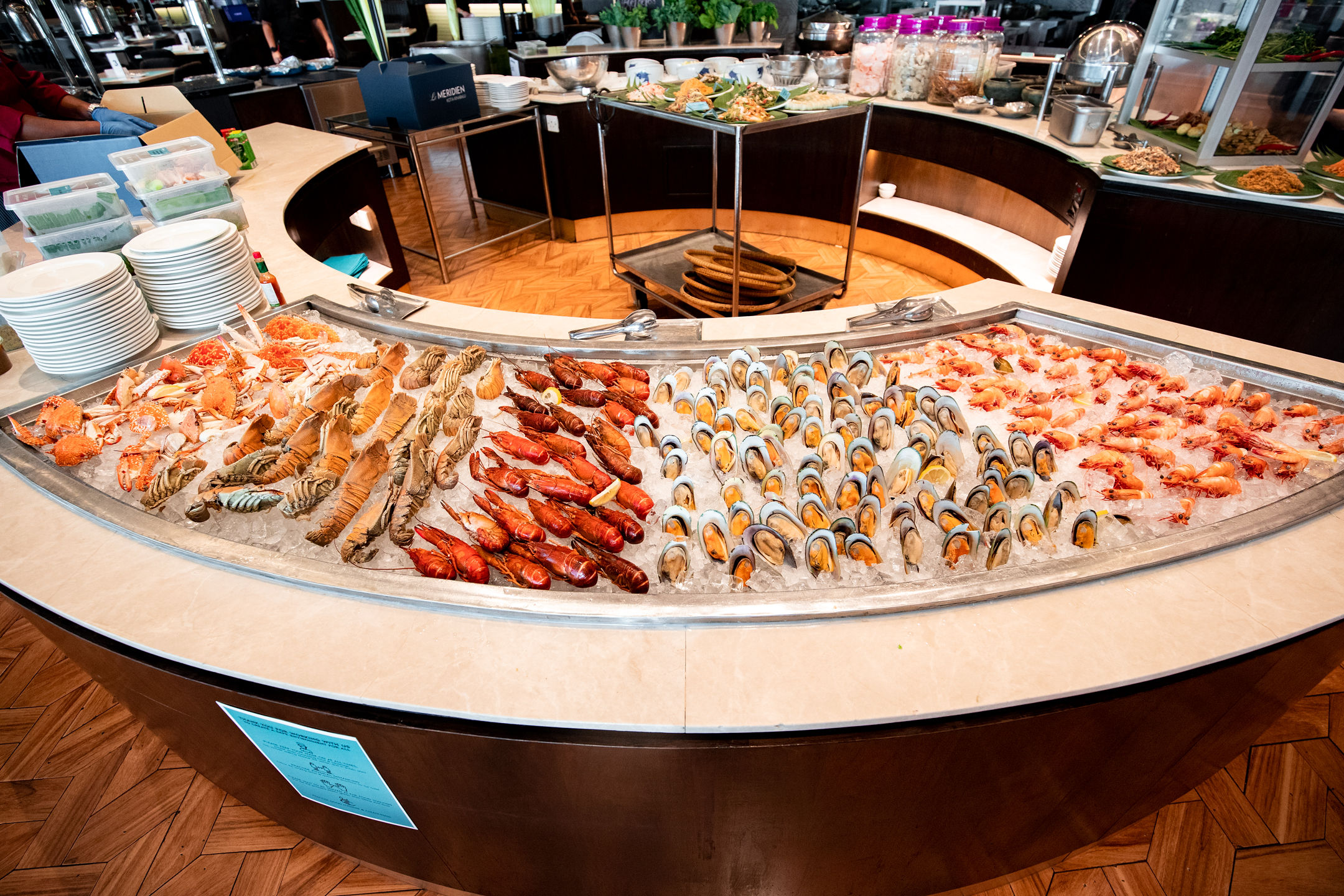 The buffet is priced at RM158 Nett per adult and RM68 Nett per child.
For those who wish to berbuka puasa in the comfort of their home, Le Méridien offers two types of TakeAway Sets – Set A priced at RM280 Nett, and Set B priced at RM360 Nett.
For reservations or more information, please call +608 832 2238 / +6019 897 2258 or +6013 886 6054 for takeaway orders.
The St.Regis Langkawi
Could a list possibly exclude this 5-star hotel in Langkawi? Other than serving its purpose as an all-day dining restaurant, L'Orangerie welcomes the Holy Month with a range of exquisite traditional Northen Malaysian culinary delights. Staying true to the theme, L'Orangerie presents you with a specially curated Santapan Utara sharing set menu featuring quintessential North Malaysian cuisine. Hearty favourites not to be missed are the Ayam Goreng Berempah, Kerutuk Kambing, Ikan Balado and Udang Masak Ayam Kunyit. Make sure to try desserts such as Pengat Pisang, and their signature St. Regis iced tea.
Santapan Utara Sharing Set Menu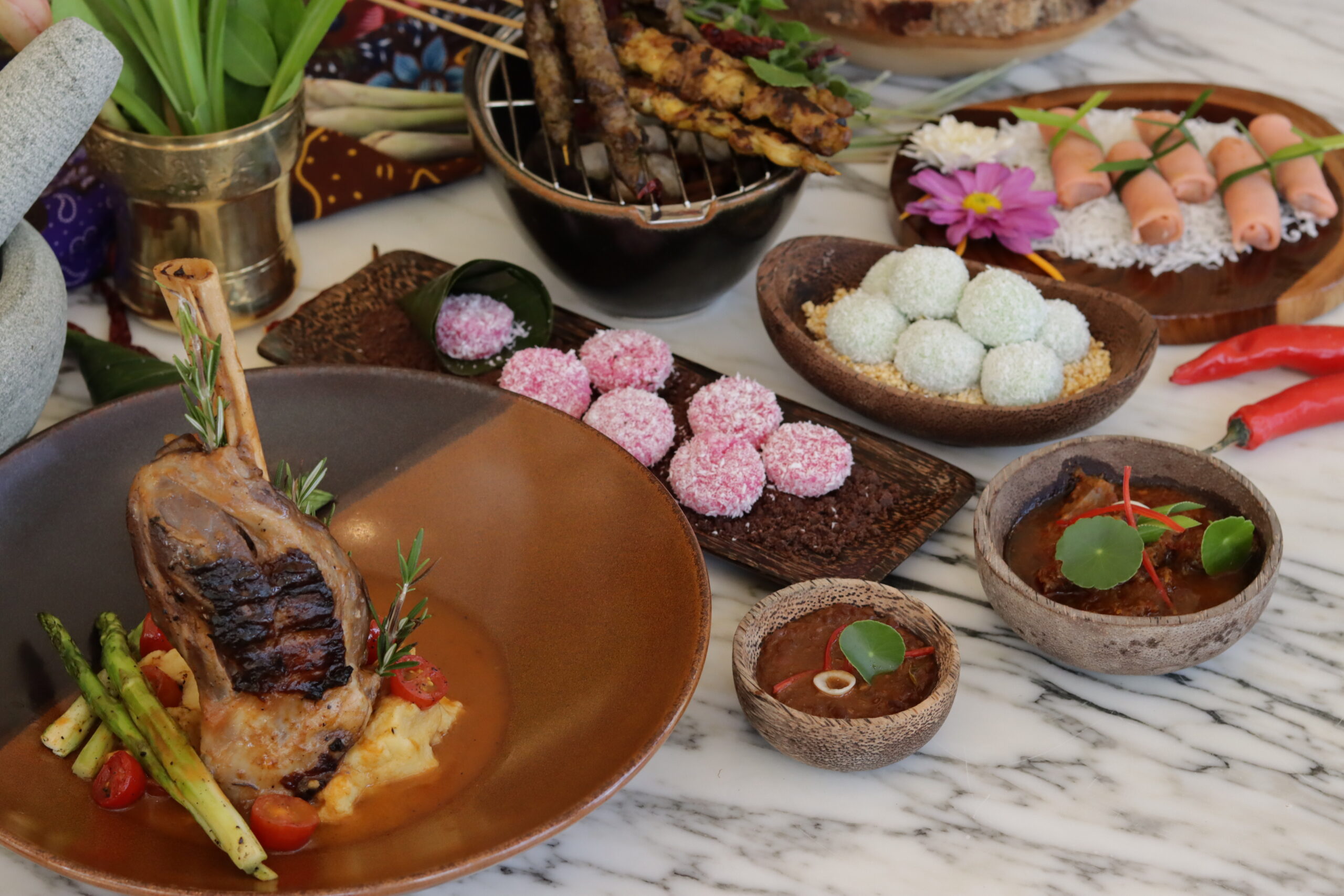 Available from 3rd April until 2nd May 2022.
Santapan Utara Sharing Set Menu is priced at RM300 per set for 4 pax. The team has also prepared Citarasa Tradisi, an exclusive 3-tier tiffin carrier set of extraordinary Malaysia favourites for takeaway.
For reservations or more information, please call +604 960 6666 or email Reservation.Langkawi@stregis.com
Aloft Kuala Lumpur Sentral
Located in the city of Kuala Lumpur, Aloft invites you to Mari-Mari Makan at Nook this Ramadan. Nook's sassy culinary team has prepared a lavish buffet spread, taking guests on an edible journey from Kelantan to Johor. Each menu is carefully crafted by their Executive Chef Arfizan along with his talented team. Sink your teeth into their crowd-pleasing Kambing Bakar Berempah- melt-in-your-mouth lamb that has been roasted in a variety of local spices and served with homemade Sambal Bumbu, available at their live station. For meat lovers out there, the Sous-Vide-Beef – a smooth slow-cooked beef brisket rendang is not to be missed.
Mari-Mari Makan Buffet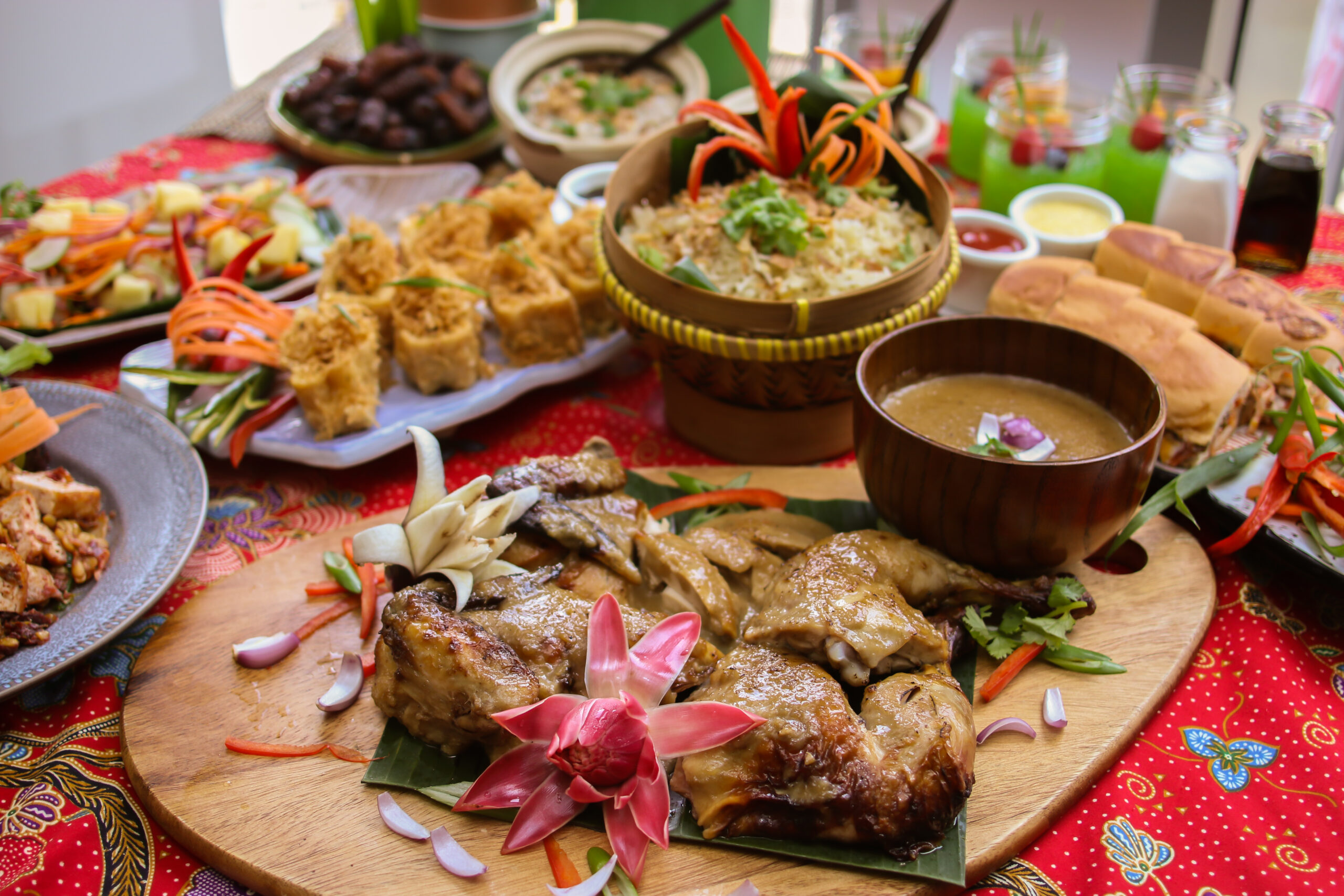 Available from the 7th April until 1st May 2022, From 6:00pm to 10:00pm daily.
The buffet is priced at RM168 Nett per adult.
For reservations or more information, please call +603 2723 1154 or email kulal.b&f@marriott.com
Element Kuala Lumpur
TRACE Restaurant and Bar proudly presents their Juadah Selera Kita themed buffet dinner. Inspired by authentic local Malaysian cuisines, Executive Chef Taib Ridhwan and his team are setting the stakes high by curating the best of Malaysian favourites for Ramadan. The lineup includes mouth-watering treats – Sup Utara, Claypot Style Masak Lemak Cili Api, Local Style Lamb Briyani, as well as Chicken Kapitan.
Juadah Selera Kita Buffet Dinner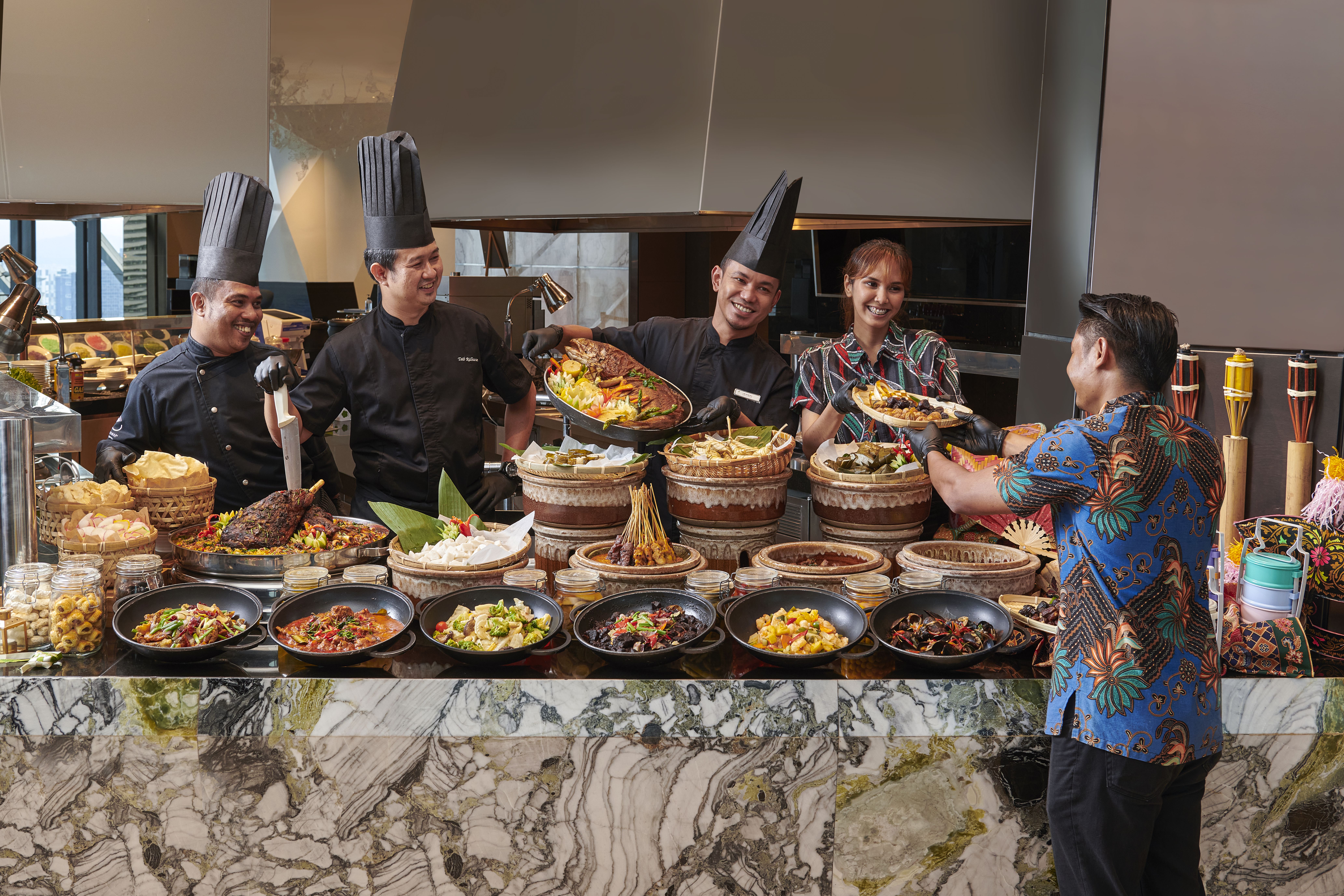 Available from 8th April to 29th April 2022, From 6:30pm to 10:00pm daily
The buffet is priced at Rm148 Nett per adult and RM74 Nett per child.
TRACE Restaurant and Bar is also delighted to bring their special Juadah Berbuka Di Rumah menu to your living room with their takeaway options, starting from RM88, RM108 and RM128. (Reservations must be made 48 hours in advance).
For reservations or more information, please call +603 2771 3388 / 3351 or WhatsApp +6010 267 0338 and email TraceRB.Elementkl@element-hotels.com
– – – – –
Cover Photo: Element Kuala Lumpur
More Great Stories from Harper's Bazaar Malaysia below:
Festive Ramadhan Feast At The Ritz Carlton Kuala Lumpur