Audi is a name that is synonymous with luxurious and speedy automobiles, the bread and butter of the automobile industry. While iconic models the likes of the R8 and the TTS turn heads when passing by, Audi's latest RS Q8 is a slick beast of a machine. Serving as a fine vehicle to cruise down the highway or even the daily grind to work, the latest addition to the lineup is a force of nature and the first-ever full-size Audi SUV to bear the RS name.
Sultry, sharp and powerful, the RS Q8 combines the elegance of a coupé and the practicality of an SUV. Appealing to both the younger and older demographics, Audi spared no expense when it came to the car's striking octagonal silhouette that's accented by the RS-specific radiator in carbon and honeycomb grille in gloss black. Decorated with black Audi rings and RS logos at the front and rear, the RS Q8 is complete with a stunning design and a strong, confident face.
Dubbed as the fastest SUV around Nürburgring, the RS Q8 has a commanding performance with 600PS and 800Nm, 0-100km/h in 3.8 seconds, allowing you to reach a top speed of 305km/h. Pushing the boundaries of performance, the newest starlet can go from comfort-oriented to extremely sporty within seconds. Boasting the RS-specific damper, drivers can control their drive based on their location—at home on the road, on the racetrack or off-road trail.
The car also has a select dynamic handling system that influences the character of the RS Q8 in eight profiles. Comfort, auto, dynamic, efficiency, all-road, off-road, and customisable RS-specific RS1 and RS2 modes that provide agile response and high driving stability allowing flexible drives that suit the mood.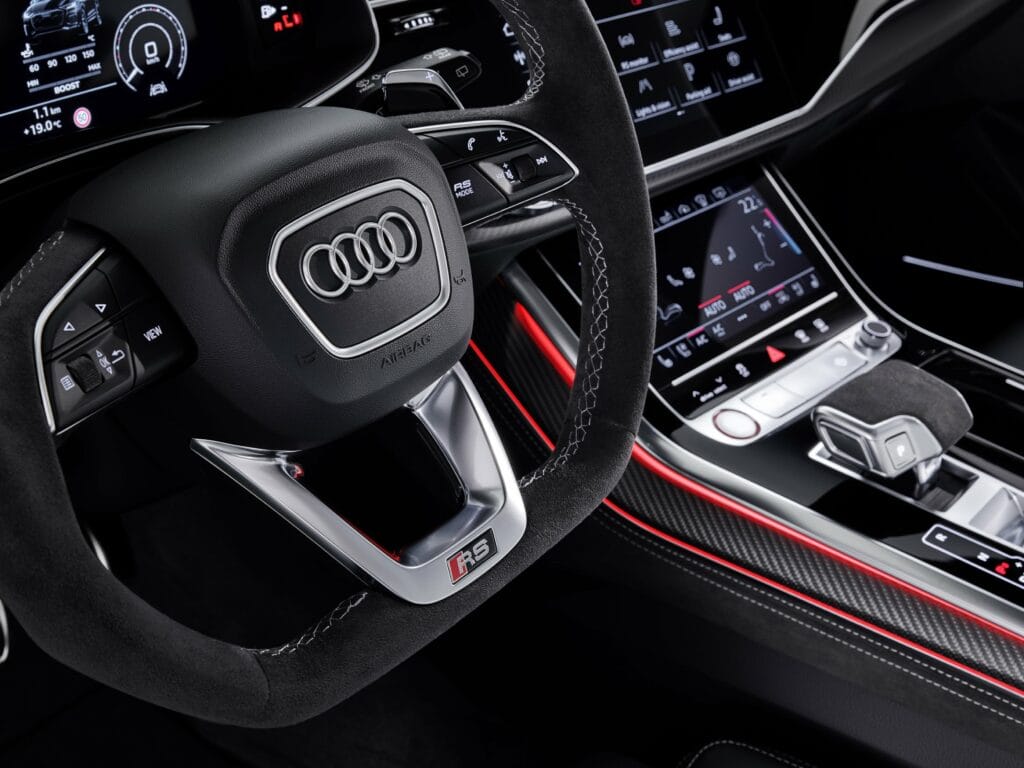 Besides the prowess of the car, the interior features also boast an exceptionally clean and sophisticated home. The RS sports seats come in perforated Valcona leather with honeycomb stitching with ventilation and massage function, while other RS interior elements include grey contrasting stitching on the knee pads, steering wheel rim, floor mats, and the edges of the seat belts. Conveying a feeling of spaciousness, fine Nappa leather also wraps the SUV's selector lever knob and door armrest to enhance its sleekness.
Completing the look are strategically placed RS logos on the steering wheel and illuminated front door sill trim. The RS Q8 also demonstrates its uncompromised everyday usability in the rear. With the seat backrests folded, the luggage compartment under the power rear hatch holds up to 1,755 litres, making travelling a breeze.
The Audi RS Q8 is available in a choice of nine colours: one solid paint finish and eight metallics or pearl effect shades, with carbon exterior mirror housing, and eleven Audi exclusive colours.
The Audi RS Q8 retails from RM1,699,990.
Discover more about the Audi RS Q8 at Audi.com