It was only a matter of time before Hollywood got its hands on the Thailand cave rescue story, and it sounds as if a film based on the events is already in the works.
Twelve school boys and their teacher became trapped in a cave in Northern Thailand for more than two weeks, after rainy season started early and the caves filled with water. Thai Navy Seals led a successful, yet dangerous operation to retrieve the children and their teacher and the rescued group are now recovering in hospital.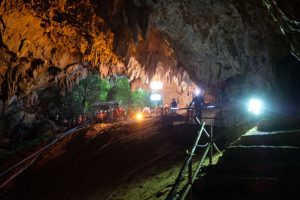 The inspiring, dramatic story, which attracted international attention, has captured the eye of cinema producers with two vying to bring it to the big screen. The BBC reports that US studio Pure Flix has already started interviewing rescue workers for the film. The studio's founder, Michael Scott, who is based in Thailand, says his wife grew up with the diver who died trying to rescue the boys.
"All that heroic bravery in the cave, to get all the divers out, it's just been such a touching event and so personal to me," he said. "We're here looking at this as a movie that could inspire people across the globe."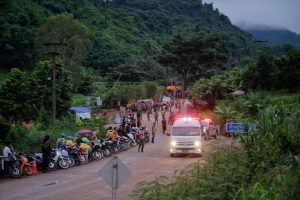 An ambulance carrying one of the boys rescued from Tham Luang Nang Non cave head towards the hospital
Getty Images
However, LA-based Ivanhoe Pictures claims it has been picked up by the Thai government and navy to create the film. Crazy Rich Asians director Jon M Chu is reportedly directing the film, and he promised not to "whitewash" the cast as many on social media had feared.
"I refuse to let Hollywood #whitewashout the Thai Cave rescue story," he tweeted. "No way. Not on our watch. That won't happen or we'll give them hell. There's a beautiful story abt human beings saving other human beings. So anyone thinking abot the story better approach it right & respectfully."
He said he couldn't watch another production company misinterpret what happened.
"We have the power to not only MAKE history but be the historians that RECORD it too. So that it's told correctly and respectfully," he tweeted. "Couldn't just sit here watching how others would 'interpret' this important story."
However, the Thai caves where the boys were stranded are set to become a museum. It is still undecided whether they will be open all year round given the perils of monsoon season.
"The area will become a living museum, to show how to operation unfolded," Narongsak Osottanakorn, the former governor and head of the rescue mission, told a news conference.
"An interactive data base will be set up. It will become another major attraction for Thailand."
From: Harper's BAZAAR UK