The Mid-Autumn Festival is still a month away, but there's no reason why you shouldn't be stocking up on the most sought-after mooncakes right now. Eaten mostly during the Mid-Autumn festival, which falls on 10 September this year, the dense dessert is a delicacy that helps bring your friends and family together.
Whether you prefer the traditional flavours or the new age recipes, we've rounded up this year's mooncake selection that will tickle your taste buds.
W Hotel Kuala Lumpur
The W Hotel's Moonlit Fever Mooncake set comes with a chic bag in Sunrise Orange or Emerald green. Each set comes with four baked mooncakes of your choice. This year, W Hotel revealed six flavours to choose from; pure lotus, lotus paste with single yolk, red bean paste with mandarin skin, lotus seed paste with double yolk, tiramisu, and mixed nuts.
The mooncakes can also be purchased as a part of three sets, the Moonlit Fever Mooncake Collection, the Moonlit Fever Mixology Kit or the Moonlit Fever Gift Box.
The sets range from RM238–RM268
Call +60123574788 or email bf.wkualalumpur@whotels.com to purchase.
Mandarin Oriental Kuala Lumpur
A glorious sight to behold, Mandarin Oriental's latest mooncake offerings from Lai Po Heen come in an eco-friendly bamboo box wrapped with red silk. From salted egg custard with snow skin to pandan paste with single yolk – Mandarin Oriental rolled out myriad flavours that will make you salivate. They even have an alcohol-infused mooncake made with edible gold! So, don't hesitate to purchase as they are great for gifts too.
Each mooncake is priced between RM38 and RM68. 
Visit their website or the pop-up store at the hotel lobby to make a purchase. You can also email mokul-lpoheen@mohg.com.
Four Seasons Kuala Lumpur
In collaboration with designer Jimmy Choo, Four Seasons Hotel Kuala Lumpur paints the town pink with their latest mooncake collection. Charming you with the pink round totem box that's been decorated with a peacock origami pattern, this year's limited edition mooncakes feature baked and snow skin mooncakes. The collection offers unique flavours including pu er tea paste with tangerine skin, as well as seaweed and macadamia nuts. They even have a boozy mooncake in collaboration with Bar Trigona.
The two sets are priced at RM488 (Baked Mooncakes) and RM588 (Snow Skin Mooncakes). 
Visit Four Seasons Hotel Kuala Lumpur's page to purchase.
The RuMa Hotel & Residences
RuMa Hotel and Residences joined forces with batik designer Fern Chua for their 2022 mooncake collection. The limited edition mooncakes are packed in a rattan box and wrapped in a reusable batik bag. Available in two colours, orange and maroon, this collection is perfect for gifting yourself or your loved ones. Plus, the baked mooncakes come in delicious flavours; bamboo charcoal black sesame, cranberry lotus paste, tiramisu lotus paste with chocolate lava, durian lotus paste, and assorted fruits and nuts.
The set is priced at RM188 for two mooncakes, and RM258 for a set of four.
Call +603-27780751 to purchase.
The St. Regis Kuala Lumpur
The iconic trunk comes back again this year! The St Regis Kuala Lumpur impressed us yet again with their mooncake trunk collection, but this year they have made it even more special. The luxurious hotel takes it up a notch by revealing a giant mooncake – six and half-inches with eight egg yolks. The giant dessert comes in a beautiful orange leather trunk that will put a smile on your face. They also have lotus seed paste single yolk treats, which come in sets of four or eight.
The sets are priced between RM268–RM398.
Contact +603 2727 6696, WhatsApp +6012 280 1303 or email dining.kualalumpur@stregis.com to make your purchase.
Four Points by Sheraton Kuala Lumpur, Chinatown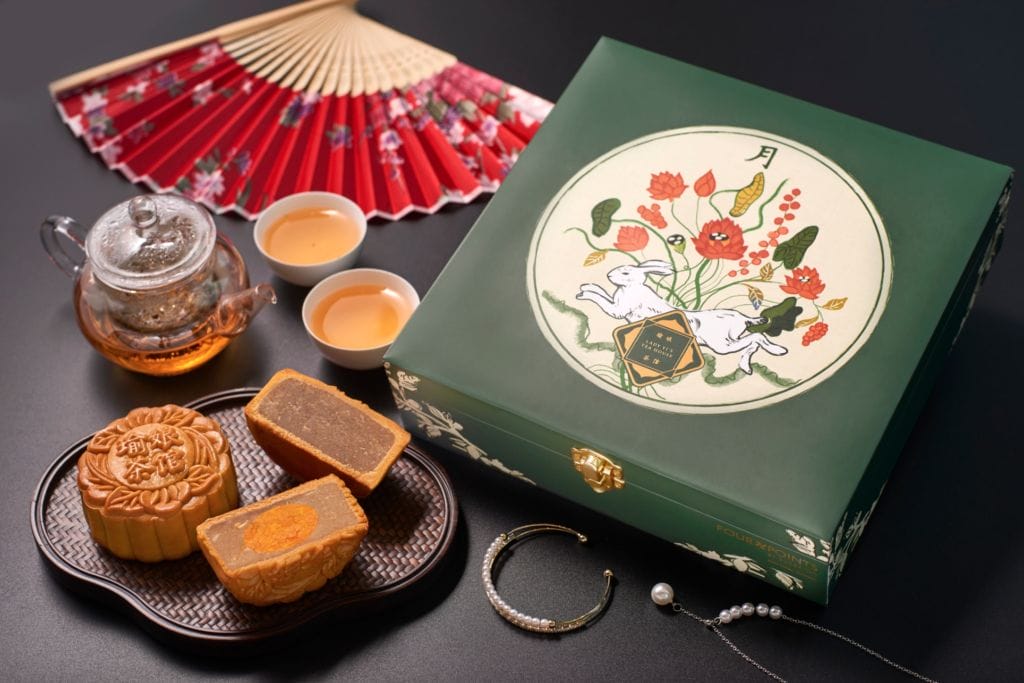 Tea lovers rejoice because this mooncake collection is perfect for you! Lady Yi's Tea House by Four Points by Sheraton KL returns this season with two mooncake sets, Luxuriant Jewellery Box and Abundance Box. Both, decorated with a beautiful exterior, deserve to be reused as your house decor after all the festivities. Each mooncake box includes four signature flavours, Lady Yi's 11 treasures tea, white lotus seed with single yolk, red bean, and green tea.
Each mooncake starts at RM33, while sets are priced at RM188 and RM158.
Contact +6012 507 3327 or email dining@fourpoints.com to purchase.
Grand Hyatt Kuala Lumpur
Arriving with style, Grand Hyatt Kuala Lumpur's latest mooncake collection is in collaboration with award-winning fashion designer Melinda Looi. Inspired by Peranakan culture, the mooncakes are housed in a miniature Peranakan home advent calendar. The box features 15 days' worth of goodies leading up to the Mid-Autumn Festival. Highlights include four mooncakes, premium teas, scented candles, and a designer scarf. This year's limited edition mooncakes come in Shanghainese yam with single yolk, pure red bean, pure pandan, and white Lotus with double yolk.
The 'The House of Shí Wǔ' set is priced at RM328.
Contact store.kuagh@hyatt.com or visit Grand Hyatt Kuala Lumpur's online store to purchase.
The Ritz-Carlton, Kuala Lumpur
Curated by the dim sum chef of Li Yen, The Ritz Carlton has a selection of handcrafted baked and snow skin mooncakes. Stepping out of their comfort zone, the chef has created unique flavours such as a Moët & Chandon Champagne Snow Skin series as well as a cream cheese with port wine mini mooncake. 
Prices range between RM18–RM37.
WhatsApp or call +6018-646 8033 or email li.yen@ritzcarltonkl.com to purchase. 
JW Marriott Kuala Lumpur
Perfect for sharing with loved ones, the Shanghai Restaurant at JW Marriott Kuala Lumpur released baked and snow skin mooncakes this year. If you're a big fan of traditional flavours, you'll thoroughly enjoy their white lotus paste with single egg yolk, and pandan paste with salted egg yolk. But, if you're thinking of widening your horizons, try their baked tiramisu paste with salted egg yolk, pandan paste with pineapple, and plum with green tea paste.
Each mooncake is priced between RM22-RM37. 
WhatsApp or call +6018-591 8537 or email shanghairestaurant@jwmarriotkl.com to make a purchase.
Pavilion Hotel Kuala Lumpur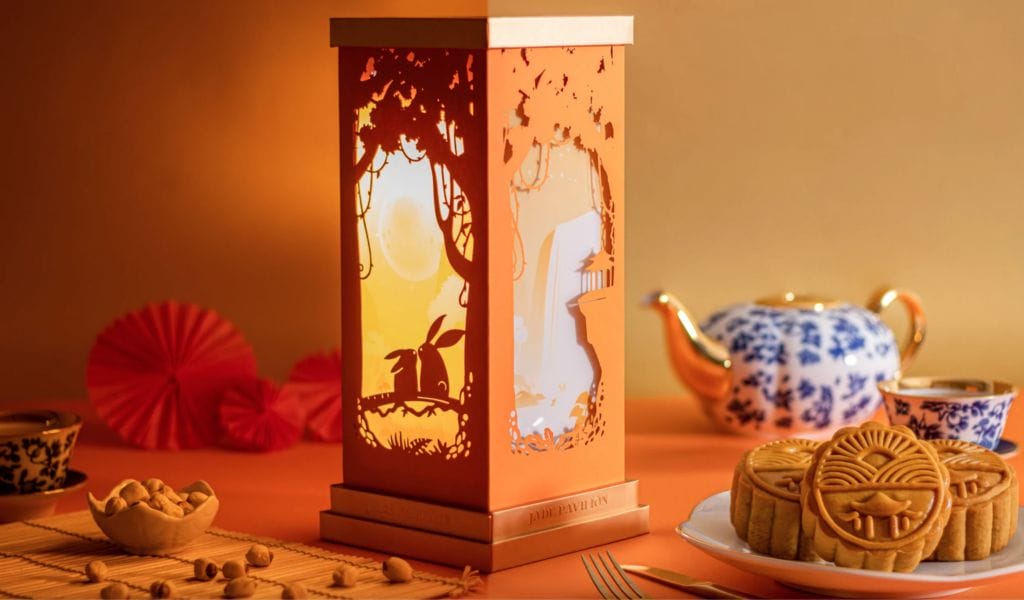 Jade Pavillion of Pavillion Hotel Kuala Lumpur celebrates the Mid-Autumn Festival with new mooncakes and a festive box. You'll be spoilt for choice this year with their selection of mooncakes – white lotus paste with single egg yolk, pandan lotus paste with single egg yolk, red bean paste, sweet corn lotus paste with yolk, just to name a few. Each set comes with four mooncakes that are encased in a box with paper cut-out scenes that can be reused as celebration decor. 
The mooncake collection is priced at RM268. 
Order online via Pavillion Hotel Kuala Lumpur's e-Shop or contact +6012-611 3772 via phone or WhatsApp to purchase. 
Sheraton Petaling Jaya
Partnering with TWG, this is Sheraton's most intriguing collection to date with its tea-infused mooncakes. Think black, green, and fruity tea offerings. These handcrafted mooncakes are displayed in a crafted chest box with traditional Chinese elements. Available in three designs: Peony Jade, Lilac Blossom, and Premium Turquoise, the box can be reused to store your trinkets. 
The mooncake sets range between RM126–RM168. 
Visit Sheraton Petaling Jaya's online store to make your purchase.