We're having a fashion love affair with Mia Wasikowska, who is the ultimate heroine in the sweeping big-screen version of Jane Eyre out this month. By Carrie Buckle.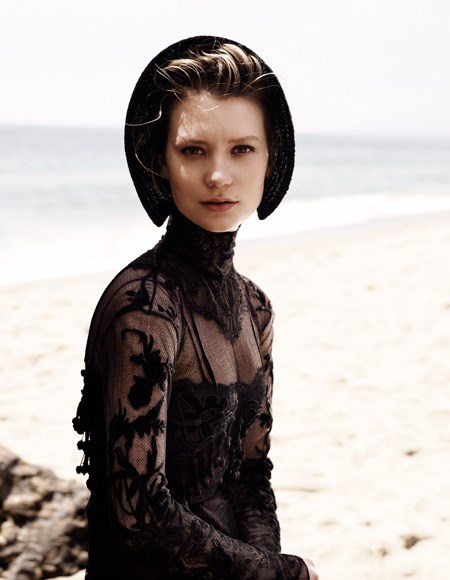 Mia Wasikowska wears Tom Ford dress; Nerida Winter bonnet. Styled by Jillian Davison. Photographed by Will Davison.
Gazing from a roof terrace over the shimmering Los Angeles skyline, a demure Mia Wasikowska clutches a cup of steaming earl grey tea. "It's lovely here," the fresh-faced actor murmurs as we settle our rather pallid selves in a shady corner of the Thompson Beverly Hills rooftop bar on a golden spring afternoon. She slips off her black ballet flats and sits cross-legged, sporting a casual combination of ruby-red harem pants she picked up in Cambodia and a black T-shirt ("I've had it for, like, four years and it's the best T-shirt ever").
The last time I saw Wasikowska was a few days earlier when she glided past me, every inch a fashion-savvy starlet in a plunging noir Thakoon number, at the glamorous Met Gala in New York.
"Everybody was there," she says, beaming with her dimpled smile.
Hollywood is smitten with the willowy 21-year-old, who is a beguiling mix of strength and vulnerability (akin to heroine Jane Eyre in her latest flick, but more on that later). After a whirlwind year, her star is still rising. Her breakthrough role was in Tim Burton's Alice in Wonderland, which thrust her into the spotlight — and onto a BAZAAR cover — in March last year. What was that like?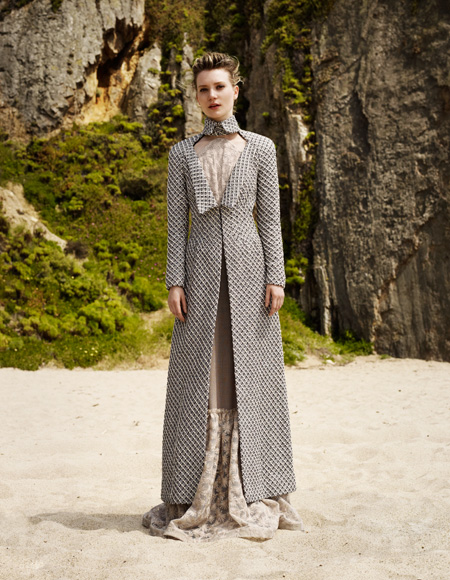 Rodarte coat and dress, both price on application, from TheCorner.com

"Exposure on a level that I had never experienced before," reflects the instantly likeable Wasikowska, who played Alice alongside Johnny Depp and Helena Bonham Carter. "I usually like to observe and for a while in the middle of doing publicity for Alice, it sort of flipped and I was the one being observed. That was a little intense." However, the innately elegant 163-centimetre former ballerina says, "It hasn't really impacted my daily life; I really rarely, pretty much never get recognised." The only time she feels "publicly vulnerable" is when she has a film coming out, and (so far) hasn't been pursued by paparazzi. "I'm way too boring for them," she says with a chuckle. "I think they realise they're not going to get anything very exciting or scandalous."
Since Alice in Wonderland, the coveted actor has been working pretty much non-stop. Los Angeles is her "holding spot" where she spends a few days staying with friends before flying to wherever she is filming. "I'm just such a gypsy right now," she says, sipping her tea. "It gets kind of tiring sometimes but it's so cool to be able to travel." Does she ever get lonely? "Definitely, for sure, yes," she says. "Even if you're independent, I think you get lonely." She says that far from all-night partying with the Hollywood brat pack, "I rarely meet other young actors," and then adds playfully, "I don't know where all these parties are."
Wasikowska cherishes the distance that being Australian gives her from the industry. "I've always really valued the fact that I'm able to pull myself out of LA and go back to Australia and get perspective on everything …" she says, removing tortoiseshell sunglasses to reveal amber-flecked eyes. "It's really nice to be reminded that, 'Oh yeah, that's not the world'."When not working, she retreats to Canberra. "I miss Australia a lot," she continues. "I always look forward to going home."
It's straight back into chaotic family life for Wasikowska, as one of the many guests staying at her parents Marzena and John's two-bedroom house. "When I went home last time, I was [sleeping] in the lounge room and it was a big shift," she says, laughing. "I go from that to somewhere in LA or a hotel in New York and I have all this space." Asked how she stays grounded, she replies: "I'm very aware of not getting to a place where I rely on being treated a certain way." Has she seen that in the industry? "Yeah, I guess so, but I don't know how people live privately, so I can't judge anyone. The best part of the job for me is when I'm on set."
In Jane Eyre, a brooding screen adaptation of Charlotte Brontë's 1847 classic, Wasikowska delivers a spellbinding performance playing the title role alongside Michael Fassbender and Judi Dench. Apart from the corsets ("They're so painful. You really get a sense of the repression and restriction women were under in that time"), it was a dream project. After wrapping up Alice in Wonderland, she was in Canberra with time on her hands and started reading Jane Eyre. "I thought it was brilliant and halfway into it, I got in touch with my agent and asked her if there was a script around the film." A few months later, one came up. "It was really great timing."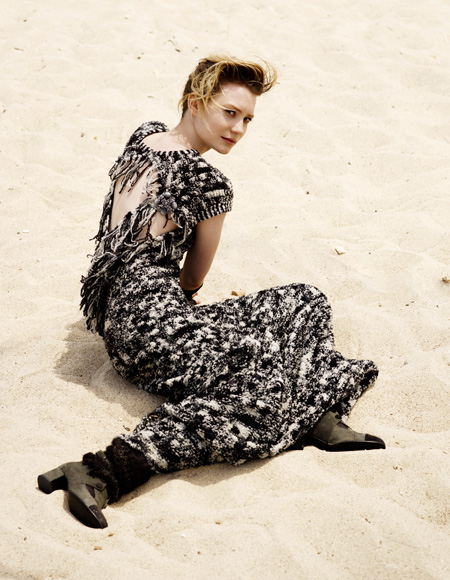 Chanel dress, gloves, and shoes.