There are myriad ways to express yourself, especially in today's technology-led world. Self-expression, albeit an individual need an action, results in the bettered ability to communicate, collaborate, and build community with the people around you.
Self-expression is a vast and varied action, and can be demonstrated in a plethora of ways including appearance, fashion, art, food, activities, and even tech. Enter the Samsung Galaxy Z Flip4—the latest foldable smartphone—that enables individuals from all walks of life to express themselves however they see fit for the utmost of life's satisfaction.
Flip phones were all the rage in what seems like the distant past, but Samsung decided it was time to bring back foldable devices, only bigger, better and more powerful. Simply owning the Galaxy Z Flip4 smartphone is a step out of today's norm of bar smartphones, and into a world of stunning design, advanced technology, and powerful multitasking.
One look at the phone and you'll notice its smooth, sleek exterior that unfolds into a 6.7-inch screen with an ultra-thin bezel that enables you to make the most out of your day-to-day. Whether you're taking video calls with your colleagues, photographing your way through the city, or playing your favourite mobile game, the Samsung Galaxy Z Flip4 is optimised both internally and externally to give you an unparalleled mobile experience.
Externally, your individuality is expressed through a selection of colours—graphite, pink gold, blue, and bora purple, all chic, sophisticated, and gender-neutral. Should you want to make an even bolder statement, the device's bespoke edition allows you to create 75 unique combinations with five modular panels in yellow, white, navy, khaki, and red, as well as three frame finishes in gold, silver, and black.
On the inside, the phone's Android 12 operating system allows not only for ultimate customisation to your heart's content, it also allows for multiple actions and activities with assistance from the Snapdragon 8+ Gen 1 processor. This means you're able to simultaneously hold video calls while browsing through your apps, taking notes, or even capturing images using the device's 12MP camera equipped with wide and ultra-wide lenses. Our favourite part is you're able to do it all hands-free thanks to the Galaxy Z Flip4's FlexCam ability that allows optimal function even in mid-fold.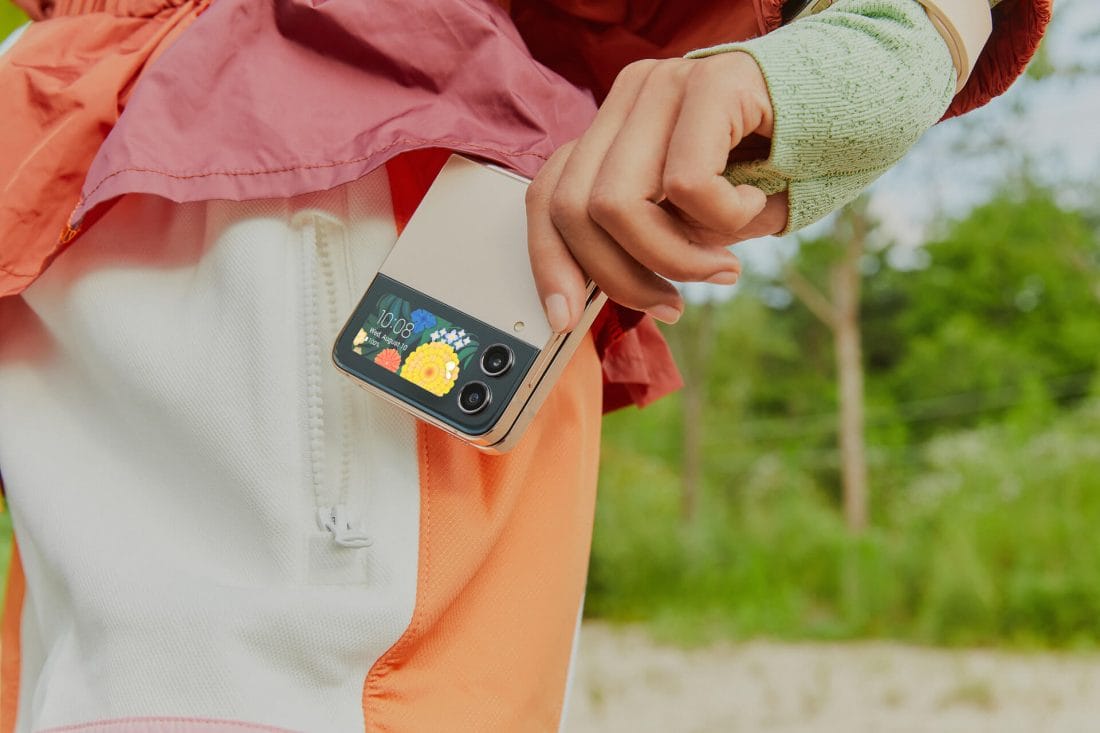 Lest we forget, the Samsung Galaxy Z Flip4's unique cover screen also gives you the space to wear your proverbial heart on your sleeve. A range of themes, graphics, emojis, and customisable clock faces enables you to richly and visually express your moods and the best part? These customisations can also be synced to the Samsung Watch5, should you own one.
The Samsung Watch5 comes in the same array of colours to match your Galaxy Z Flip4 smartphone. The band is also interchangeable and available in a spectrum of colours for you to mix, match, and make a statement.
For an even bigger personal touch, you can also add a pair of Samsung Buds2. We're fans of the all-matchy look but if you're one to shake things up, there are five colours of Buds2 for you to choose from. The wireless earbuds deliver crisp, clear, high-quality audio for an unencumbered listening experience.
In all, the Samsung Galaxy Z Flip4, Watch5, and Buds2 make up an ecosystem of tools that push you to express yourself in any which way you see fit.
Discover more about the Samsung Galaxy Z Flip4 here.