Whether you're looking to cut, treat, colour or blow dry, make sure you're putting your hair in the hands of the best that KL has to offer.
Centro W Salon
Located at the Gardens Mall, Centro W salon has continuously proven why they are one of the top salons in the country. Coupling impeccable service with expert skill, their collective of artists are inspired to always bring the best out of your hair. 
The Hair Tric and Lashility
The Hair Tric and Lashility salons are never hard to miss. Their storefronts are plastered with chromatic, reflective surfaces that instantly draw you into their space. Home to the best perm service and keratin treatment, your hair is in great hands each time you step into their salon. 
COCOdry
Offering the best blow out service in the city, COCOdry is located in Bangsar and in Publika, with a third location to be revealed soon. Whether you've only got time for a Hustler, or choose to indulge in their Tai Tai or any of their nourishing treatment services, trust that you will always walk out their doors with amazing, confidence-boosting hair. 
The MET Grand Salon 
This exclusive spot offers a wide variety of services ranging from their award winning balayages to indulgent hair reviving treatments. Its international standard of luxury, elegance and sophistication is evident throughout the entire space and during your service. Be sure to book beforehand as they only work by appointment. 
A Cut Above and Restyle
With locations spattered all around the city, A Cut Above is where you can retreat to for your standard cut, colour and treatment. Its convenient locations make for an easy solution to any hair crisis you may find yourself in. Whether you find yourself at a Restyle or an A Cut Above, the standard for hair is always exceptional.
Grace Salon
Tucked away in a cosy space in Bangsar Village 2, Grace Salon is a household name to the residents of the area. Affiliated with Aveda, their treatments and colouring services are innovative, fresh and modern. 
Leekaja
Bringing the Korean salon experience and expertise to our shores, Leekaja's green-filled space is hard to miss and stands out at the Shoppes at Four Seasons. Their Cinderella Treatment is a highlight—an elevated keratin treatment that utilises a blend of onion and organic aloe vera. 
Walking on Sunshine
Sister salon to Leekaja, expect similar service options and expertise at this newer space at 163 Retail Park. Sporting the similar flora facade to Leekaja, they apply their intrinsic, modern insights to hair with your thoughts to reach an outcome that will have you leaving the salon satisfied. 
Hair Quarters 
With a few locations available around the city, Hair Quarters is a great place to check out, especially if you're in the market for hair colouring. Their Ammonia-free Luxurious Professional Colour Service by iNOA from L'oréal Professionnel is a highlight and is a great option for those looking for an ammonia-free option. 
176 Avenue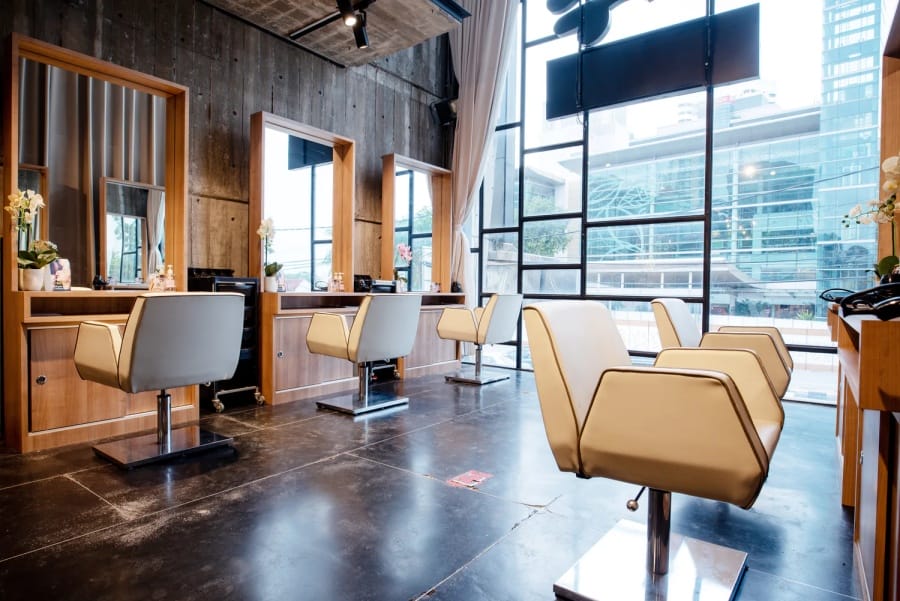 A luxurious hub for all things beauty, 176 Avenue not only offers hair, but nails and lash services too. This beauty hotspot is filled with friendly, expert stylists that work closely with you throughout your entire experience at the salon to ensure you get and feel your best once you leave with your new hair. 
The Editor Salon
Home to award winning stylists, The Editor Salon works closely with Goldwell to provide impeccable standards to their hair colouring and treatment service. Whether you're looking for something more avant garde or natural, the stylists at Editor Salon will be able to execute your vision to perfection
Alice Hair Wonderland
One of the few places in Kuala Lumpur where you can experience omotenashi, Alice Hair Wonderland encapsulates the Japanese hair experience with the best products and techniques of the region. Their motto: "Our mission is to create extraordinary personal value for every beauty seeker and enhance their charm."
Miko Galere
Dedicated to providing professional hair service with modern takes on hair, Miko Galere has salons speckled around the hotspots of Kuala Lumpur. An appointed salon of Kerastase and L'orèal Professional, quality is always guaranteed in regards to their treatments and colouring services and you can expect expert results each time.