We're taking you to pound town
In an effort to romanticise your love and sex life, you may be looking for a steamy romance book to add to your repertoire. If you're looking for immaculate spicy scenes, captivating tropes, and storylines, then don't worry, we've got you covered. Whether you're a fan of high lords, billionaires, mafias, anti-heroes, or morally grey men, we've compiled a list of steamy romance books to sink into.
From TikTok's sensations' Fourth Wing by Rebecca Yaros to Haunting Adeline by H.D. Carlton, here are 11 steamy romance books with the best sex scenes.
Here are 11 steamy romance books with immaculate spicy scenes:
Fourth Wing
Romantasy lovers will devour this book in 24 hours no doubt. Full of chaotic spicy scenes with damaged armouries, burnt curtains, and mind-reading praises, this enemies-to-lovers book is spectacular. Enter the brutal and elite world of a war college for dragon riders now where Violet Sorrengail unexpectedly falls for Xaden Riorson, the most powerful and ruthless wing leader in the Riders Quadrant.
Read Now
Heartless
If you're looking for a hot kitchen scene, a grumpy cowboy, and a small-town romance, then you'll surely be a jolly rancher reading this book. This contemporary romance book follows Willa, a nanny for the world's grumpiest, hot single dad who she can't keep her eyes off. And, he can't seem to keep his hands off of her either. Full of good girl praises, seductive angst, and sensual scenes, this is the book for hopeless romantics.
Read Now
The Maddest Obsession
Sinfully hot, this dark romance is packed with angst, obsession, and emotions. If dark romance is more your speed, then give this novel a shot. FBI agent Christian Allister becomes obsessed with Gianna, an ex-mafia don's wife in this scandalous book where you'll come across a salacious car scene with gripping descriptions. You can read this book as a standalone or you can continue with the rest of the series.
*Do check trigger warnings before reading.
Read Now
Icebreaker
Full of fluff, this sports romance has tons of spicy scenes that will have you gasping. Icebreaker follows Anastasia Allen, a competitive figure skater and Nathan Hawkins, the captain of the hockey team who is forced to share a rink when a misunderstanding happens. Nate and Stassie find themselves stuck together in more ways than one – eventually, igniting sparks between them. Expect a promiscuous Uber ride and bedroom scene that will knock your socks off.
Read Now
A Not So Meet Cute
With a scrumptious and hot dining room action and a high-mile club scene, this billionaire fake dating romance book has the perfect combination of fluff, comedy, and spiciness. Inspired by the classic chick flick film Pretty Women, you definitely can't skip this one.
Read Now
A Court of Silver Flames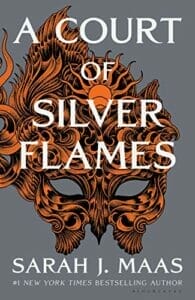 "Put your hands on the headboard" – if this doesn't get you going, then nothing will. A Court of Silver Flames is the 5th book in the ACOTAR book series. But, don't sweat it, if you're planning to read it and can't wait for the smut scenes, the first few books have some of the best spicy scenes in the fantasy world – so you don't have to wait that long. Packed with a good plot, sensational lusting, and fantasy goodness, you should definitely add this to your TBR list.
Read Now
Twisted Games
Inspired by the film, Princess Diaries, this Ana Huang novel is elite. Featuring scenes with quotes such as "Keep your underwear, gloves, and hells on. And crawl to me", there's nothing more provocative than this. This book follows stoic, broody, and arrogant bodyguard Rhys Larsen and his regal princess, Bridget Von Ascheberg and their steamy forbidden romance. 
Read Now
The Serpent and The Wings of Night
Full of angst, gripping plot twists, and a riveting sex scene, this fantasy romance book is all you need for a good night's sleep. Following Oraya, the adoptive human daughter of the Nightborn vampire king and Raihn, a hunky, ruthless vampire – this book is definitely one to sink your teeth into. Trust us, it'll leave you bloodthirsty for the second book.
Read Now
Haunting Adeline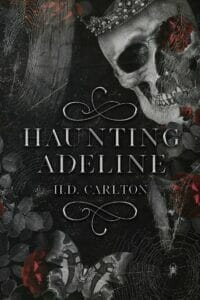 H.D. Carlton
Unorthodox and full of trigger warnings, this isn't your average steamy romance book, but it does have the darkest spice – if you're into that kind of kink. Haunting Adeline follows Zade Meadows who stalks newly famous author Adeline in the most twisted way. But, with quotes like this "Baby, you rule the kingdom, and I will gladly bow to you," there's nothing you wouldn't love.
*Do check trigger warnings before reading this book. Only attempt to read if you're a big fan of dark romance.
Read Now
Play With Me
This hockey romance novel will leave you swooning and knowing how to handle a hockey stick – pun intended. Featuring a play of toys, a hunky hockey player, and a fun yet heart-wrenching storyline, this was made for the sports romance girlies.
Read Now
The Spanish Love Deception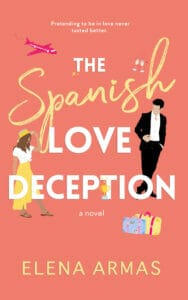 This perfect summertime romance will get your cabin hot and steamy. Featuring a fake dating trope, this book follows Cataline Martin who desperately needs a date to her sister's wedding especially since her little white lie about her American boyfriend has spiralled out of control. Enter Aaron Blackford – her tall, handsome, condescending colleague –who surprisingly offers to step in. She'd rather refuse, but Catalina is desperate, and as the wedding draws nearer, Aaron looks like her best option.
Read Now