An avid supporter of the arts, Max Mara strikes again with its most recent collaboration with Liu Wei for Pre-Fall '17. Ian Griffiths, creative director of the Italian label, talks about the ultimate city, new possibilities, and the dark glamour of the concrete jungle.
The highlights of this collection?
The fabrics, inspired by the work of Liu Wei and developed together with the artist himself. His work is all about the city, so we started by translating maps of real and imaginary cities into layers of laser-cut fabrics. The textiles have an excitingly raw, unfinished look. We developed the prints by tracing the contours of an architectural plan with a sewing machine, leaving loose threads—a new kind of trompe-l'œil.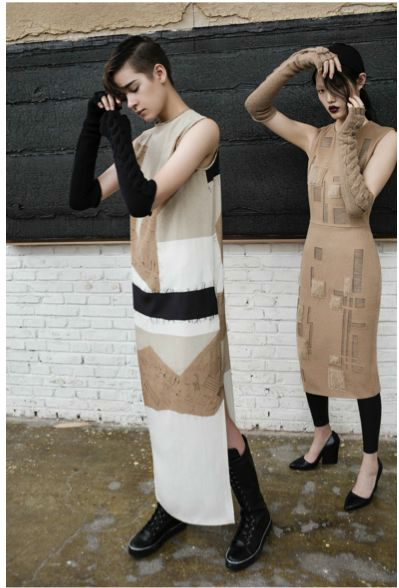 What is the mood of the show?
We imagined the ultimate city, Metropolis, created by Liu Wei as a set for our runway show. The mood is almost film noir, that fascinating genre that described the dark glamour of urban life. Our models are like 1940s screen heroines: Veronica Lake, Ingrid Bergman, Joan Crawford. The city may sometimes feel disorientating or hostile, but not when you are swathed in Max Mara.
Tell us about the collaboration with Liu Wei.
I have become very interested in contemporary artists that take a radical approach to their craft. Liu Wei incorporates different media, so his work is almost disorienting, but has a clear central theme—the city. Max Mara has always been about the city, too. We have always made clothes for women who want to make it to the top in the concrete jungle, so there is a natural affinity between us and Liu Wei.
What do you think about the "see now, buy now" movement?
Any new interface between the industry and the consumer is challenging in a good way. It's a stimulus to think differently. The collection we showed in Shanghai is Pre-Fall '17 but it also incorporates a capsule collection designed in collaboration with Liu Wei that hit the stores the next day. So, in this case, "see now, buy now" has opened up a channel of possibilities, not limit them.
When getting dolled up, what is the most important rule?
Never look like you tried to hard. Aim for easy elegance. If you feel even slightly self-conscious in what you are wearing, then wear something else. You should be able to forget about what you are wearing.
Max Mara has meticulously crafted a 11-piece capsule collection in collaboration with Liu Wei, that was featured within the show that was held in Shanghai recently.
This special limited edition collection is already available for purchase exclusively on Max Mara and in 45 flagship stores worldwide.