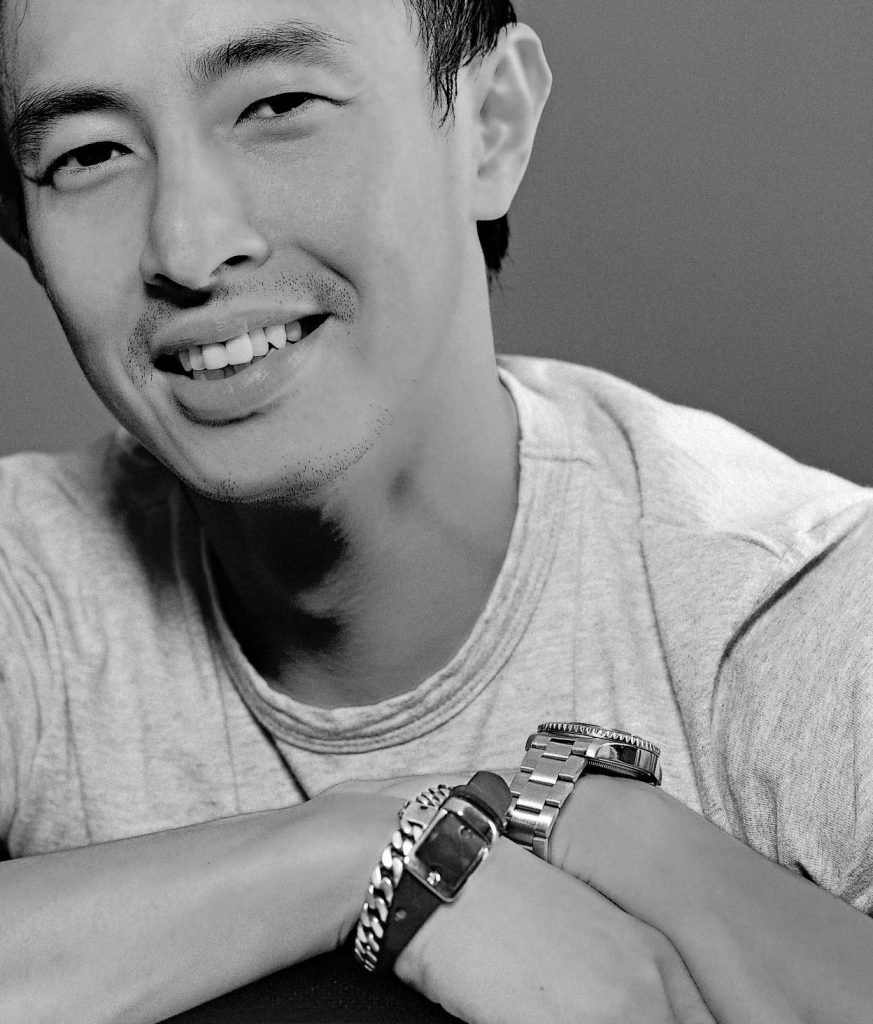 5.45AM The first thing I do when I wake up is drink about 500ml of Evian. A minimum of one litre is advised but it's impossible to drink that much so early in the morning! Still in bed, I switch on my phone and check my messages from the night before. I make it a habit to turn off my phone before I hit the sack as I don't want to be disturbed by multiple alerts from the WhatsApp group chats I'm in (These include friends from different time zones).
6.15AM On an empty stomach, I run 30 minutes on the treadmill with Depeche Mode remixes on full blast, followed by 30 minutes of core exercises three times a week. My partner read that if you run on an empty stomach, it burns more body fat. I used to bike but I was once knocked down by a reckless driver (which caused a permanent scar of 25 stitches on my shin) so I take my road bike out for a spin on weekends when traffic is less daunting. I take a quick shower to get myself started. Cold showers help strengthen the immune system and promote blood circulation. My go-to skincare brand is Aesop; I've been a fan for over a decade. I use the Fabulous Face Wash, and the Primrose facemask once a week. Recently, I've also started using Premier Cru by Caudalíe. I opt for plant-based skincare that smells as natural as possible. I take about five minutes to get ready. I don't spend too much time in front of the mirror as I have better things to do than look at myself. I usually wear the first thing I see in my walk-in wardrobe hence I tend to wear the same shirt or jeans again – I guess that's my daily uniform. I have a penchant for understated, quality classics, which I can wear over and over again, and I buy them in bulk if I like the cut and make. My core wardrobe consists of 12 pairs of APC indigo jeans, six Acne Jeans white shirts, six Gitman vintage chambray shirts, six Gitman vintage navy blue shirts, six pairs of Gap chinos, six white T-shirts and six melange grey T-shirts. I am neutral in my colour palette and I never wear black unless it's for a black tie event. I personally feel black is too stark to wear in the tropics. There's a Luis Morais gold and glass bead bracelet that I don't take off even when I sleep, swim or shower. My one obsession? Definitely shoes. At last count, I have 65 pairs. I have a taste for well-made British shoes, and anything from Bottega Veneta. I only splurge on shoes.
7.30AM I have breakfast at home, most likely fresh papaya, kiwi, and a trio of frozen berries mixed with organic muesli and low-fat milk. Since I am more of a tea drinker, breakfast ends with a cup of extra strong Fair Trade tea, which I buy in bulk from Marks & Spencer. I consume an average of six cups a day. Breakfast time is also when I bond with my three dogs. Princess, my corgi, loves to play ball so I spend 15 minutes with her playing fetch.
9.15AM I get all my e-mails sorted and catch up on the news. By the time I'm done, my driver picks me up for work. I view my Instagram and Tumblr feeds the moment I get in the car. I love Instagram. It's a quick way to establish some form of connection to friends I don't get to hang out with often. I get sneak peeks of their daily life – in a way, it's almost a tool for stalking. I also browse Style.com and Women Wear's Daily on my iPad.
9.45AM I get into the office and my assistant updates me on work issues over tea. I am a hands-on person and I go through the entire process of creation in detail. We manufacture 70 percent of the collection in-house and there are daily hiccups from defects in the fabrics to technical difficulties in getting the production to deliver on time. We export Eclipse to many countries and deadlines can be tight and tough. Last year there was the Eclipse store opening in Doha, Qatar.
10.15AM I check on internal e-mails for quick work updates and have another cup of tea. I then meet with my shoes and accessories team who update me on styles, development charts, raw materials, and selection of colours. If time permits, we have a quick fittings session. After that, I look at the base ideas of the collection we are working on and start tweaking. It's always work in progress where designs are concerned.
12.30PM I leave the office for lunch – my favourites are Kampachi for Japanese or Fong Lye for divine Taiwanese cuisine. I make pitstops at either Suria KLCC, Pavilion KL, or Mid Valley Megamall to check on my stores and chat with my retail managers.
2.30PM I run through the collections planning chart with my product development head as well as review all new fabrications. We plan work one season ahead. Later, it's daily fittings on prototypes in development with my design team and pattern drafter. That ends with another cup of tea.
4.15PM Daily meetings with the social media team is something I look forward to. We discuss ideas and strategies on how to improve our social media presence and how to reach out to a younger audience. My team is fairly young and I'm amazed at how the young mind works and thinks.
5.30PM More tea is waiting for me on my desk. I look at my fabric planning chart and start materialising the line-up of textures and patterns that will be the mainframe of the next season's collection. I start my design process based on the fabrics instead of vice versa since a typical Eclipse collection can easily include up to 250 styles. It's a long and tedious process but after 25 years in the business, I am used to the vicious fashion cycle that is ever-changing. I'm constantly learning – there is never a dull moment in fashion! The longest I can go without thinking about work is probably three weeks in a year, which is when I take my annual break. A memorable holiday was a three-week road trip in Syria in 2008. This August, I will be heading to Peru and Chile.
7PM I wrap up at work and head back for a home-cooked meal. I make it a point not to eat out on weekdays with Fridays as an exception. Dinner is normally baked or steamed seafood and some vegetables. Once a month, I do a juice cleanse. After dinner, I hang out with my furkids while catching up on episodes of Homeland or Scandal or The Blacklist on Apple TV. I don't always head out but when I do, it's to Pisco Bar on Jalan Mesui that plays the best music this side of town. Sometimes, my friends come over for sake.
11.30PM I make it a point to cleanse and moisturise every night before bed. Then it's time for my nightly dose of E! before the lights go out.