Consider Amy Yasmine BAZAAR's very own comeback kid. Once a 'Personal Style' star, the style savant and London College of Fashion graduate has since gone full circle—returning to BAZAAR as fashion editor. Here, she recounts her first moment in the spotlight, insider secrets, and her fashionable journey over the past four years.
You were featured in BAZAAR's 'Personal Style' for the June 2014 issue. Tell us about your experience.
It was the first time I had ever been in front of the camera, so the thought of being featured in a major international title was indeed nerve-racking. I had also just returned home after spending eight years in London and was living out of my suitcase, so coming up with ensembles took days. I remember having nine different looks, and my shoes were all over the place I ended up displaying them on a bookshelf—something our editor-in-chief still remembers!
How has your style evolved since then?
Back then, my motto was to "go hard, or go home." I certainly had a flair for the dramatic, having worn YSL Tribute heels and fingerless leather gloves to Devi's Corner once. But ever since taking on a full-time job, practicality has somewhat seeped into my wardrobe. Dress shirts paired with disco denims, or tonal dressing with tailored shirt and trousers. One thing's for sure: I'm no longer afraid of colour.
Since working at BAZAAR Malaysia, you've met your fair share of icons. Who are your favourites?
If I had to pick someone, it would be Michael Kors. I've interviewed him a few times now; but my most memorable time was when he shared family stories with me, like how his grandmother would have three outfit changes on a Caribbean holiday. He is, by far, the bubbliest designer I've ever met, and the most generous. There is also Paul Andrew, Salvatore Ferragamo's women's creative director. We met in Seoul last year and instantly clicked.
What was the highlight of your time at New York Fashion Week?
Being at Bottega Veneta's Autumn/Winter '18 show. While it's one thing to be dancing next to Kaia Gerber, Adwoa Aboah, et al., it's certainly another to be getting drinks at the bar next to François-Henri Pinault and Salma Hayek.
What trends are you most looking forward to sporting this season?
Most of what were seen on the runways—metallics, plaids, animal prints—had already made ripples two seasons ago, which was disappointing. But forget florals for spring, and do it for Autumn/Winter instead. Tory Burch, Michael Kors, and 3.1 Phillip Lim did that, but with a sportier twist. Think parkas, down jackets, and sneakers.
Your style is very distinct. How do you incorporate that with today's trends?
It's about knowing your own self. As a journalist, there's a drive to always want to know more, to question more, and to understand more. So while the easy answer to this would be "social media", the keyword really is "curiosity". What you wear on the daily is informed by your own opinion, but it's your personality that makes all the difference.
If you could interview anyone at all, who would it be?
Hedy Lamarr—never has anyone epitomised "beauty with brains" as much as she does. Imagine the riveting conversation we'd have discussing her iconic role in Ziegfeld Girl, and her invention of spread spectrum, paving the way for today's WiFi and Bluetooth technologies.
Which designer are you currently into?
As clichéd as it sounds, Demna Gvasalia at Balenciaga, but with good reason. Demna's approach seems to revolve around the idea of satire, constantly mocking the industry, or more specifically, fashion victims. Case in point: a RM6,000 cotton sweater sold out everywhere, and the Chatuchak Market-esque Bazar Shopper. Marketing genius or design prodigy? You be the judge.
AMY YASMINE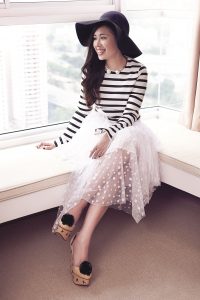 BAZAAR's fashion editor and BAZAAR June 2014 'Personal Style' alumni: "Who would have thought I would end up working for the magazine that featured me four years ago? The glow up is real, including my new-found experimentation with colour. And for those wondering, yes, I did also end up editing the same page that I was featured on in BAZAAR!"