Seiko unveils the Seiko Presage Sharp Edged Series with dual time.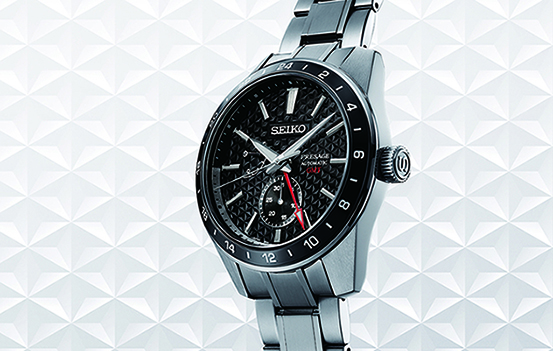 Seiko is famed for its simplicity and enhancement in keeping true to its Japanese roots. The new Seiko Presage Sharp Edged series combines a delicately textured dial, upgraded with a modern edge and sharp angular case.
Announcing four new series to the collection featuring GMT function. The timepieces combine Seiko's traditional watchmaking skills with exceptional Japanese craftsmanship.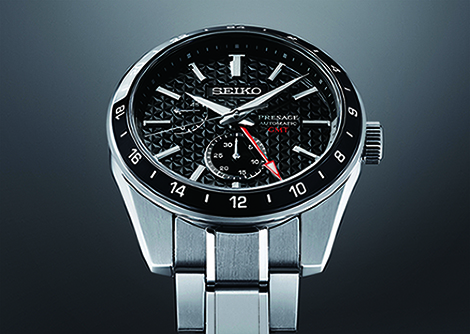 The upgraded Caliber 6R64
Powered by the eight beat-per-second GMT Caliber 6R64, the GMT hand is in a different colour so that it stands out. The GMT hand doubles as a dual time indicator, the hour hand being adjustable even as the minute and seconds hands continue to mark time. This feature is essential for travellers, who need to keep track of two different time zones. The dial rings are in two colours to separate night and day hours at a glance. The date is shown on a sub-dial at the six o'clock position and a power reserve indicator at nine o'clock.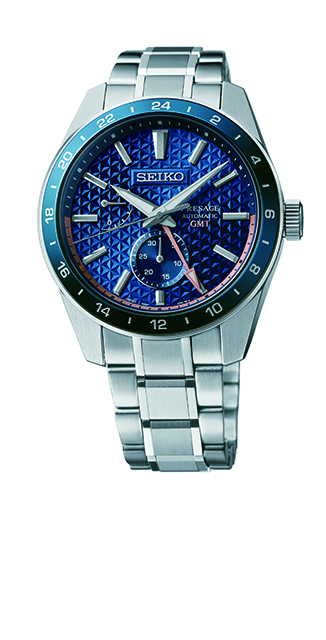 New Features
Subtle upgrades have been made in this collection, the bracelet has been redesigned to create a multi-dimensional feel that matches the dynamism of the case, and the lugs end with an angled cut to emphasise the modernity of the design. The timepiece surfaces and edges, both feature a different finish, polished and a hairline finish resulting in a contemporary multi-dimensional effect.
The indexes mixture of both textured and polished sides allows for light to shine across the dial. All four new designs are protected with a hard coating that protects both case and bracelet from scratches. It's both durable and long-lasting.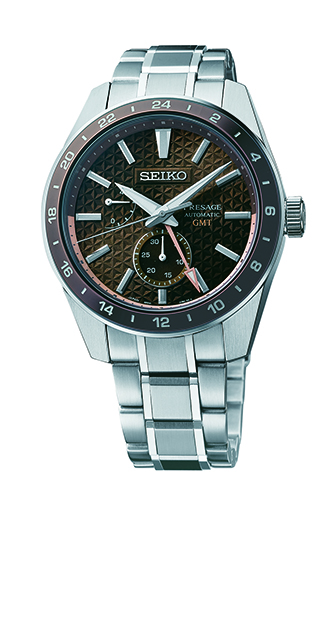 Japanese Heritage
The updated timepieces all feature a dial with the Asanoha (hemp leaf) pattern, paying homage to Japanese tradition. The pattern has been used in fabrics since the Heian period over a thousand years ago. Each dial is in a different traditional Japanese colour; Aitetsu, or indigo iron, Tokiwa, the colour of evergreen trees, Sumi-iro, the tone of black Japanese ink, and Hihada-iro, a reddish-brown colour first derived from the bark of the Japanese cypress tree.
All four watches are available at Seiko Boutiques and selected retail stores worldwide.