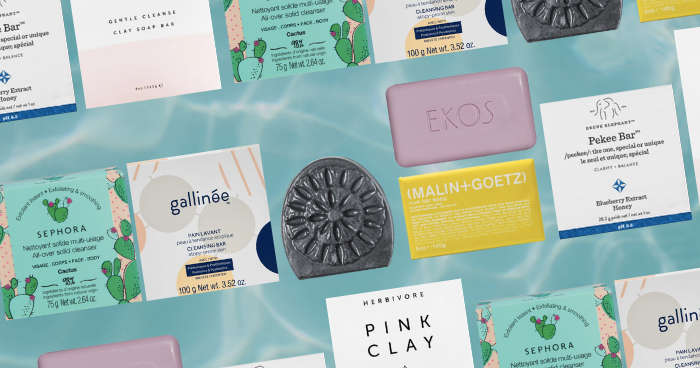 Bar soaps may not be the most glamorous part of any skincare routine but as of late they have seen a total revival as a complete planet-friendly solution to shower gels and cleansers. Available in little to no packaging, the cleansing bars of today go far beyond the drying slabs of soap that they once used to be. Now, they are formulated with the smartest of skincare science to bring the best cleansing power but also being mindful of the planet. Here, we list down our favourite cleansing bars that keep skin feeling clean and refreshed, whilst also minimising the impact on the environment.
Gallinée Cleansing Bar
View this post on Instagram
Soap-free and super gentle on the skin, this cleansing bar from Gallinée can be used for body and face as well. Formulated with a pH of 5.8, not only does this cleansing bar soothe and cleans skin, it also mindfully balances your skin's natural pH levels as well. Powered by their signature complex of prebiotics and lactic acid, expect nourished skin that is protected by good bacteria, whilst simultaneously removing the bad to reveal radiant, glowing skin.
Sephora Collection All-Over Solid Cleanser
View this post on Instagram
Available in multiple options, the All-Over solid cleansers will squeakily salve away any dirt and grime from head-to-toe. Made up of 98% natural origin ingredients and enriched with vegetal extracts—this cleansing bar is all-around great for the environment. As we are currently heavily relying on dry air conditioner air to keep us cool, we have been gravitating towards the Cactus option which helps to retain the skin's moisture.
Drunk Elephant Peekee Bar
View this post on Instagram
This multitasking bar from Drunk Elephant can be used for face and body and works to not only cleanse, but tone and moisturise the skin all at the same time. Rinse away pore-clogging debri and impurities with ease and let its blend of blueberry extract, marula oil and honey wrap your skin in a soothing blanket that helps to promote moisture retention whilst balancing and calming the skin, leaving it feeling soft and supple.
Malin + Goetz Rum Bar Soap
View this post on Instagram
This triple-milled foaming cleansing bar by Malin + Goetz is powered by hydrating glycerin that gently yet effectively purifies and balances the skin without irritation, drying or stripping the moisture from your complexion. An added touch is that it is infused with their signature dark rum scent that leaves a sensual and warm fragrance on the skin.
Herbivore Botanicals Pink Clay Soap Bar
View this post on Instagram
With an emphasis on creating 100% all-natural products that are plant-based, vegan and organic, Herbivore Botanicals' Pink Clay soap bar is even ideal for those with sensitive and dry skin. This mild cleanser is infused with French pink clay and a luscious blend of essential oils that work to renew and regenerate the skin whilst also gently drawing out impurities for soft and plump skin.
Lush Coalface Cleansing Bar
View this post on Instagram
Lush houses the motherload of cleansing bars—offering a plethora of options ranging from skin concerns to fragrance choices. One of our top picks is their charcoal infused Coalface cleansing bar. Gentle enough for your face, but too nice to let your body miss out, this antiseptic powerhouse helps to combat breakouts, clear excess oils and softens the skin for a smoother, and balanced complexion.
Natura Ekos Acai Energizing Bar Soap
View this post on Instagram
Infused with energizing Açaí oil and skin-smoothing Açaí seeds, the Natura Ekos Acai Energizing soap bar is a great vegan option for a foamy and lather-full rinse. Made with 100% vegetable oils, this bar will leave your skin feeling soft and delicately scented.