By breaking the boundaries of beauty, social media is paving the way for game changers challenging the status quo. BAZAAR Speaks to four Malaysians on the subject of diversity, and keeping it real in a time of filters and likes. 
Tess Pang, Multidisciplinary Artist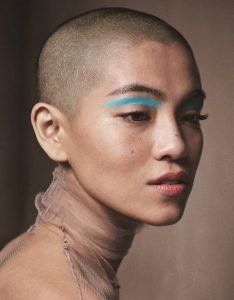 "Thinking about light as a guide and a source of power has been really transformative," divulges multidisciplinary artist Tess Pang.  "You can illuminate dark spaces—psychologically and spiritually—you can enlighten yourself and others, and you can do something big or small to brighten someone else's day."
Enhance skin's translucency with a layer of Nars Pure Radiant Tinted Moisturizer Broad Spectrum SPF 30 in Alaska, A dash of cerulean blue across the brow bone using Nars Single Eyeshadow in Baby Jane and a fuller brow using Nars Brow Perfector in Lava to frame the eyes.