A basic principle of bodily care revolves around the amount of chemicals or synthetic ingredients we come into contact with; the less, the better. Unideally, modern demands have propelled us into busy bees with little to no time for even the most fundamental needs. The high humidity and active lifestyles paired with suboptimal hair care pushes our sebaceous glands into overdrive, resulting in an excessively oily scalp. This is where Natura'rt Sebum Control Shampoo comes into its own, specifically formulated to target unhealthy scalps and give it a new lease of life.
BACK TO BASICS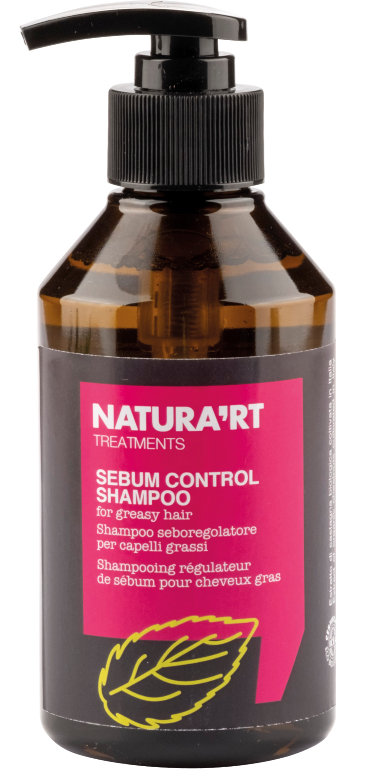 Rica Natura'rt Sebum Control Shampoo, RM75
NURTURE THROUGH NATURE
Tackling excessive oil production at the head, Natura'rt combines three plant extracts: nettle for its restorative and stimulating properties, maidenhair for its soothing and hydrating effect, and watercress to increase blood circulation to the scalp. These three wholly-natural ingredients were carefully curated for their synergetical and complementary reactions in decreasing excessive seborrhea and the reduction of microorganism growth. To add a little shine and enrichment, organic chestnut extract is also infused into the concoction. In the process of developing this new formula, Natura'rt has also been able to eliminate the use of colourants, parabens, petroleum-derived products, and aggressive anionic tensioactive agents. The result? A shampoo that gently strengthens and tones the hair, all while soothing and purifying the scalp.
WHY BAZAAR LOVES IT
The lengths gone through to ensure the shampoo is as natural and gentle as possible is just one of two reasons to love Natura'rt's work. The Italian company has also successfully implemented a 0 km production chain, with research, production, and quality control being executed in a single facility. To further reduce its environmental impact, Natura'rt also sources ingredients wholly from local Italian territories. The localised system also affords greater control over the entire process, thus maintaining a high level of quality with both ingredients and procedures. The cherry on top sits in the knowledge that Natura'rt Sebum Control Shampoo is not only a surefire way to up your scalp game, but it also is an environmentally-conscious way of achieving those #hairgoals.