A 3-axis range featuring 6 skincare products, 2 makeup products & 1 fragrance mist.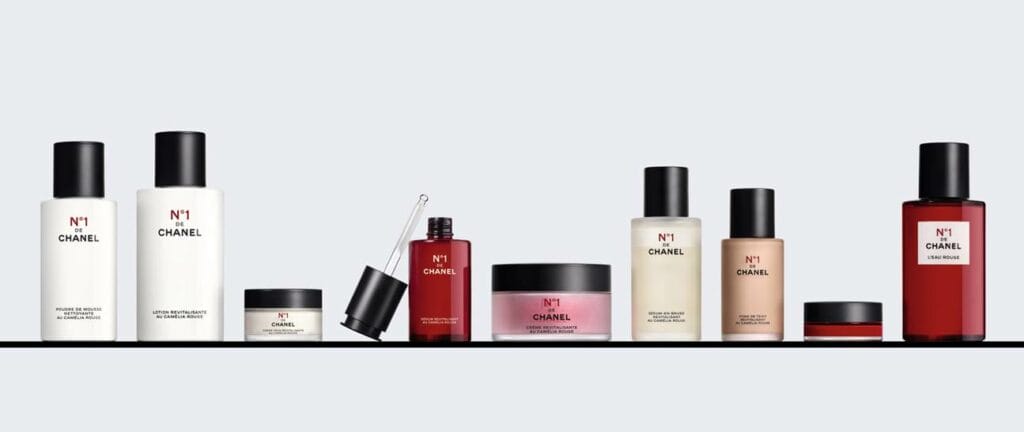 Accustomed to elevating mere numbers into icon status, Chanel Beauty have revolutionised and crafted an identity to the number five and with the launch of their new N˚1 de Chanel collection, they plan on doing the same. The new N˚1 de Chanel is three-fold—a full, holistic approach that delves into skincare, make-up and fragrance mist as well.
At its heart is the Red Camellia flower. Synonymous with the Chanel house, the Camellia flower continues to prove that it goes beyond pretty petals and is chock-full of incredible skin benefiting properties. With decades dedicated to the study of this magnificent flower, the scientists at the Chanel Open-Sky Lab in Gaujacq, France, found unmatched revitalising powers within the Red Camellia and decided to make it the centre of this new collection.
Split into four different segments: Prepare, Treat, Enhance and Revive, this collection finds that sweet-spot of a window where anti-ageing is just about to be a concern—prioritising prevention as compared to cure.
Speaking to Nathalie Volpe and Armelle Souraud, Chanel's International Innovation, Research and Development Director and Scientific Communication Director, they share their insights on the science behind the Red Camellia, the definition of Senescence and the beauty of the new N˚1 de Chanel collection.
With the introduction of the Red Camellia flower through the new N˚1 de Chanel, what are the main differences between this flower and the White Camellia?
Armelle Souraud: The white camellia is a moisturising and a hydration expert, whereas the red camellia is a skin revitalising anti-aging expert. One figure that was very interesting is that when the scientists' tested the efficacy of the red camellia extract, the results found that this extract increased cellular vitality in stressed conditions by 67%—the results were so exceptional, which is why we really decided to capitalise on this extract and put it at the centre of this new beauty line.
What's the earliest age we should be considering implementing anti-ageing products into our skincare routine?
Armelle Souraud: As you know, at Chanel, we don't really speak about age because we know that there are a lot of different other parameters that could have an impact on the quality and the beauty of your skin. But when we developed this product we did have a particular woman in mind: someone who lives in a big city, exposed to external and internal stressors, a lack of sleep and someone that sees continued loss of skin vitality.
So, we clearly understood that if we want to preserve the quality of the beauty of the skin, we need to focus on prevention. That's why the full range really focuses on preventing the acceleration of the ageing process. It also works to correct and target the five main skin concerns: wrinkles, elasticity, pores, comfort and radiance.
More than just skincare, can you tell us more about the entire N˚1 de Chanel and why Chanel chose to incorporate make-up and a fragrance to the new range?
Armelle Souraud: This new beauty line has been designed to really focus on the essentials. We wanted to stir an emotional impact from the product that goes beyond just beauty. We really want to instill a full, holistic approach—to revitalise from your cells, to the skin and then to the mind. Starting your routine with the skincare elements and then providing your complexion with even more revitalising properties with the foundation and lip and cheek balm. Then throughout the day you can uplift your mood with the mist and the fragrance mist as well. We want the collection to really increase self-confidence and it was amazing for us to be able to combine both anti-ageing benefits whilst providing an uplifting boost too.
What do the words Senescence and Cellular Vitality mean to Chanel and this collection?
Nathalie Volpe: The word senescence is originally a medical term and Chanel have been researching this field of ageing processes for the last ten or so years. We have discovered some specific ways to be able to demonstrate the activity of active ingredients on some specific models of skin senescence. Chanel have done their best to be able to play and target on physical benefits that address the main effects of skin senescence: wrinkles, loss of hydration, comfort and radiance.
Were there any challenges when formulating and working with the Red Camellia flower?
Nathalie Volpe: Yes, we faced quite a bit of challenges because our approach was two-fold—to ensure physical benefits as well as garner a strong emotional impact. We also had to keep in mind sustainability and also to try to integrate a maximum level of the camellia extract.
One product that comes to mind was the serum. It's the hero product of the collection and one of my favourites because of its sensoriality, performance and concentrate of technology. We wanted a maximum level of raw materials from nature that didn't compromise on sensoriality and that could still deliver full efficacy. With the serum consisting of 76% camellia extract, our main challenge was to stabilise the new raw materials, whilst executing a serum that was lightweight, powerful and one that can be quickly penetrate into the skin.
Shining a Light On Sustainability
Sustainability has always been a core focus at Chanel, but it is with this new N˚1 de Chanel, where their initiatives take centre stage. Some of their approaches include reducing the weight of their glass jars by an average of 30% and incorporating more recycled and bio-based materials. You'll also notice that there is no more plastic wrapping on the products and plastic has been tremendously reduced and paper leaflets are now QR codes.
Another sustainability highlight is the caps of the new N˚1 de Chanel moisturisers. Utilising every single part of the Red Camellia flower, the cap of the moisturisers are made from the shell of the Camellia—minimising wastage of production and accentuating the holistic approach of the collection.
The Full Collection
Red Camellia Revitalizing Serum 
The key to preserving your skin's vitality, the new Red Camellia Revitalizing Serum is formulated with 95% ingredients of natural origin and 76% of which are derived from the camellia flower itself. Ideal for millenials alike looking to kick start their anti-ageing routine, this serum works hard to reduce the look of wrinkles and pores whilst improving skin elasticity too.