PHOTOGRAPHY AARON LEE/LENSWORKS PRODUCTION STYLING AND DIRECTION SARAH HANI JAMIL ART DIRECTION KHAIRANI RAMLI MAKEUP CAT YONG HAIR MEI CHOI LOCATION FUN KIDS PARADIGM MALL OUTFITS AND ACCESSORIES ALL ONITSUKA TIGER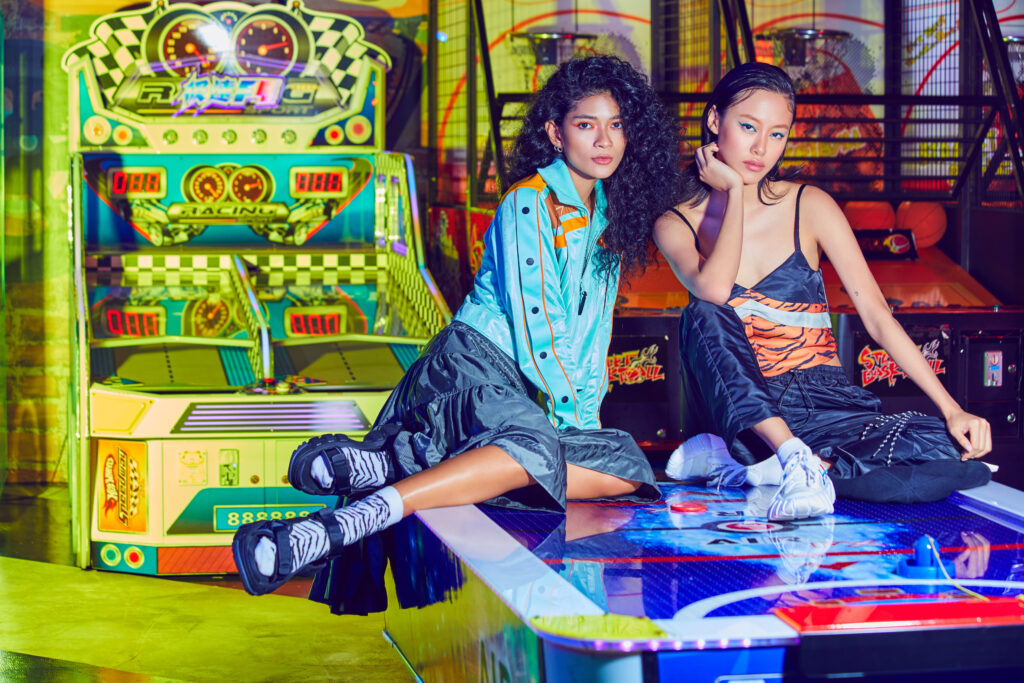 On Tuti (left): Onitsuka Tiger Track Jacket, Nylon Skirt, Socks and DENTIGRE STRAP sandals. On Sheena: Onitsuka Tiger Bra Top, Nylon Pants and GIGATIA sneakers
Professional fashion models, Tuti Noor and Sheena Liam represent the growth and success of Malaysian talent. Both alumni of Asia's Next Top Model (Sheena is the winner of Season 2 in 2014, and Tuti, a contestant of Season 4 in 2016), each have gone on to have brilliant modelling careers both in and out of the country thanks to their skills, tenacity and unique beauty. Aside from modelling, Sheena also dabbles as an embroidery artist on her platform Times New Romance and has worldwide recognition with showcases in Paris, France and Belfast, Ireland, among others. Meanwhile, Tuti is represented by homegrown agency The Models Lab KL and has scored numerous magazine covers as well as fashion campaigns under her belt. We caught up with the models for a quick photoshoot and chat just in time for the New Year about their careers so far.
You've been in front of the camera for several years now. What's your first memory of modelling?
S: I got my first shoot with Seventeen magazine after going to one of the open calls when I was 14 or 15. I remember having the time of my life. I always loved fashion magazines growing up and spent all my allowance on Harpers BAZAAR, even the international editions!
T: I remember the beginning of my career and how it was a lot of sweat, struggle and old-school poses. 
What's the biggest misconception you've heard about yourself?
S: I don't know if I'm even famous enough for people to gossip about. So no, I haven't really heard anything controversial. 
T: That I don't eat rice. Come on! 
What's a huge career mistake that you've learnt from?
S: Probably allowing people to talk to me the way they did. I feel the fashion industry was a different world back then. There were a lot of unsolicited comments on my weight or skin colour that I just nodded along to. I would not stand for any of that now. 
T: Yeah, pretty much the same for me. It is really important to not listen to other people and not let the noise get to you. You do you, boo!
Who's the one person who's not afraid to give you real talk?
S: My husband, he's someone I go to for advice a lot. I have a lot of respect for him and I owe a lot of my success and business savviness to him. He's really good at knowing your worth and standing your ground when it comes to the inevitable clash between the creative world and having to deal with commercial clients. 
T: One of my closest friends who is also a photographer, Bibo Aswan!
What's one piece of advice you'd tell your younger self in love, life and career?
S: To always trust your instinct, because nobody else is looking out for you the way you do.
T:  To know what you need and not what you want as both are two very different things.
If you could collaborate on a fashion collection, who would be the dream designer?
S: I'd die to be invited to be part of the Dior Lady Art editions. I see my work with embroidery transcending the boundaries between fashion and art happening naturally. So I'd love to explore more of that.
T: I can't decide between the rock-and-roll coolness of Hedi Slimane's Yves Saint Laurent or the whimsicality of Alessandro Michele's Gucci. Both, please!
Name one habit that's very Malaysian about you.
S: Speaking a little bit of every language and a very obvious connection between happiness and rice availability at every meal.
T: The power of my hands when crossing the road, of course. It works every time!
What do you hope to achieve this year?
S: I probably need to sit down and bang out a lot of work in the studio this year. I've had a lot of exhibitions and residencies pushed back because of the pandemic and I'm hoping times will get better.
T: I just hope that I get to travel for work a lot more this year! There's so much that I need to see.
Shop new Onitsuka Tiger releases online here.