Forced indoors for already an unbearable amount of days and weeks—not only is our mind and body suffering, but also our skin too. If you're like us and are relying on the crisp dry air of our air conditioners to keep us cool as we shelter and stay safe indoors, it's important that we make sure to give a little extra love to our skin too. Helping us keep our complexion happy and healthy during this lockdown, we turn to some of our famous friends to recommend what they have been using to keep their skin looking and feeling good.
Daiyan Trisha
Kiehl's Ultra Facial Oil-Free Gel Cream
This oil-reducing and ultra hydrating gel-based moisturiser has made it to the top of Daiyan's list of beauty favourites in this current lockdown. "My skin tends to get much oiler than usual and I think it's because of the lesser exposure to fresh air" she admits. Helping to balance the skin and keep the shine at bay, she gravitates towards this gel iteration as it provides up to 24-hour hydration and immediately seeps into the skin to refresh and revitalise the complexion.
Jasmine Suraya
Dior Capture Totale Super Potent Age-Defying Serum
"My skin gets really dry being under the air conditioner all day and this serum keeps it dewy and hydrated" expresses Jasmine. Applauding its sensorial experience too, she explains that it's almost like home aromatherapy for the skin. "I have the nose of a bloodhound so the smell of skincare is really important to me and this serum has a lush scent" says Jasmine.
Jane Chuck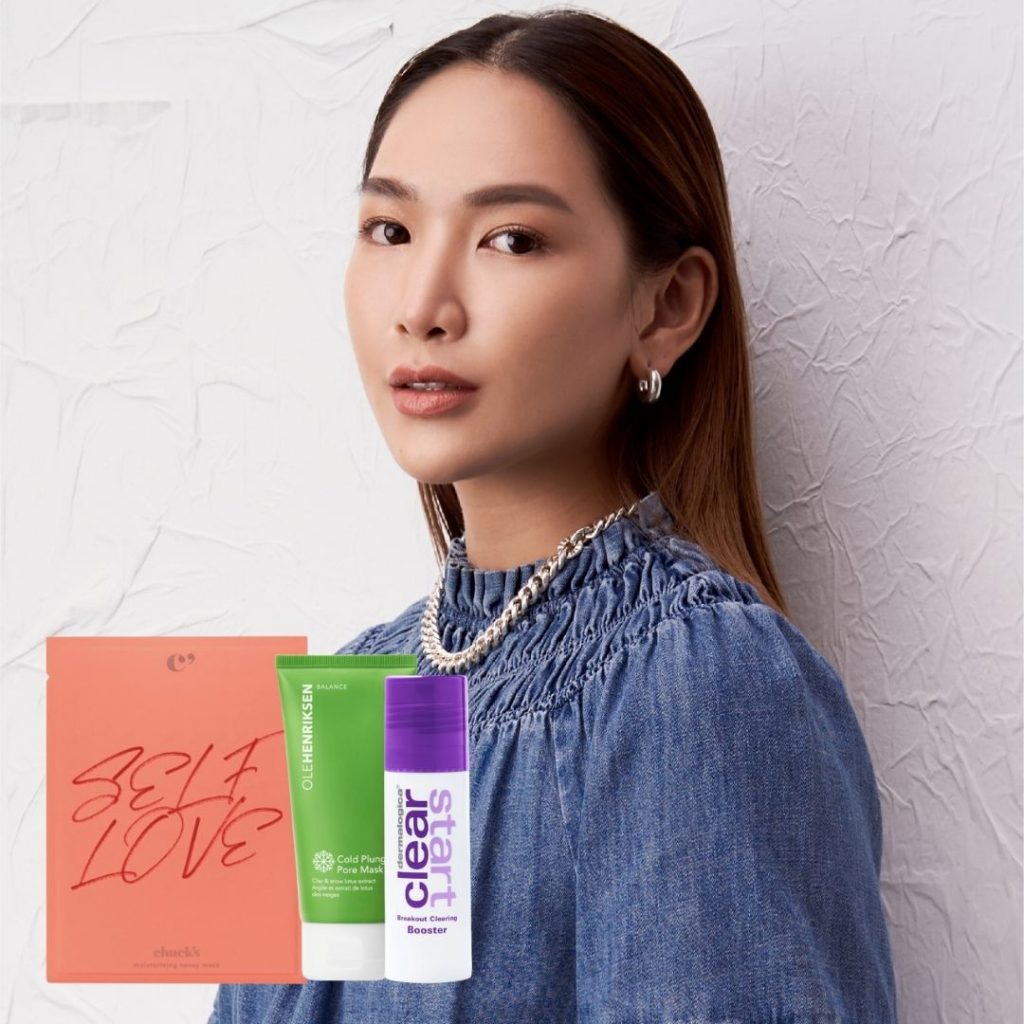 Chuck's Self Love Honey mask, Ole Henriksen Cold Plunge Pore Mask and Clear Start Breakout Clearing Booster
Queen of the Chuck's empire and one of our 2021 Beauty Award judges, Jane Chuck spills on her top products that are on constant rotation in her skincare routine amidst this lockdown. Firstly she highlights the Chuck's Self Love Honey masks and the Ole Henriksen Cold Plunge Pore Mask. "I've been having hormonal acne lately and these products have really helped me! The Self Love is to calm the skin while it's healing so it won't leave a scar and the Ole Henriksen clay mask has active ingredients that help with my acne breakouts" she explains.  Another product she highlights is the Clear Start Breakout Clearing Booster, which she also uses to treat and heal acne as well.
Natalie Prabha
Drunk Elephant B-Hydra Intensive Hydration Serum
With a 'don't fix what ain't broke'  outlook to her skincare and beauty routine, model, Natalie Prabha highlights the Drunk Elephant B-Hydra Intensive Hydration Serum as the key product that's helping her get through this lockdown. Already onto bottle number four of this moisturising elixir, she jokes that it's helping her through lockdown because "it's nice to know that there's something consistent in my life right now."
Anna Jobling
Palmers Softens & Smoothes Vitamin E lotion
"Skincare has always been important to me but i feel like I don't give my body enough love like I do with my face" Anna confesses. Hoping to rectify this, she's made it a goal to build a habit to apply lotion every single day—putting even more importance on this during the lockdown. Her go to body lotion of choice is an affordable and effective one—"right now my go to lotion is the Palmers Softens & Smoothes Vitamin E lotion. It's super affordable, reduces dark marks & cruelty free!" she recommends.