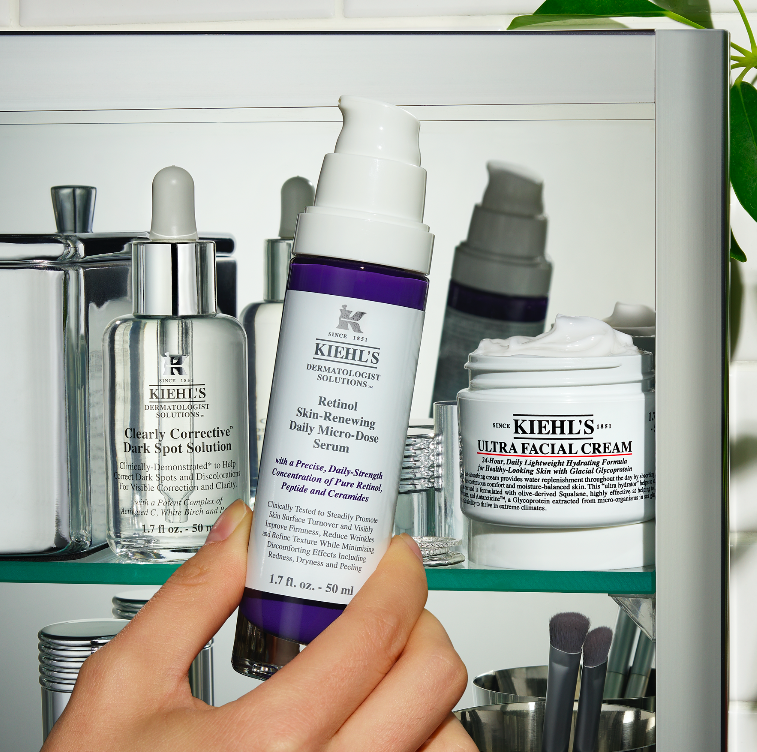 Kiehl's welcome their first retinol product into their power-packed skincare trove—The new Retinol Skin-Renewing Daily Micro-Dose Serum. A breakthrough approach to retinol, Kiehl's has smartly formulated the serum to minimise the uncomfortable side-effects usually associated with retinol, without compromising on efficacy. Expect skin ageing concerns like wrinkles, loss of firmness, texture and dull complexions to be addressed and improved within twelve weeks of use.
Although retinol has been proven to be one of skincare's greatest gifts in regards to its rejuvenating powers, it is still typically associated with words like redness, purging, peeling, dryness and more. With that in mind, Kiehl's are hoping to change the perception of retinol with their serum working to eliminate as many of those concerns, whilst revealing your best skin yet.
View this post on Instagram
Kiehl's Global Scientific Director, Dr. Nancy Ilaya explains, "Our research tells us that for a skincare product to be effective, consistency and compliance are required for results. We wanted to formulate a retinol product that could be used every day from the start with minimal discomforting effects, while still offering powerful anti-aging skin benefits. To do so, our formula includes peptide to further support and sustain the repair benefits of retinol, and ceramides that release vital skin barrier lipids to help build retinol tolerance and prevent against dryness. The precise dose of retinol can then be effectively delivered into skin to begin providing benefits without over-accelerating cell turnover or disrupting the skin barrier. The results are the maximum efficacy of retinol, with minimal to no discomfort."
View this post on Instagram
What sets the Kiehl's serum apart from your regular retinols is its application of "micro-dosing". The key reason to why they can promise minimal side-effects is because it lends the science of micro-dosing into their formula, allowing it to smartly administer powerful ingredients in low and precise dosages. Their retinol serum is carefully calibrated to steadily promote surface cell turnover and allow new cells to be gradually brought to the surface for a rejuvenated and revived complexion. Dr. Nancy Ilaya also mentions that "the formula also contains peptide to further support and sustain the repair benefits of retinol and ceramides to help build retinol tolerance and fortify skin's barrier to protect fresh new cells at the surface."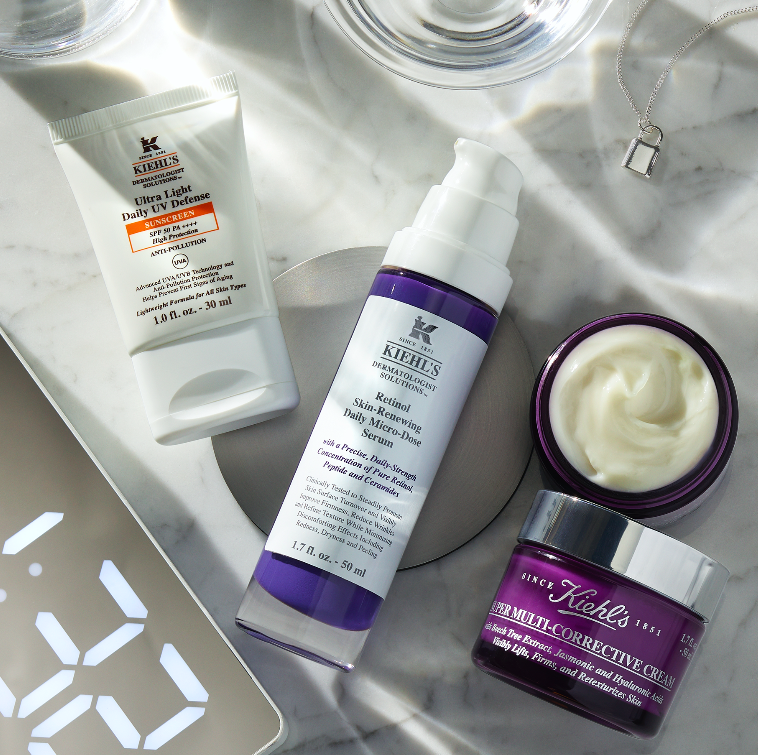 Pairing retinol with your other skincare products can be tricky, but fret not as Kiehl's Global Consulting Dermatologist Dr. Meghan O'Brien lays out the rule of thumb, "I usually tell my patients to avoid other chemical exfoliants such as AHAs, salicylic acid, or any physical exfoliants (such as facial scrubs) when they are using retinol as the combination may cause too much sensitivity and potential skin irritation. Other ingredients such as niacinamide and hyaluronic acid are more suitable to layer or combine with retinol as they are considerably gentler and non-abrasive." says Dr. O'Brien.
However, the most important rule when it comes to retinol is to never skip out on SPF! "The most important products however to layer with your retinol formula are a moisturizer and an SPF during the day. A nourishing moisturiser—particularly one that focuses on moisture barrier repair – will help to strengthen the skin and maintain adequate hydration to help minimize the potential discomforting effects of formulas with retinol. SPF is always essential for maintaining youthful and healthy-looking skin, but it is a particularly important step when using retinol as it may increase the skin's sensitivity to sun." warns Dr. O'Brien. We like Kiehl's Ultra Light UV Defense sunscreen as it's formula is incredibly light, sits on the skin comfortably and shields skin with SPF 50 PA ++++.
Shop the new Kiehl's Retinol Skin-Renewing Daily Micro-Dose Serum here!