Beauty products now go far beyond formula and effectiveness. Yes, that's the most important criteria, but it also doesn't hurt to present products in pretty, and aesthetically pleasing packaging either. A sucker for beautiful, Instagram-worthy packaging, we've summed up some of our new favourite launches that look just as good as their formulations.
Gucci Beauty Cushion De Beauté 
Apart from its impressive skincare-smart formula, the pastel pink packaging of the new Cushion De Beauté has really made our hearts sing. Ideal for on-the-go application, this is Gucci Beauty's first ever cushion foundation, which offers refills as well. Available in six shades, this luminous foundation is bolstered by a formula that promises antioxidant protection, hydration for up to 24 hours, blue-light blocking and enforced with an anti-pollution compex too. Also, it can keep skin protected from sun damage as it is boosted with UV blocking mineral SPF 22 filters too. Designed by Alessandro Michele himself, he dresses the cushion in distinctive Gucci motifs, which feature a lion pattern surrounded by a wreath of flowers.
Guerlain Rouge G Luxurious Velvet
The Rouge G collection is Violette's first creation as Guerlain's new make-up creative director.  One of the creamiest and most comfortable matte lipsticks we've tried in a while, the Guerlain Rouge G Luxurious Velvet is one of our highlight  launches of the year. Its refined matte texture sits weightless on the lips—attesting to its nourishing mango butter and mattifying silk wood extract infused in the formula. Epitomising Parisian chic, its packaging also adds to its luxurious charm. Encased in smooth velvet, customise your lipstick with their array of various patterns. A nod to ethical fashion as well,  each case houses velvet that has been upcycled too. 
Marc Jacob Daisy Eau So Intense Eau De Parfum
The classic Marc Jacobs Daisy gets an intense makeover. Introducing a deeper interpretation of the original fragrance, the newest Daisy Eau So Intense is uniquely sweet and each spritz is reminiscent of radiant summer evenings. Inspired by warm sun rays over lush fields of daisies, this vibrant fragrance opens with scintillating notes of strawberry and pear, before revealing a sweet heart of honey and rosebud. At its base is comforting soft vanilla and green moss, which intimately come together to reveal a bodied fragrance that is both sophisticated and sweet.
Andy Warhol x SK-II Limited Edition Pitera™ Essence Collection
The cult-favourite SK-II Pitera™ Essence gets a new glamorous, flamboyant facade with their special limited edition collaboration with Andy Warhol. Bright and vibrant, the collection stems from a shared beauty philosophy between SK-II and Andy Warhol that 'all is beautiful'. The limited edition collaboration features three different designs, each sporting a famous quote by the pop art icon himself: All is pretty","If everybody is not a beauty, then nobody is" and "I've never met a person I wouldn't call a beauty."
Louis Vuitton Les Extraits Collection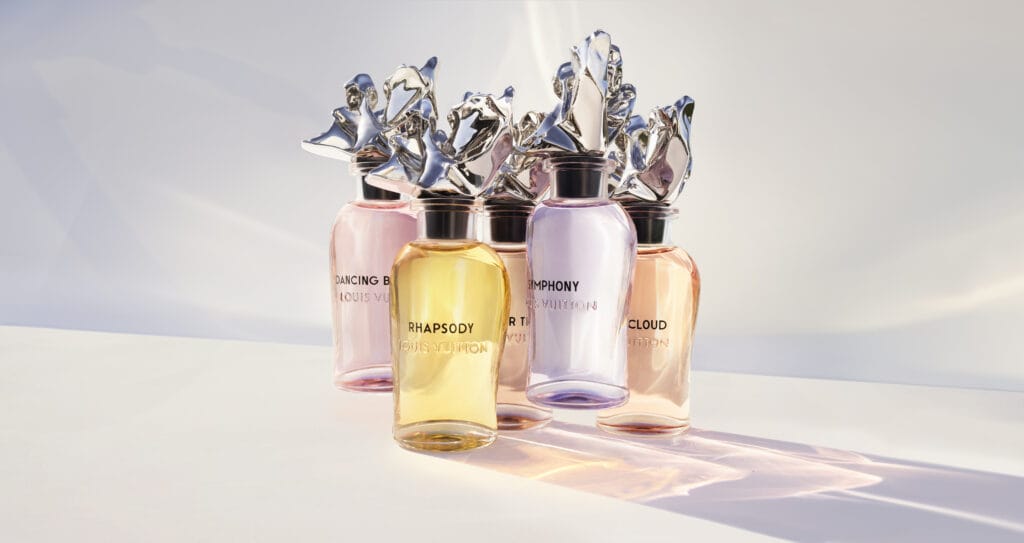 Louis Vuitton collaborate with renowned architect, Frank Gehry to birth an opulent collection of desirable fragrances. The Les Extraits collection sees the fashion House merge olfactive sensations with intrinsic sculptural design. It's highlights is its uniquely shaped flacon, with a ethereal, aluminum, hand-polished cap that mimics the look of fabric dancing in the wind. The collection reveals five new fragrances: Stellar Times, Cosmic Cloud, Dancing Blossom, Rhapsody and Symphony. Each scent embodies a different major olfactive family, offering an odyssey of scents that range from bright jasmine gardens to earthy, sensual musk.