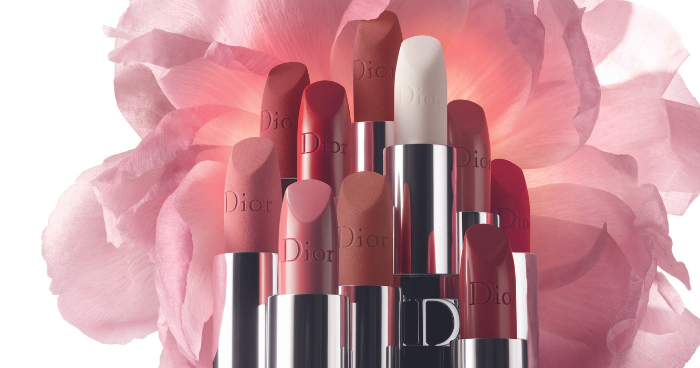 Hot off the runway is Dior Makeup's newest creation, the Rouge Dior Natural Balms. From ideation to application, creative and image director of Christian Dior Makeup, Peter Philips', shares what makes the new Natural Balms a must-have for the season and beyond.
Mirroring everyone's quest for TLC and self-care amidst a global pandemic, Dior Makeup came to the rescue with their most natural and skincare-boosted lip formulation yet. Introducing the new Rouge Dior Natural Balms, they are the first of the Rouge Dior collection to be composed of 95% natural-origin ingredients with aims to reinvent the classic routine with a product that not only looks good, but does good for the lips too.
Expanding the Rouge Dior couture wardrobe, the Natural balms are available in eighteen shades and three different finishes: satin, matte and velvet—which corresponds to the existing finishes available in the rest of the Rouge Dior collection. For this new chapter imbued with naturalness, Peter Philips shares with BAZAAR the vision behind the Natural Balms and the best ways to wear it.
How did the Rouge Dior Natural Balms come about and has the pandemic affected the way you create products?
PP: The main impact the pandemic has had on make-up is the fact that we are forced to wear masks—but it has also affected how we create products too. The reason why I launched this Rouge Dior lip balm range is inspired by what has been going on with the pandemic. Women worldwide are forced to wear masks, so I made it a priority to launch this lip balm range in response to the desires of women now who want to care for their lips—especially behind a mask.
Expanding from our Rouge Dior line, we wanted to carry forth the same philosophy but with a lip caring balm line that women can combine with their lipstick or wear on their own. It's interesting because when we were confronted with the situation, my question was "what do women expect now that they have to wear a mask?" I had two ways of thinking; one, we focus on caring elements under the mask since it covers their lips; or two, there are women out there who still want the sensation of having a color on their lips under their masks. The pandemic and the situation for women and men having to wear a mask forced us to think differently—we needed to use all our expertise and knowledge to develop products that would fulfill the desire of those who love makeup and beauty.
What makes the Natural Balms so unique and different compared to the rest of the Rouge Dior collection?
PP: The skeleton of the formula is constructed out of 95% of natural-origin ingredients! It is in the shape of a lipstick which is coherent with the Rouge Dior line, and also has the same refill concept which is our way of being as environmentally responsible as possible. The lip balms add pigment, just like the lipstick—but it's less strong. It looks the same, but the make-up result is a tinted lip balm with nude effects. Also, there is not one formula in the market with that natural ingredient claim—it has a beautiful blurring effect that smooths out the surface of your lips and it's also a great base under your lipstick.
View this post on Instagram
What shades from the new Natural Balms collection is your favourite?
PP: I designed eighteen shades worldwide, and around 10 are available for each region. Finding my favorite is tricky because they're all gorgeous—but my favorite for a woman to wear is difficult because every woman is different. So, what I like to do is listen to the feedback from all the different regions to learn more because it's always interesting.
For the Asian region, there are two shades that stand out which I know will match most women—one of them is the Natural Balms version of the 999 in a satin finish. The other is number 720 Icon, which has a gorgeous matte finish—it's more of a dense color between a rosewood and brick shade, and it has a gorgeous lip tint with a mattifying effect that helps with the blurring. Its' beautiful on its own and as well as combined with a layer of Rouge Dior matt or velvet lipsticks.
 What are the best ways to apply the Rouge Dior Natural Balms?
PP: It's a very simple approach—we have the three finishes, so my best advice is that if you combine it with the Rouge Dior, but make sure the finish is the same. Don't combine the satin finish lip balm with the velvet lipstick because you will lose your velvet lipstick result. Use it on your own as a lip tint, or you can use it as a lipstick revivor.
What are your views on how you think make-up fits into people's lives now given the global pandemic?
PP: Make-up is a luxury, but a luxury with a very important role. It can have such an impact on how you feel—whether you look good or bad—and makeup can help. The fact that we're forced to cover our faces most of the time for the last year has had an impact on people—so the moments you can wear make-up are precious, and it's good to hang on to these moments and to not let go. Make-up in whatever form is very important—for some it's a hint of color, for others it's a full face of makeup—but whatever your personality desires or how you want to express yourself is an important part. It's a luxury, but it can help your morale and state of mind.