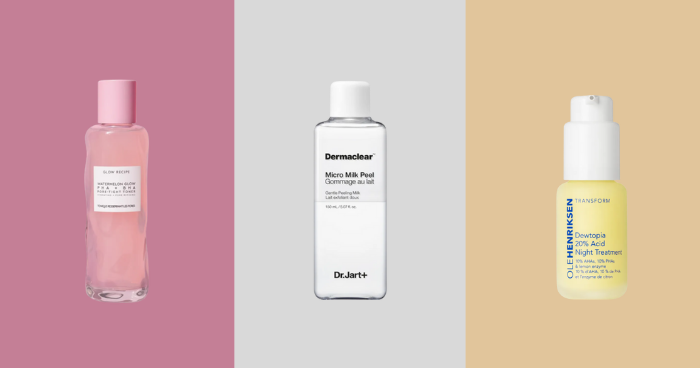 AHAs, BHAs and now PHAs—the list of skincare abbreviations continues to grow with the developments of skincare science. One of beauty's most buzzed about new acid, consider PHAs as your new gentle giant exfoliator. PHAs or poly-hydroxy acids fall under the AHA umbrella, but what makes them different is that they are much larger in molecular size. Now what that means is that because of its larger structure, it doesn't penetrate into the skin as deeply and it takes a little longer for the molecules to properly sink in—making it ideal for even those with sensitive skin. We're huge fans as PHAs as they promise to repair skin, salve away dead skin cells and brightens the skin—same with your other AHAs and BHAs, but just slightly more gentler.
Here, we round up some of our new favourite PHA powered serums for visibly brighter and more radiant skin.
Ole Henriksen Dewtopia 20% Acid Night Treatment
View this post on Instagram
Promising to be a transformative, retexturing and replenishing powerhouse, the Dewtopia 20% Acid Night Treatment is a potent blend of 10% AHAs and 10% PHAs that work overnight to reveal stunning, glowing skin in the morning. Due to constant mask wearing, dead skin cells can quickly build up so this is the ideal remedy to renew skin and salve away any unwanted debri for a healthy, vibrant #oleglow.
Dr.Jart+ Dermaclear™ Micro Milk Peel
View this post on Instagram
Expect deep exfoliation but without the irritation as this Micro Milk Peel by Dr.Jart+ is buffed up with the triple threat of AHA, BHA and PHAs. This double-layered formula leaves skin feeling extremely moisturised and silky smooth—salving away dead skin and clearing clogged pores. Extremely gentle on the skin, Dr.Jart+ ensures that this peel is even ideal for those with dry and sensitive skin too—wanting everyone to achieve s healthy, glowing complexion without fear of redness of irritation. But always do a spot test first, just to be safe and sure!
Glow Recipe Watermelon Glow PHA+BHA Pore-Tight Toner
View this post on Instagram
This PHA and BHA infused watermelon-infused toner by Glow Recipe works hard to minimise the look of pores and to boost hydration in the skin. Working together with the exfoliating PHA and BHA  is hyaluronic acid, and cactus water, which help to seal in moisture and prevents moisture loss while delivering electrolytes and antioxidants. Unlike most toners, this one has got a unique bouncy feel to its texture that we love—adding a fun, sensorial experience to your skincare routine.