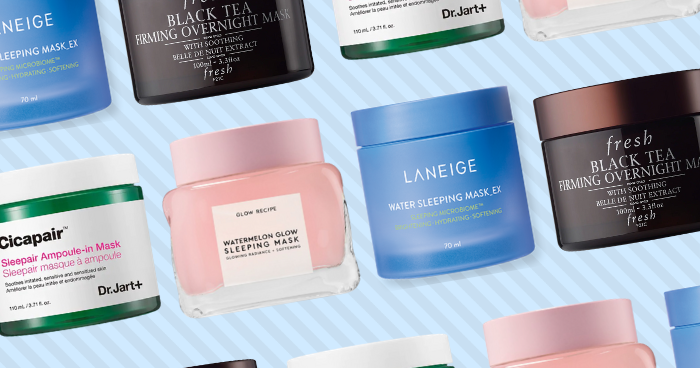 One of beauty's latest and most convenient skin saving solutions—overnight masks work wonders to heal and rejuvenate skin as you sleep. Skin naturally regenerates overnight, so the use of nourishing or texturizing masks while you sleep can help speed this process along to reveal an even brighter complexion in the AM. 
Laneige Water Sleeping Mask EX Sleeping Micro Biome™
View this post on Instagram
This sleeping mask from Laneige is intensely hydrating and works overnight to reveal a brighter and more vibrant complexion!  Formulated with new core technology of Sleepy Microbiome and Pro-biotics complex, it has the ability to strengthen your skin's protective barrier as you sleep, boost brightness and clarifies tired skin.
Dr.Jart+'s Cicapair Sleepair Ampoule-in Mask
View this post on Instagram
Rescuing troubled and tired skin, this Sleepair Ampoule-in mask from Dr.Jart+'s Cicapair line works overnight to soothe and moisturise sensitive skin to reveal a supple glow in the morning. The bamboo vinegar in its formula activates melatonin for a well-slept effect too—expect increased moisture levels in the skin and enhanced radiance as well.
Glow Recipe Watermelon Glow Sleeping Mask
View this post on Instagram
Glow Recipe's Watermelon Glow Sleeping Mask acts as a radiance-boosting hyaluronic acid face mask, formulated with soothing, amino-acid rich Watermelon Extract, hydrating Hyaluronic Acid, and pore refining AHAs that work while you sleep to gently exfoliate and clarify.
Allies of Skin Promise Keeper Blemish Sleeping Facial
View this post on Instagram
For those with acne-prone skin, this one's for you! This nightly leave-on treatment mask from Allies of Skin is supercharged with a powerful blend of 2% Dioic Acid, medical-grade manuka honey and Organic Rosehip Oil to deliver a game-changing facial that works as you sleep to nourish problematic skin, whilst improving the appearance of old blemish marks, refining appearance of skin texture, and brightening the complexion.
Fresh Black Tea Firming Overnight Mask 
View this post on Instagram
Skin loses elasticity as we age, but Fresh's Black Tea firming mask promises to fight off  any signs of sagging skin with it's intensely moisturising and lifting treatment. This dreamy concoction of black tea, blackberry leaf extract, and lychee seed extract is proven to inhibit damaging free radicals and help to improve skin elasticity. With the Belle de Nuit extract, also known as nature's noctural flower, works hand-in-hand to soothe and rebalance the skin as you sleep.
Drunk Elephant F-Balm™ Electrolyte Waterfacial Hydrating Mask
View this post on Instagram
Formulated with beauty's latest buzz word—electrolytes—the F-Balm™ Electrolyte Waterfacial Hydrating Mask is an extremely hydrating overnight mask that restores the level of moisture in the face whilst you sleep. With a blend of barrier-replenishing ingredients like niacinamide, sodium PCA, plant squalane, five forms of ceramides, omega fatty acids and powerful antioxidants, F-Balm™ effectively rehydrates hungover, overly-parched skin, making it soft and supple.
Sisley Paris Velvet Sleeping Mask
View this post on Instagram
Specially formulated with Saffron flowers, this Sisley Paris Velvet Sleeping Mask works to promote faster and more intense night-time regeneration. Best suited to comfort dry skin, say goodbye to redness, discomfort and a dull complexion by morning and awaken with soothed and nourished skin. Use up to twice a week, dragging the product all the way down from face to neck for optimal results.