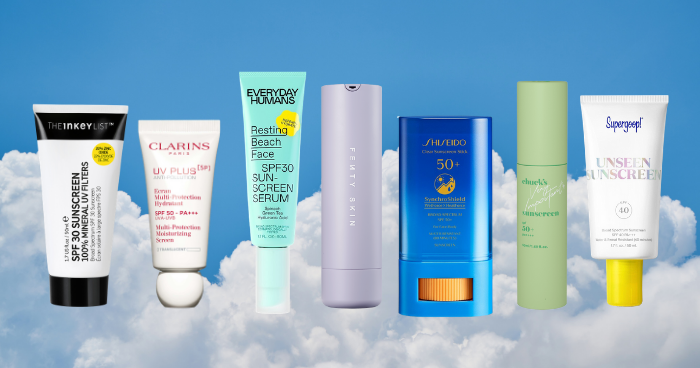 It's that time of year where it's nightmarishly hot throughout the afternoon and torrential pouring rain once the evening hits. Unfortunately we can't do much to protect ourselves from the rain—apart from staying indoors—but we can definitely be doing a lot more when it comes to sun protection. Whether you're working indoors or out and about, SPF should never be compromised! Here are some of our favourite SPF options that have been working full-time keeping our skin protected from sun rays.
Supergoop! Unseen Sunscreen
View this post on Instagram
True visionaries of sunscreen, Supergoop! has been relentless with their continuous innovations of suncare. However, its their Unseen Sunscreen that has really pulled at our heart strings. Completely invisible, this SPF 40 is weightless, scentless and even shields skin from blue light. Its unique oil-free formula doubles as a makeup-gripping primer that provides shine control, leaving a velvety finish that's ready for makeup application.
Everyday Humans Resting Beach Face
View this post on Instagram
Natural, vegan, cruelty-free and with no white-cast—this sunscreen from Everyday Humans is quite literally everything we could've asked for in a sun block. A powerful SPF 30, it also doubles up as a hyaluronic serum that hydrates, plumps and strengthens skin, whilst shielding your skin from UVA/UVB rays and environmental damage.
The Inkey List SPF30 Daily Sunscreen
View this post on Instagram
Applauding their simple, smart and affordable approach to skincare, The Inkey List's new SPF30 Daily Sunscreen is going to be the first thing we're packing on our beach holiday (once borders open back up!). Vegan, fragrance-free and cruelty-free, this 100% mineral sunscreen is reef-safe too. You'll be able to swim in the sea with peace of mind that you're not harming the sea creatures.
Chuck's Very Important Sunscreen
View this post on Instagram
Very important, indeed! Local beauty trailblazer Chuck's' iteration of SPF is completely weightless on the skin and is water-resistant. Infused with 6.7% kale extract, not only does this clever sunscreen shield skin from UVA/UVB rays, but also tirelessly works to hydrate skin, repair tissue and heal damaged skin cells. The Eucalyptus oil in its formula also gives a mild scent and cooling sensation that we very much crave for on especially hot days.
Fenty Skin Hydra Visor Invisible Broad Spectrum SPF 30
View this post on Instagram
One of our highlights from Rihanna's latest genius Fenty Skin collection, the Hydra Visor Invisible Broad Spectrum SPF 30 is extremely comfortable and invisible on the skin and makes for a perfect primer before makeup application. It also works to also boost and brighten skin too, making pores, fine lines and wrinkles less visible both instantly and over time. Another plus is its refillable packaging—keeping it as earth-friendly as possible, you'll just need to replace its inner cartridge once you're done.
Shiseido
Clear Sunscreen Stick SPF 50+
View this post on Instagram
Take along this SPF stick with you everywhere you go. Portable and can be applied both under and over makeup, the Shiseido Clear Sunscreen Stick SPF 50+ protects your skin for all hours of the day and simplifies reapplication. Its smart SynchroShield technology reacts to heat, water or perspiration to strengthen the UV protective veil on your skin. The lightweight texture applies comfortably and invisibly on any skin tone and its 'water resistant' formula ensures less elution into our oceans too
Clarins UV Plus [5P] Anti-Pollution Moisturizing Sunscreen
View this post on Instagram
Taking into account all possible pollutants, this new Clarins UV Plus [5P] Anti-Pollution Multi-Protection Moisturizing Screen is truly a shield against all. Its revolutionary defense technology protects from atmospheric, photo and indoor pollution, as well as blue light and pollen. Weightless on the skin, it provides up to eight hours of hydration, making it ideal for longwear too. Its available in three expertly crafted shades: Translucent, a soft Rose for an additional vibrant glow and a colour correcting Lavender.