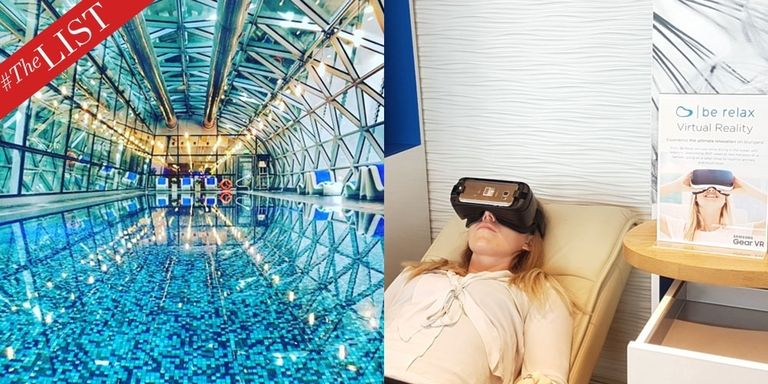 Airline travel has become so stressful that, once you arrive at your final destination, it can take two days just to unwind from long security lines and packed flights. In response to our collective travel anxiety and growing interest in beauty tourism, several airlines and airports around the world (and in the U.S.) are expanding their spa facilities to include unique and utterly enticing treatments.
In the past, flight delays meant slouching in uncomfortable chairs with headphones plastered to your ears hoping to catch a few zzz's under the glare of florescent lights. Now, depending on where you roam, you can get a fish spa pedicure, virtual reality massage, spray tan, oxygen therapy, or a cooling treatment designed to revive tired, jet-lagged legs.
Kind of makes you think twice about dreading the travel part of your trip, doesn't it? Ahead, 11 of the most exciting airport spa treatments you'll find in the U.S. and around the globe.
1. 
A Virtual Reality Massage
Where: Be Relax Spa at Dubai International Airport
Why: If you're raveling to or from Dubai this summer, you owe it to yourself to make a pit stop at the Be Relax Spa in Dubai International Airport to try out the strangest spa treatment we've heard of in a while: a virtual reality massage. Escape the stress of travel by getting a foot massage while you submerge yourself in VR scenarios that include observing dolphins swimming, elephants in their natural habitat, and a 360-degree view from a hot air balloon ride. You'll find this treat in all DXB concourses after security.