BAZAAR's signature campaign collaborates with 15 Malaysian designers this year, and continues to empower women with awareness, love, and care.
INNAI RED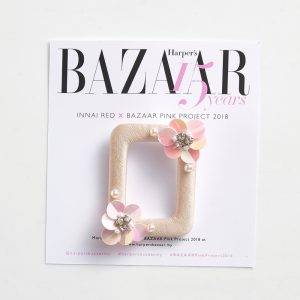 A TWIST OF FATE …
Our idea of "think pink" is translated into a brooch this year; it gives more versatility in terms of styling. Wear it beyond the October month to continue raising awareness for breast cancer awareness.
SIGNATURE TOUCH …
Our design combines Innai Red's classic fabric with pink 3D flowers and pearls at the corners. The flowers & pearls are symbols of femininity and grace. The rectangle shape represents a shield– a shield of confidence.

MODERN WARRIOR …
Datuk Seri Dr Wan Azizah Ismail, our deputy prime minister, is such an inspiration. I've stood back in awe for so many years just looking at how she fought for freedom & justice for her husband, Datuk Seri Anwar Ibrahim, and our country. She has been making incredible strides for many years, but winning GE14 and being the first female deputy prime minister for Malaysia post is the icing on the cake.