BAZAAR's signature campaign collaborates with 15 Malaysian designers this year, and continues to empower women with awareness, love, and care.
MY APPAREL ZOO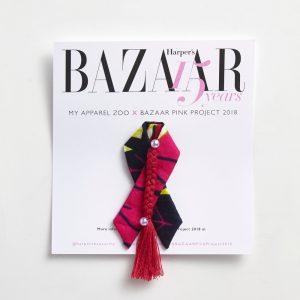 What is the story of My Apparel Zoo's design for Pink Project 2018?
I created a design with bold prints and bright colours, as a reminder that life is all about phases, staying positive, and finding the beauty in all things colourful.
From the printed fabric to the fuschia tassels, how do these separate elements represent a strong woman? 
The fabric I chose is from Angola in Africa. It is a mix of fuchsia pinks and other bright colours; I love how the other colours blends together even when they are so different. The tassel are a symbol of "attachment"; it means being able to lean on someone when times are good and bad.
Who is your icon of female empowerment and why? 
Emma Watson. In 2016 she gave an amazing speech at the UN general assembly addressing sexual violence as an advocate for gender equality, and addressed sexual violence. Her speech was very moving and I respect honest women who have the strength to stand up for what they believe in.