BAZAAR's signature campaign collaborates with 15 Malaysian designers this year, and continues to empower women with awareness, love, and care.
CASSEY GAN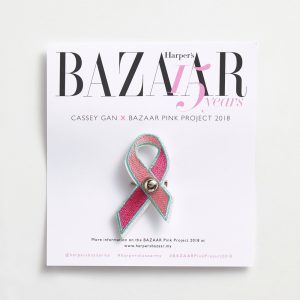 STRONG REPRESENTATION …
The Cassey Gan ribbon shows the act of women coming together and supporting each other. By exploring embroidery in our ribbon, we convey the idea of tightly woven threads as a reminder of strong bonds and relationships.
SOMETHING BLUE …
The choice of dual pink colour together with the blue edges on the ribbon is our way of saying women from all walks of lives can always come together to help each other when in need.
EQUAL RIGHTS …
Feminism is a focus on equality for both genders and not female superiority. It means being a woman is as good as being a man and that is an ideology that we should continue to fight for. The conversation for equality and inclusivity has always been there and is now more evident and widely seen through social media.
"Feminism is a focus on equality for both genders and is an ideology that we should continue to fight for." – Cassey Gan