BAZAAR's signature campaign collaborates with 15 Malaysian designers this year, and continues to empower women with awareness, love, and care.
JONATHAN LIANG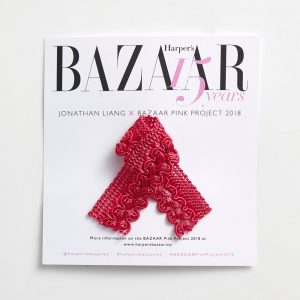 MINUTE DETAILS …
The lace on the Jonathan Liang pink ribbon are customised to swirl in small repetitions, signifying the collective support towards breast cancer awareness.
THE RIGHT TO EQUALITY …
Female empowerment is giving women strength and equal opportunities in anything they choose to do, no matter the culture, upbringing and social construct.
FREEDOM TO EXPRESS …
As a designer, I wouldn't want to dictate how a woman should feel when they are wearing my designs. On the contrary, I hope it amplifies what they are already feeling at the moment. Whether it's sadness, happiness or anger, I think it should all be felt and experienced.