Few bags have truly stood the test of time and become coveted designer accessories that transcend generations of women and style over the years — one of those few include some signature Chanel handbags.
The classic Chanel Flap bag is one such bag and along with it, a seemingly modern version in the bolder Boy Chanel and last year's brand new Gabrielle bag collection demonstrate the core aesthetics of Mademoiselle Chanel – a blend of purity and practicality, sensing women's desire for a liberating and modern usage – held together in harmony by its trademark diamond-shaped stitched quilting inspired by the equestrian world Gabrielle Chanel so loved. What's more? Behind each of these bag collections lies an interesting tale and element of its allure.
Here, we highlight five things to know about each design.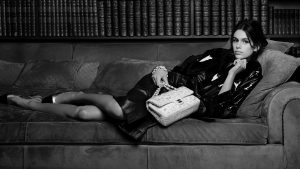 1. In February of 1955 (hence the 2.55 moniker), French designer Gabrielle 'Coco" Chanel revamped her unstructured hand-held clutch bag from the Twenties and created the first edition of the Chanel classic flap bag with a chain strap, which can be carried on the shoulder and freed up the hands.
2. The double-chain shoulder strap on the Chanel 2.55 handbag was inspired by the chains used to hold keys by the caretakers at the orphanage where Gabrielle Chanel was raised. In the Eighties, Karl Lagerfeld introduced leather twined double-chain strap for the classic flap bag.
3. The lock on Chanel's 2.55 handbag is a rectangular "Mademoiselle" lock whereas in the Eighties, Karl Lagerfeld introduced the more desirable double C turn-style lock to the Chanel classic flap bag. To celebrate its 50th anniversary in 2005, Lagerfeld released an updated version of the bag and called it the Chanel Reissue 2.55 handbag with the status-symbolic CC lock.
4. The hidden zipper compartment under the top flap, which cannot be found in other bags, is a fascinating element that is rumoured to be the secret space where Mademoiselle Chanel hid her love letters.
5. The iconic Chanel handbag requires more than 180 different procedures to execute in the workshops in Verneuil, north of Paris, taking up to 15 hours to complete one piece in a choice of lambskin, caviar leather and patent leather, amongst others.